Netflix's Bet on Korean Content Pays off With 'Squid Game'
The streaming giant's investment in Korean content has not only helped grow its subscriber base in South Korea, but also created global hits.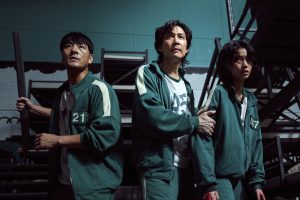 In the brutal contest for streaming views, "Squid Game" has outplayed its competitors to become Netflix's biggest hit. Beyond its own success, however, the dystopian drama also epitomizes what has become a mutually beneficial partnership between the streaming giant and South Korea's creative industry.
"Squid Game" almost never had the opportunity to become a hit. For a decade South Korean studios passed on "Squid Game," and it likely would never have been made if Netflix hadn't taken a chance on the concept in 2019.
Now, the breakout hit has been viewed by 111 million accounts on Netflix since its debut on September 17, easily surpassing the 82 million that watched the period drama "Bridgerton" in the first 28 days. In addition to being Netflix's most-watched show, the series has reached the number one spot in 94 countries, including becoming the first South Korean drama to go to #1 in the United States.
That level of success has also given "Squid Game" cultural reach beyond streaming. Having captured the imagination of audiences, the series is bringing track suits back into fashion, pushing sales of Vans Slip-Ons up 7,800 percent, while inspiring internet memes and Halloween costumes. Even North Korea has felt compelled to comment on "Squid Game," saying that the dystopian series reflects the "sad reality of a beastly South Korean society."
For Netflix, "Squid Game" has become the most successful example of its strategy for developing local content to build its subscription service in foreign domestic markets, but then using that content to build demand for its service in markets around the world.
Netflix is expected to spend $500 million on Korean content this year, up from a total of $700 million between 2015-2020. This is expected to account for half of all of Netflix's spending on content in the Asia-Pacific. The streaming giant has taken out leases on nine sound stages at two studios to expand its production of Korean content.
The strategy of investing in Korean content has resulted in rapid growth in South Korea. In 2020, Netflix earned $356 million in revenue, up 123.5 percent from 2019, on 3.8 million subscribers. Industry tracker WiseApp estimates Netflix's South Korean subscriber base has continued to grow and reached 5.14 million subscribers in August. WiseApp estimates Netflix's revenue at around 75.3 billion won ($63.4 million) for August alone, suggesting that revenue this year should easily surpass 2020 figures and potentially exceed $700 million.
Netflix's $7.5 million operating profit last year in South Korea suggests that its investments in Korean content can be justified on its South Korean operations alone, but it also benefits from subscriber growth in other markets from its catalogue of Korean dramas.
According to a Deloitte report commissioned by Netflix, 10 Korean dramas and two Korean movies were among the top 100 most watched series or movies globally in 2020. Prior to "Squid Game," the apocalyptic horror series "Sweet Home" was the most successful Korean drama on Netflix, reaching number three worldwide. The movie "Space Sweepers" spent six days at number one globally.
In Southeast Asia, Korean content accounts for 34 percent of streaming viewing time, making it the most streamed content in the region. Netflix's catalogue of Korean dramas has helped boost subscriptions for the streamer in the broader Asia-Pacific region, where it has 35 percent of the market. The region also accounted for two-thirds of Netflix's net subscriber growth in the second quarter of this year.
South Korea and its creative talent also benefit from this partnership. Netflix's global reach is providing a platform for Korean movies and dramas that wouldn't exist in its absence and creating opportunities to develop content like "Squid Game" that wouldn't get made otherwise.
The report by Deloitte on Netflix's impact on South Korea helps to illustrate how. Deloitte estimates that since 2016 Netflix has had an economic impact in South Korea of 5.6 trillion won ($4.7 billion) and helped to create 16,000 jobs. The average annual profit of South Korean entertainment companies has grown from 14 percent to 26 percent.
South Korean studios haven't been the only ones to benefit from Netflix's arrival. Visual effects studios (VFX) have also profited from the growing demand for their work. Over the last five years, the number of VFX studios in South Korea has grown from five to nine and studios have seen their average annual revenue triple. The demand for dubbing and subtitles for Netflix's global releases has also helped to support the entertainment industry's translations services.
The success of "Squid Game," however, has also highlighted tensions in Netflix's relations in South Korea.
Netflix has been embroiled in a dispute with local ISP SK Broadband over who should bear the burden of the increased internet traffic from streaming. While Netflix only accounts for 4.8 percent of South Korea's internet traffic, SK Broadband has used the success of "Squid Game" to once again press its claim that Netflix owes it for internet usage fees in a new lawsuit.
With a global phenomenon on its hands in "Squid Game," Netflix is demonstrating that its strategy of investing in local content can be a successful on a global scale. With Disney+ set to launch in South Korea and produce its own Korean content, Netflix will increasingly face competition from U.S. and domestic Korean streaming services. However, with "Squid Game" and the rest of its Korean content Netflix has once again shown it can disrupt the entertainment industry, but also in a way that benefits its partners in South Korea.