North Korea's Food Shortage Is a Lesson for US Policymakers
If North Korea's extreme self-inflicted COVID isolation isn't enough to break the Kim regime, external sanctions have no chance.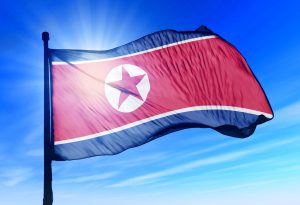 During a Korean Worker's Party central committee meeting in June 2021, Supreme Leader Kim Jong Un admitted that North Korea is facing a serious food shortage. Kim stated to his senior officials that "the people's food situation is now getting tense." This was not the first time Kim admitted the country's serious economic troubles. In April, he called for officials to "wage another, more difficult 'Arduous March' in order to relieve our people of the difficulty, even a little," bringing to mind the great famine of the 1990s, referred to as the Arduous March by his father.
Kim attributed the food shortage to weather patterns. Three typhoons hit North Korea during the 2020 storm season. The heavy rain and flooding caused over 20 deaths and destroyed over 16,000 houses. Moreover, it took a severe toll on agricultural production. The Korean Central News Agency, official mouthpiece of the North Korean government, reported that the flooding destroyed over 40,000 hectares of cropland. The typhoons had a particular disastrous impact on harvests along the coastline. Internal documents showed that floods destroyed over 42 percent of farmland in North Hamgyong province and 30 percent of farmland in South Hamgyong province. As a result, a Chinese government-affiliated agency reported that North Korea's 2020 harvest suffered a 1.5 million-ton shortfall from 2019.
In 2021, more bad weather exacerbated the food shortage. A heatwave during the summer caused a drought and exacerbated the rural water shortage problem. That led to a significant reduction in crop production and killed livestock. Then heavy rain in August caused severe floods and damaged much farmland.
The disruption in China-North Korean trade also contributed greatly to the food shortage in North Korea. Starting in January 2020, North Korea closed its border and shut down all trade activities with China due to concern over the spread of COVID-19. China is North Korea's biggest aid provider and trade partner. In 2019, China food exports to the North were worth nearly $600 million. Those exports included 400,000 ton of cereals, which was about 9 percent of North Korea's cereal production in 2019. In addition, China is North Korea's largest provider of fertilizer and agricultural machinery.
China's exports played a significant role in stabilizing North Korean food prices despite poor harvests in 2018 and 2019. In 2020 and 2021, with the border shut tight, North Korea could not supplement its lost agricultural production with imports from China.
Facing the current economic crisis, the leadership in Pyongyang is seeking to resume economic relations with China, which have been halted by COVID-19. Since February 2021, North Korea has been transforming an airport in Uiju into an import disinfection center in order to resume trade with China. The failure to open this facility on time enraged Kim, who described this failure as a "grave incident" during an enlarged Politburo meeting in July. He removed several top officials as punishment. The June speech by Kim suggests that the severe food shortage has forced him to move decisively to resume trade with China.
China is ready to increase support to North Korea during the economic crisis. Beijing's biggest concern is the collapse of the North Korean regime. China often describes the bilateral relationship as a "lips and teeth relationship," emphasizing that North Korea's survival is part of China's core national security interests. China identified its interests on the Korean Peninsula as "no war, no chaos, no nuclear." Among these three interests, Foreign Minister Wang Yi identified "no war" and "no chaos" as Beijing's "unquestionable redline," indicating that the Chinese leadership's biggest concern is the stability of North Korea.
China's priority is to maintain North Korea as a buffer zone against the United States and its allies. As the China-U.S. great power competition intensifies, Beijing also views North Korea as a hegemonic magnet that divert American pressure away from China to the Korean Peninsula. As a result, China wants to support North Korea through this economic difficulty. During a meeting with the North Korean ambassador to Beijing, Wang Yi declared that "China firmly supports the DPRK in developing its economy and improving people's livelihood and is willing to continue to provide the DPRK with assistance within its capacity." Wang's quote indicates that China is ready to resume trade with North Korea once the border is open and is likely to provide food aid to North Korea as well.
The North Korean food shortage presents a unique case to the U.S. policymakers. It is an opportunity to study the impact of a hypothetical "perfect sanctions regime" on North Korea – it is very unlikely that any international sanction effort could be as complete as North Korea's self-isolation since January 2020. First and foremost, the lesson is that the Kim regime is incredibly resilient. Despite this severe isolation and food shortage, there is no sign of North Korean collapse. There is also no report on institutional breakdowns as seen during the 1990s famine.
Second, China and North Korea will continue their "lip-and-teeth" relationship. Despite the alleged Beijing-Pyongyang conflicts, both sides still view the symbiotic relationship as a core interest. This case shows that any attempt to freeze North Korea to collapse is unlikely to succeed.