South Asia's Fight Against COVID-19 Gathers Momentum
Despite vaccine hesitancy and a shortage of doses, South Asian countries have fared fairly well in vaccinating their populations.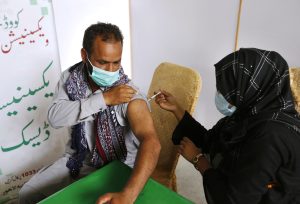 When the World Health Organization declared COVID-19 a pandemic in March 2020, the odds were heavily stacked against the developing world. Yet, despite their under-resourced healthcare systems, South Asian countries – with the exception of India – have managed to stave off significant COVID-19 outbreaks and have implemented vaccination drives more or less successfully.
India kicked off the region's immunization campaign in mid-January with the goal of vaccinating 300 million people by August. In just one month, it administered over 12 million doses of Covishield, the Oxford-AstraZeneca vaccine being locally manufactured by the Serum Institute of India.
With New Delhi donating Covishield vaccines to Sri Lanka, Maldives, Nepal, Bhutan, and Bangladesh, these countries initiated their immunization drives soon after. India overlooked its neighbor on the western front. However, China came to Pakistan's rescue by donating 500,000 doses of the Sinopharm vaccine in March.
Much of the early rollout prioritized healthcare workers and the elderly population.
In the months since, India has administered over 950 million doses of coronavirus vaccines, Pakistan 89 million, Sri Lanka 26.9 million, Maldives 737,000, Nepal 14.5 million, Bhutan one million, and Bangladesh 53.2 million.
The smaller states have managed to vaccinate a larger percentage of the population. Assuming that every person needs two shots, Bhutan, Maldives, and Sri Lanka have vaccinated 71 percent, 69.4 percent, and 61 percent of their populations, respectively. In fact, Bhutan's energetic vaccination campaign has been praised by UNICEF as "a great success story."
Trailing far behind them are India (34.5 percent), Nepal (25.5 percent), Pakistan (20.6 percent), and Bangladesh (16.3 percent).
The early success of the vaccination programs in South Asian countries was possible because these countries have vast experience with running immunization programs against polio and measles. Even so, many in South Asia do not understand the need for routine vaccination. And with increased use of social media, anti-vaccination propaganda has contributed to vaccine hesitancy in South Asia, as in other parts of the world.
Months before Pakistan initiated its campaign, a Gallup poll found that 49 percent of those who participated in the survey planned to refuse jabs while 39 percent said they would get vaccinated once a vaccine became available. The survey translated well into reality when the country's inoculation drive began slackening after opening vaccinations to all adults in May.
The immunization drive in Pakistan picked up pace again when the government announced it was barring unvaccinated staff from entering offices in the public sector, schools, and hospitality and transport businesses. It also limited air travel and public transport to vaccinated individuals.
Pakistan was able to put off the fourth wave of COVID-19 infections, sparked by a Delta variant outbreak. Dr. Faisal Mahmood, head of the Infectious Diseases section at the Agha Khan University Hospital (AKUH) in Karachi, told The Diplomat that one of the major factors behind a low spread in Pakistan was subdued mingling between communities in the urban centers and a scattered population in the rural areas.
Sri Lanka wrestled with its young population preferring Western-manufactured vaccines. "Most of them are still waiting for Pfizer even though the country has secured adequate doses of Sinopharm," a local journalist told The Diplomat.
In its efforts to boost vaccination, the Sri Lankan government sought a $100 million loan from International Monetary Fund to procure 14 million Pfizer doses. Meanwhile, it ramped up messaging to encourage youth to get inoculated with any vaccine available.
For Nepal, vaccine hesitancy was never a challenge. A multinational study carried out in Nepal by the Centre for the Study of Labour and Mobility in collaboration with Yale University showed that 97 percent of its population was ready to get vaccinated, the highest rate in the world. The country's vaccine campaign was instead marred by its prolonged political crisis.
In Bangladesh, the government's efforts were clouded by misinformation and conspiracy theories. But vaccine hesitancy became the least of Dhaka's worries as it was forced to scrap the inoculation drive due to a shortage of doses after India halted coronavirus vaccine shipments to the country.
As the country grappled with a Delta variant outbreak, China swooped in with its vaccines to boost Bangladesh's immunization campaign. The government also greenlit Russia's Sputnik vaccine and received doses from the global COVAX Facility. By September, its vaccination campaign was back on track.
India's vaccination strategy began robustly but was hit hard by the second wave of infections. With the number of daily infections and fatalities soaring, the domestic demand for vaccines surged, forcing the government to suspend its supply of vaccine doses to other countries. With the crisis having abated, India is looking to accelerate its vaccination drive at home. Last week, it began delivering coronavirus vaccines to mountainous states by commercial drones to speed up the drive. And after a six-month pause, India is set to resume vaccine exports, with the first consignments going to Iran, Bangladesh, Nepal, and Myanmar.