Why Vaccine Hesitancy is Rising Among Thailand's Youth
Many young Thais are deeply suspicious of the current government and its handling of the COVID-19 pandemic.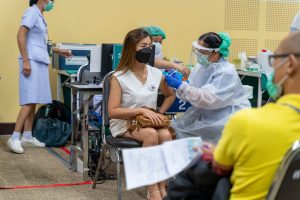 Since Thailand kicked off its COVID-19 vaccination program for middle and high school students, the country has seen a rise in anti-vax sentiments among its youth. On October 4, Thailand started giving students aged 12 to 17 the mRNA vaccine developed by Pfizer-BioNTech. Approximately 3.6 million out of 5 million eligible students have signed up to receive the shots nationwide. However, within days, netizens started to see a wave of online discussions expressing hesitancy towards the vaccine.
As of early October, at least half of the country was yet to receive a single shot of COVID-19 vaccine. The number of vaccines procured so far is only sufficient for 44.5 percent of the population, assuming every individual needs two doses. Furthermore, as the country has been relying mainly on the Sinovac and AstraZeneca shots, mRNA vaccines are considered rare items. Thus, students' hesitancy towards Pfizer – widely perceived as the "best" vaccine – sparked anger among those who wanted to get Pfizer shots but previously received other vaccines, not to mention those who have struggled to get vaccinated at all.
The lack of willingness to take the vaccine is not a new phenomenon in Thailand. It, in fact, has been a growing trend since the beginning of 2021. A recent YouGov poll showed that the number of Thais willing to get vaccinated dropped from 83 percent in January to 72 percent in July. This trend was the reverse of that observed in other Southeast Asian countries, including Indonesia, Malaysia, Philippines, Singapore, and Vietnam.
While varied, the main sources of vaccine hesitancy among the general public were the government's slow and disorganized vaccination program, as well as the country's heavy reliance on Chinese-made Sinovac doses. Believing that mRNA vaccines are more effective, many Thais have been calling for Pfizer and Moderna to be offered as alternatives.
Apart from questions about the Chinese-made vaccine's safety and effectiveness, the government's heavy reliance on Sinovac has been portrayed by many as reflecting its "increasing tilt towards China." Given that the topic of vaccines is inextricably connected to politics, the demand for the government to replace Sinovac with mRNA vaccines has also been registered by pro-democracy protestors since July.
But since middle and high school students are receiving Pfizer, what explains the vaccine hesitancy among these youths? In the United States, one of the main reasons seems to be that young people do not see COVID-19 as something to fear because they are not among the most affected groups. But that does not seem to be the case for Thai students.
Through posts containing the hashtag #ไฟเซอร์นักเรียน ("Pfizer for students"), which has recently appeared on social media, several reasons can be gleaned. Many say that the overreaction stems from concerns about the side effects of vaccines. Another reason is that students fear that Pfizer will be somehow mischievously replaced by Sinovac shots. This is a minor but significant indication of just how little trust young Thais have in the government.
In some ways, this distrust is not unfounded. Throughout the past few months, Thailand's vaccination program has shown many signs of unpreparedness and disorganization. Just before receiving their second jab, some Thais found out that the other half of their shots would have to be from a different vaccine option due to sudden changes in the government's policy. In some cases, people had to choose between delaying their second shot or mix-and-matching vaccines, as some hospitals ran out of stock. In response to the issue, Public Health Minister Anutin Charnvirakul said that the problem was that "vaccination centers operated too fast and did not go according to the amount of vaccine they had." Many have found this statement irresponsible.
Having witnessed a vaccination crisis in the country, students might therefore be afraid that their second shot will be substituted with another vaccine option. More worryingly, some fear that they might receive a vaccine with a Pfizer logo, but that the actual substance would be replaced by something else. Although the latter case is unlikely, such fears show that younger Thais do not trust the government – to the point that they could imagine the regime deceiving them in this way.
Anti-vax sentiment is not an uncommon phenomenon worldwide. As in other countries, the sentiment in Thailand is influenced by misinformation and the spread of conspiracy theories online. However, vaccine hesitancy in Thailand is worsened by the high level of public distrust following months of disorganization in the country's vaccination program. In other words, the government seems to be paying the price for its earlier inefficiencies and lack of decisiveness.
Regaining public trust is therefore an urgent agenda for the Thai government since more than half of the population remains unvaccinated. The quicker it can restore trust and put the program back on track, the faster Thailand will return to normality and begin to rebuild its economy. Furthermore, the ruling party should be looking to ensure they do not lose further popularity, given that the next general election is set to take place in less than two years.