Action Needed Now to Address the Humanitarian Catastrophe in Afghanistan
With winter approaching, the human tragedy that has befallen the people of Afghanistan will only worsen. Urgent action is needed.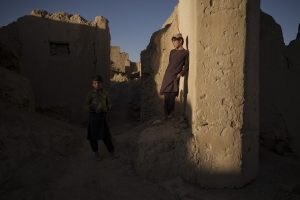 With the Taliban's forced takeover of Afghanistan, in violation of international law, the country entered a new phase of uncertainty, complicating what was an already difficult situation. More than half of the country's population is now facing food insecurity and a lack of other basic services. 
This is a direct result of various factors, but primarily the failure to reach a comprehensive political agreement under the Doha talks that were intended to end the four-decade-long conflict and secure a lasting and dignified peace within the framework of a democratic Afghanistan. Such an agreement would have led to a responsible transfer of power, and to broad-based administration, acceptable to the people. We could have been in a position of political stability, national unity, social harmony and prevented the present tragic situation. 
But that's not where we are today. The current situation remains extremely dire from a political, economic, humanitarian, and social standpoint. 
Without a fundamental shift in the international community's approach, the situation in Afghanistan is set to take a turn for the worse. A greater portion of the Afghan population is in urgent need of humanitarian aid; we see tragic images of children laying hopeless and almost lifeless in hospitals lacking adequate resources and read reports of destitute parents selling their children to save their families from starvation. This is an unfolding catastrophe. With winter approaching, the human tragedy that has befallen the people will only worsen and a greater number of Afghans are seeking refugee in neighboring countries and beyond. 
Meanwhile, the difficult political situation has also had a profound negative impact on the humanitarian and other fronts. The Taliban have been unwilling and unable to deliver on some of the main demands and expectations of ordinary Afghans and the international community, such as the formation of an inclusive and broad-based administration that reflects Afghanistan's national character. They have failed to permit all citizens, especially women and girls, to exercise their inalienable rights, including the right to education, employment and participation in civic life. Measures have yet to be taken to prevent Afghanistan from again turning in to a base of international terrorism. All these factors have prevented the international community from releasing Afghanistan's national assets and delivering critical economic and humanitarian aid on a normal basis.   
There's still time for hope. We need to make a fundamental shift toward a dual-track approach: (1) focus on the efficient delivery of vital humanitarian and economic assistance to the people of Afghanistan and (2) pursue peace-diplomacy to reach the thus-far elusive political settlement that will pave the way for an all-inclusive government. This will help set Afghanistan on the right trajectory and provide the very foundation for political, economic and social stability. 
As of late, international focus on meeting the immediate and urgent humanitarian needs of more than half of Afghanistan's population has gained some traction. The visit to Kabul in September by the Secretary General of the Norwegian Refugee Council (NRC) helped trigger this focus. In recent weeks, the U.N. and other international partners, including the European Union, the World Food Program and the International Organization of Migration have taken steps to respond to the increasingly worsening humanitarian and economic situation in the country.
At their summit meeting earlier last month, the G-20 countries committed to increase assistance, with the EU pledging 1 billion euros in support. It's now imperative that all financial commitments are disbursed and delivered directly to the people with maximum impact. Several international aid organizations still signal a lack of sufficient funds to deliver aid on a systematic and sustainable manner while better coordination among countries and organizations on generating and delivery of assistance is very much needed.  
Last week, Norway's Foreign Minister, Anniken Huitfeldt, announced her government's decision to scale up humanitarian assistance with an increase of 50 million Norwegian kroner ($5.6 million) to the 325 million kroner already set for Afghanistan in 2021. She also announced the contribution of 200 million kroner to the newly established U.N. trust fund for Afghanistan. The people of Afghanistan are grateful for this new pledge of assistance which is reflective of Norway's long-standing friendship with the people of Afghanistan. But meeting the emergency humanitarian needs of the people warrants scaled-up assistance from a wide-array of countries that are well placed to provide urgent assistance.  
Only a unified international response can address what World Food Program Director David Beasley has referred to as "the worst humanitarian crisis on earth," with 23 million people heading toward starvation. 
Furthermore, alongside the humanitarian effort, a renewed international diplomatic effort is needed to reach the long-pursued political settlement that reflects the will of the people and preserves and advances the national interest and unity of Afghanistan. Such an agreement, which remains the only viable solution to the "un-resolved" conflict, would have a profound stabilizing effect from a security, political, humanitarian and economic standpoint. 
The people have not given up on a peaceful settlement and neither should the international community. Absent a comprehensive political settlement, current tensions and discontent of the status quo will only increase and lead to another cycle of violence, bringing more suffering to the people and worsening the already devastating humanitarian situation.  
Now is the time for the United Nations and key countries that have been engaged in Afghanistan to promote security, stability and peace, particularly members of the Security Council, to reinvest in peace diplomacy for the political settlement that's so urgently needed to secure a peaceful and stable future for Afghanistan. The international community must not stand idly by as the situation in Afghanistan is on the verge of descending into an all-out catastrophe.