In India, Muslim Claims to Public Spaces Meet Protests and Disruption
Hindu right-wing outfits have been disrupting the Friday prayers of Muslims at sites in Gurugram allotted to them by the local administration.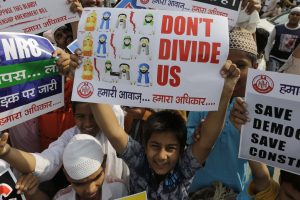 On September 29, 2021, a video of a man protesting against Muslims offering Friday congregational prayers (Namaz) on public land in Gurugram, near India's capital, New Delhi, went viral on Twitter. This escalated into a full-scale protest at the area in a span of just 10 days, with dozens of people carrying placards and shouting slogans to protest the Muslim gatherings every Friday.
For five consecutive weeks since then, protesters led by Hindu organizations like Bharat Mata Vahini have been disrupting Friday prayers that Muslims have been offering for over a year at the site.
Incidentally, the public sites where the Muslims have been gathering to pray, were sanctioned to them by the local administration. Indeed, the site that faced protest was among 37 sites that the administration had finalized in May 2018, as a place for Friday congregational prayers. This decision was made after discussions with members of both communities. Local police say that Muslims have been praying here for more than a year now without disruptions.
But tensions at the site have been running high for weeks, after Hindu organizations escalated the situation on November 5 by performing a Govardhan puja – rituals relating to a Hindu festival – there. Not only did the Sanyukt Hindu Sangharsh Samiti, a Hindu right-wing group, ignite tensions by organizing the puja at the Muslim prayer site but also, it invited BJP leader Kapil Mishra to the event.
Infamous for inciting violence against Muslims, Mishra had led rallies in favor of the Citizenship Amendment Act in northeast Delhi in February 2020. The legislation is anti-Muslim and Muslims had been protesting against it by organizing rallies and blocking roads.
At the rally in northeast Delhi, Mishra warned the Delhi police that if they did not clear the Jaffrabad and Chand Bagh areas of the anti-CAA protesters, his supporters would also hit the streets. He followed that up with a tweet calling on his supporters to gather at Maujpur "to give an answer to Jaffrabad."
A few hours later, anti-Muslim mobs went on a rampage, destroying Muslim homes, shops and businesses in the district.
Mishra has now labelled the disruptions of the Muslims praying at the Gurugram site as "a movement for citizens' right for free roads." He has said that no one had the right to block roads every week.
Adding fuel to the fire, India's Home Minister Amit Shah attacked Muslims for praying in public places and blocking traffic. He was speaking at a rally in the northern state of Uttarakhand, which will vote in state assembly elections next  year.
Incidentally, authorities have allotted 37 public sites to Muslims in Gurugram as there are only 13 mosques in the area to serve the needs of over 500,000 Muslims. Politicians seeking the spotlight have made a practical matter a Hindu-Muslim issue.
Meanwhile, the district administration has withdrawn permission for Namaz at eight sites in the city. Gurgaon police have said that the decision was taken following "objection from local residents and resident welfare associations."
Since the beginning of the Narendra Modi government's second term, the systematic targeting of Muslims, who make up 14 percent of India's population, has grown. Since the anti-Muslim violence in Delhi in February last year, more overt manifestations of hatred toward Muslims have been evident across the country.
Muslims are being forced to chant Hindu prayers and slogans and beheaded for alleged affairs with Hindu girls. Muslim women were auctioned on the dark web. The Hindu right-wing is undertaking activities that are contributing to a rise in anti-Muslim sentiment be it social, economic or political.
Meanwhile, ordinary Muslims in Gurugram are asking why performing puja is a better act than Namaz. "We just want to pray for barely half-an-hour," a Muslim, who saw his prayer site being snatched away told The Diplomat. "Is that too much to ask for?"
Another Muslim, who spoke to The Diplomat on the condition of anonymity wondered "why it is the Muslims who have to always compromise on our demands?"
There are different rules it seems for Hindus and Muslims. At the height of the second wave of the COVID-19 pandemic, Uttar Pradesh Chief Minister Yogi Adityanath permitted hundreds of thousands of Hindu pilgrims to assemble for the Kumbh Mela, a major Hindu pilgrimage festival. Permission was granted for the Kanwar Yatra too, although such congregations were super-spreader events, which resulted in thousands testing positive and even dying. In contrast, the government has a problem with Muslims offering Namaz every Friday at sites that were permitted by local authorities.