In Post-Coup Myanmar, Women Face Systemic Campaigns of Terror and Assault
The annual 16-day campaign against gender-based violence should draw attention to the urgent need to protect women and girls in Myanmar.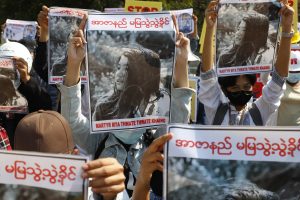 Women in Myanmar face the threat of violence by the military junta, undermining their safety and security. Abuse including sexual violence and assault have loomed over women and girls like a dark shadow. After seven decades of civil war, which shattered the population's civil liberties and widely suppressed human rights, women have become too familiar with threats to their bodies and gender-based violence.
November 25 marks the beginning of the 16 Days of Activism Against Gender-Based Violence, a day that coincides with the International Day for the Elimination of Violence Against Women. The campaign has been held for 30 years and aims to increase awareness and bring attention to violence perpetrated against women. Importantly, it also emphasizes how victims and survivors find strength and resilience to go on.
In Myanmar, spotlighting such violence is even more salient in the wake of the coup.  The world must know what kind of threats women are currently facing under the deadly grip of the junta. Since the attempted coup in February 2021, the Myanmar army has scaled up its use of systematic violence, particularly in areas where civilian defense forces have been formed. Consequently, attacks against women have also been on the rise, which have unveiled a lack of protection for survivors and their families.
Women have been taken hostage, tortured, and killed in the targeted offensives. Each month since the coup, it's become painfully clear with overwhelming evidence that women and young girls are not safe in the custody of the junta's military forces. Reports of violence against women have become almost commonplace. Raids are one of the most widely used acts of lawlessness inflicted by the Myanmar military; during these violent intrusions, women are at serious risk of sexual violence.
Most recently, on November 11, a mother of a newborn infant was raped in front of her husband at gunpoint in Tedim township, Chin State. Later that evening, the victim's 30-year-old sister, who herself was seven months pregnant, was raped by Myanmar army soldiers.
The director of the Chin Human Rights Organization, Thin Yu Mon, described the horrifying incident as "disgusting and extremely inhumane."
In another incident in Shan State earlier this month, an elderly woman was the victim of a rape after soldiers from Light Infantry Battalion 336 stole food from her home. They left the scene of the crime and then decided to return to her home to rape her. Although a complaint was filed, the country's legal system is dominated by the military junta, and hence justice for these crimes is virtually non-existent.
The junta acknowledged the report, and made promises to bring those responsible to justice. But soldiers are largely protected in military courts and by the 2008 Constitution. Victims are haunted by these assaults, and when perpetrators go unpunished, the pain is worsened by the lack of accountability.
Tragically, these harrowing incidents are not isolated. Rather, these cases are another stark reminder of entrenched military impunity and longstanding violence against women and girls in Myanmar's conflict zones. Sexual violence like rape has long been used as a tool to terrorize victims and their families. A lack of access to psychosocial support and protection, now compromised by the COVID-19 pandemic, has made it harder for traumatized victims to seek reliable justice and protection referral pathways.
Myanmar's social structure is formed in a patriarchal culture dominated by men. It is one that often suggests that the woman is at fault in these situations of abuse. The repressive climate creates a space where victims are reluctant to even talk about their trauma, let alone report crimes that were inflicted on them.
Women have disproportionately been impacted by the violence, as they make up 54 percent of the 230,000 internally displaced from internal conflict. Their survival is largely dependent on their ability to flee at a moment's notice. The lack of political stability has forced women, including expectant mothers, to regularly be on the move. These women often are forced to give birth in settings that put the lives of both woman and child in jeopardy. The Myanmar military has created an environment that is not safe for anyone in the country, and has exacerbated the risks of violence from raiding soldiers.
Due to deeply rooted impunity, soldiers do not fear consequences for their actions. Instead, they repeatedly commit the same offenses with a misguided confidence and a sense of entitlement that they are above the rule of law.
Local community-based organizations working on the ground say that international condemnation against the atrocities taking place in Myanmar is not enough. During a closed door meeting, the United Nations Security Council (UNSC) failed to take concrete actions necessary to dismantle the junta and protect civilians, including women and children. In a statement, the Women's League of Burma, Sisters2Sisters Myanmar, and the Women's Advocacy Coalition Myanmar, called on the UNSC to institute a comprehensive global arms embargo and refer the situation in Myanmar to the International Criminal Court.
The 16-day campaign is a reminder of what women face in a country shattered by conflict and a state where oppression has become normalized. The international community has a moral obligation to stand by survivors. They must amplify their calls for justice and take steps to enforce a global arms embargo and targeted sanctions against the Myanmar Army.
Without interference, Myanmar's women and girls will face the same atrocities. They must be protected from the brutal savagery of the junta.