India Commits to Net-Zero Emissions by 2070
At the Glasgow meeting, New Delhi led the charge against rich nations which haven't fulfilled their pledges on climate finance.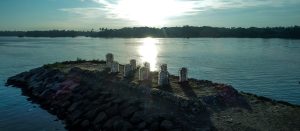 India's Prime Minister Narendra Modi grabbed the headlines at the COP26 climate change conference in Glasgow when he announced that India would achieve net-zero emissions by 2070.
His announcement came as a surprise. In the run-up to the event, India had been rejecting global pressure to make a commitment on net-zero goals. Among the few countries to have achieved its target under the Paris Agreement, India has been arguing that countries should first deliver on the promises made at the 2015 Paris Climate Conference. Indeed, in the days preceding the Glasgow meet, Indian government officials were insisting that net-zero goals were not the solution to the climate crisis.
In his speech at Glasgow, Modi put forward a five-point climate action plan under which India has committed to increase non-fossil fuel energy capacity to 500 GW, meet 50 percent of its energy requirements from renewable energy, reduce carbon emissions by one billion tons, and bring down the economy's carbon intensity below 45 percent, all by 2030.
Importantly, India has pledged to achieve the target of net-zero emissions by 2070.
These were bold promises coming from a developing country which has big ambitions and whose economy is just taking off. Although India accounts for 17 percent of the world's population it is responsible for just 5 percent of its emissions.
However, it is the third-largest emitter of greenhouse gases (GHGs) in aggregate.
The IPCC's Sixth Assessment Report provided a stark warning that human-induced climate change may have already caused an irreversible change in temperature. If the world does not reach net-zero emissions by 2050, the temperature rise will exceed 1.5 degrees centigrade, it said.
There is still a small window to prevent the most harrowing effects of climate change; hence the heightened efforts by activists who want governments to act robustly before it is too late.
Densely populated South Asia is among the regions that are the most vulnerable to climate change despite minuscule historical contributions. It is also one of the poorest regions; hence, it lacks the resources to adapt to the impact of climate change.
In this context, India's role as the third-largest emitter of GHGs and its leadership in countering its impact is critical.
Modi's statement at Glasgow is important for several reasons. First, India's pledge shows that developing countries can, and should, strike a balance between economic growth and the environment. The advanced economies of the West were responsible for the global historical emissions, but the responsibility ahead lies on all countries. According to one report, 1.5 billion people from India, Pakistan, and Bangladesh will be living in a place as hot as the Sahara desert in 50 years if GHG emissions continue to rise.
Second, India's leadership and Modi's presence in Glasgow sends a message that the third-largest emitter is serious about tackling climate change. It got additional significance because Chinese President Xi Jinping skipped the conference. China is already the largest emitter. It is significant for the region that the two states make serious commitments and follow through. It is heartening that at least one of the two countries prioritized the climate conference over domestic affairs.
Third, the Indian prime minister emphasized the need for advanced nations to support the efforts of developing nations by providing finance and technology. Without such support, the developing countries are unlikely to meet the key targets.
Rich countries had pledged to provide $100 billion per year from 2020 to help developing countries fight climate change. It appears that the developed world will not begin fulfilling that pledge until at least 2023.
At Glasgow, Modi said that India alone needed $1 trillion in climate finance. Nepali Prime Minister Sher Bahadur Deuba expressed similar concerns with regard to climate finance. He urged the parties to agree on a "clear roadmap for a new collective, quantified and ambitious goal on climate finance."
India's role will be critical in ensuring that the promises of climate finance do not remain empty promises again.
At Glasgow, Modi stressed that "it is necessary that as we track the progress made in climate mitigation, we should also track climate finance." "Countries which do not live up to their promises made on climate finance" should be held accountable, the Indian prime minister said. "Pressure should be put on them."
South Asia comprises countries of great diversity. The pledges they made at Glasgow were just as diverse. While India committed to net-zero emissions by 2070, Nepal pledged to be carbon-neutral by 2045 and Pakistan has not committed to a specific year. Bhutan is already carbon neutral.
The impact of climate change on South Asian countries is also varied. Rising sea levels are an existential threat to the Maldives. Rapidly melting glaciers pose a risk for the Himalayan states and the lower riparian countries.
However, the cause is common, and global cooperation is the only way forward. Regional cooperation and solidarity can strengthen the voices of South Asian countries and have greater impact in the global arena. However, solidarity is sorely lacking in South Asia.
Unlike ASEAN, which has introduced a Green Recovery Platform, South Asian countries are going solo despite the common threat. Cooperation in fighting climate change is a litmus test for South Asia. There can be hardly any other issue that unites the region more. Indian leadership will be more critical than most South Asian countries would like to acknowledge.