Indonesia's COP26 Deforestation Pledge Kerfuffle, Explained
The Indonesian environment minister's real misstep was that she punctured the illusion of progress by saying the quiet part out loud.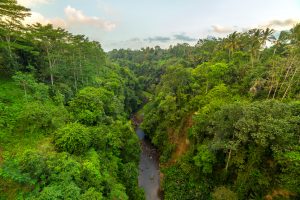 Indonesia made waves at the COP26 climate conference last week by first agreeing, along with over 100 other countries, to end deforestation by 2030 and then seemingly backtracking on that pledge almost immediately. Siti Nurbaya Bakar, the minister of environment and forestry, took to Twitter and stated that Indonesia's commitment to ending deforestation would not come at the expense of its economic development. 
Social media outrage followed fast and furious, with the minister later clarifying what she meant was that environmental sustainability and economic development need to be in balance. This little drama will probably blow over quickly, but it does touch on larger issues related to COP26, climate policy, and Indonesian politics. The main point is the limits of what can be realistically accomplished at a forum like COP26. 
So far we have seen what we would expect: a raft of non-binding pledges that are aspirational or so broad as to be impossible to implement. The deforestation pledge is the perfect example. The pledge is to "halt and reverse forest loss and land degradation by 2030." But because it is non-binding and key terms like the meaning of "forest loss" are not defined, it is tailor-made for countries to claim they are doing something, without actually doing anything at all. In a way, the Indonesian environment minister's real misstep was that she punctured this illusion by saying the quiet part out loud: Indonesia will not stop cutting down trees, full-stop. 
According to Mongabay, Indonesia has the third largest tropical forest area in the world, behind Brazil and the Democratic Republic of Congo. The country lost 115,459 hectares of forest cover in 2020 from activities such as logging and conversion of land into palm oil plantations. If Indonesia were to strictly abide by the terms of the pledge, we would expect the country's palm oil industry to take a big hit. Like it or not, palm oil is big business in Indonesia. According to the Central Statistics Agency, in 2020 Indonesia exported 27.3 million tons of palm oil valued at $18.4 billion. 
In 2021, as the global economy lurches back to life, Indonesia's palm oil exports have surged even more, reaching $18.5 billion through just the first eight months of the year. From a macroeconomic perspective, this has been critical in shoring up the country's current account and compensating for the loss of foreign exchange when international tourism collapsed. Palm oil (and coal, as it happens) have provided Indonesia with an important source of exports that have allowed it to better withstand some of the worst of the pandemic's economic shocks. The COP26 deforestation pledge would, in essence, constrain Indonesia's ability to do that in the future without offering any alternatives for what would replace it. 
As I wrote in a recent feature for The Diplomat magazine, realistic climate policy must engage with these underlying political economic structures. We cannot simply hand-wave them away because they are inconvenient, and that's exactly what a non-binding pledge to end deforestation on an arbitrary date does. The minister's tweet was obviously poorly worded, but in a way she identified a real tension at the heart of this issue that needs to be reconciled if Indonesia is going to get on a more sustainable track. 
What is a balance between economic growth and the environment that society can collectively live with? How can palm oil plantations in Indonesia be better regulated? What incentives can be offered to get industry players to change their behavior and how can high-income countries help Indonesia to deal with these challenges? These are the questions that actually matter. They are also the ones that are often conspicuously absent at COP26.