What Was Thailand Doing at the COP26 Summit?
Thailand didn't make bold climate commitments or sign key agreements reached at the conference. So why was Prayut in Glasgow?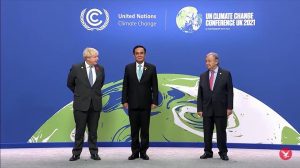 Thailand's Prime Minister Prayut Chan-o-cha made an appearance at the 26th United Nations Climate Change Conference (COP26) in Glasgow early this month. In his remarks at the World Leaders Summit, Prayut stressed that climate change is "a matter of life and death" and Thailand is determined to reach a net-zero emissions target by 2065.
Indeed, the impacts of climate change are becoming increasingly felt in Thailand. The kingdom suffered the worst drought in four decades last year, and its northern capital Chiang Mai was labelled as the "most polluted city in the world" for several consecutive days due to its growing smog problems. Central Thailand, particularly Bangkok, is highly vulnerable to rising sea levels. Riverside districts in Bangkok are now swamped by rising waters, and a gloomy forecast indicates that all of Bangkok could be underwater by 2050.
The Thailand Development Research Institute (TDRI) suggests that rising operational costs and trade restrictions driven by climate change could ultimately lead to a 43.6 percent reduction in gross domestic product (GDP). The adoption of green technology and cross-governmental collaboration are thus mandatory.
Through ratifications of the United Nations Framework Convention on Climate Change (UNFCCC), Kyoto Protocol, and Paris Agreement, Thailand has long demonstrated a commitment to tackle climate change. The country's first ever climate law was drafted last year, and there is a growing trend toward greater use of electric vehicles and renewable energy sources.
Still, Thailand's response to climate change is lagging behind other nations. Thailand's climate strategy, to date, primarily focuses on adaptation rather than mitigation. Besides, Prayut's 2065 net-zero target is 15 years later than the 2050 deadline set by scientists to prevent global temperatures from rising beyond 1.5 degrees Celsius. Thailand's next-door neighbors Malaysia and Laos both ambitiously adopted the 2050 target.
Furthermore, Thailand did not sign key agreements presented at the COP26 summit. The first agreement commits nations to end deforestation by 2030 while the second agreement pledges to cut methane emissions by 30 percent in or before 2030. Both were endorsed by over 100 world leaders, including the controversial Brazilian President Jair Bolsonaro. Thailand was also absent from the pact to end coal use.
Given Thailand's lack of ambition and concrete commitments, it is puzzling why Thailand was given a spotlight at such a high-profile climate conference. Prayut, as the head of the military-backed Thai government, was pictured greeting top leaders from "like-minded" democracies – U.S. President Joe Biden, Britain's Boris Johnson, India's Narendra Modi, Canada's Justin Trudeau, and Germany's Angela Merkel. Prayut was also seen exchanging words with Britain's Prince Charles. These scenes would have been unthinkable some years ago when the military government had a complicated relationship with the West and was aligning closer to China, which did not criticize Thailand's coup and domestic affairs.
While Thailand has continued to maintain close relations with China, Thailand's ties to the U.S. and U.K. have warmed up considerably since 2017-2018. There are several factors behind this shift, including the arrival of the Trump administration, Brexit, and Thailand's "democratic reform." But the escalating strategic competition between the U.S.-led bloc and China appears to be the dominant force. The Anglo-American faction needs to win over old and new allies – democratic or not – to preserve the existing U.S.-led international order, which is being threatened by China's economic and military expansion.
Ultimately, Thailand's COP26 appearance was more for PR and strategic purposes. It came at a time when China is being seen as more isolated on the international stage due to its zero COVID strategy, the growing collaboration between members of the Quadrilateral Security Dialogue (Quad), and China's record number of incursions into Taiwan's airspace, which has fueled greater international sympathies for Taiwan. President Xi Jinping's absence from COP26 further gave the United States and friends the PR advantage.
Prayut, meanwhile, sought to gain international recognition at COP26 not only to pave a way for Thailand's hosting of the Asia-Pacific Economic Cooperation (APEC) summit in 2022, but also to boost his domestic standing. Public discontent against Prayut is mounting while political parties have embarked on major reorganization to prepare for upcoming elections. The main opposition Pheu Thai Party, for instance, recently introduced the daughter of the exiled former Prime Minister Thaksin Shinawatra as the party's chief advisor for innovation to appeal to young voters. Without a party of his own, Prayut's political future does not look bright.
So far, Thailand as a climate vulnerable country has not done enough to address the climate crisis. This, in a not-so-distant future, could prove to be very costly.