A Tumultuous Year in Malaysian Politicking
The shifting political allegiances of the past three years seem set to continue until the next general election.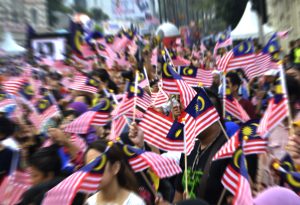 Malaysia's intricate political games have intensified since 2018, and the tectonic political plates have shifted back and forth. The democratic transition many had hoped for with the end of 61 years of single-party rule did not materialize. The unexpected resignation of Mahathir Mohamad as prime minister and the switch of allegiance of some opposition leaders to his successor Muhyiddin Yassin to build a new alliance paved the way for the return of the old United Malays National Organisation (UMNO) to power. The pandemic created an unprecedented economic crisis in Malaysia, as it did globally, further deepening the trust deficiency in state institutions and the government.
Muhyiddin, who took power in March 2020, faced multiple crises, several attempts by the opposition to topple his government, and an ongoing feud with the king. The prime minister finally resigned after 17 rough months in power, offering his position to the strongest party contender: UMNO. But Muhyiddin still had a hand in designing the new UMNO-led government that replaced him. He managed to sideline an important faction of UMNO leadership, including former prime minister Najib Razak and party president Zahid Hamidi. Ismail Sabri Yaakob was appointed ninth prime minister of Malaysia in September 2021.
In his first 100 days, Ismail announced his grand plan during a speech at the United Nations under the concept Keluarga Malaysia, or "the Malaysian Family," aiming at "uniting Malaysia" to restore its economic prosperity. Keluarga Malaysia echoes the 2009 "One Malaysia" campaign of Najib Razak, who is currently facing criminal conviction for his involvement in the 1MDB financial scandal. But the government's new $83 billion budget (the largest ever) largely favors the Malay majority, suggesting that the idea of "the Malaysian family" is mere rhetoric. Despite its controversial elements, the budget passed without much noise in the Parliament as the opposition coalition, Pakatan Harapan (PH), sealed an agreement with Ismail's government to support his plan.
The memorandum of understanding (MOU) signed with PH gave the new prime minister a guarantee that the opposition would put a halt to politicking. Many observers perceived the MOU as the long-awaited sign of the beginning of a new political era wherein the public interest would supersede party agendas. However, the MOU should not be seen as more than another smokescreen that has allowed politicians to keep maneuvering behind the scenes, far from any idealistic collaboration to overcome the country's challenges. The media and civil society, meanwhile, continue to highlight lavish government expenses and unjustified expenditures, fueling further questions about the government's intentions and highlighting a structural problem of governance.
Malaysia's new party alliances were tested by recent state elections in Melaka, triggered by the decision of four assemblymen to pull their support for UMNO state minister Sulaiman Md Ali. After a few weeks of tensions and more plotting, Sulaiman was returned to power, strengthened by a two-thirds majority in the state assembly. Melaka is a southern Malaysian state where demographics mirror those of the country at large. The voting patterns in the state elections were therefore closely watched as predictive of the coming general election, which could be called as early as the first quarter of 2022.
The political maneuvers in Melaka provoked a reshuffling of allegiances and alliances on all sides. In this complex political weave, the Islamic Party of Malaysia (PAS) sits in two camps, as the party is both in the former ruling Perikatan Nasional (PN) alliance led by Muhyiddin and Muafakat Nasional (MN), an alliance that includes UMNO. In Melaka, PAS chose to side with PN – the coalition led by Muyhiddin's Bersatu party – to the detriment of UMNO and MN. As such, UMNO and its longtime coalition partners in Barisan Nasional (BN) contested all seats in the state on their own.
Meanwhile, the opposition PH alliance saw its own problems deepened by strategic errors on the part of its leader Anwar Ibrahim. The former icon of the Malaysian democratic movement has long flirted with UMNO leadership (somewhat controversially) in hopes of gaining the parliamentary majority he needs to take power. Despite many claims, Anwar's efforts have been in vain. His credibility as a leader has been severely damaged. For the Melaka polls, Anwar decided to welcome two of the former UMNO members of the state assembly who had provoked the fall of the government and offered them seats to run for despite strong objections within the ranks of his own party, Keadilan, and its main ally the Democratic Action Party (DAP).
As a result of Anwar's shortsightedness, Keadilan was wiped out of the state assembly, losing all 15 of its seats to BN. Despite a crushing victory for UMNO, which obtained a total of 18 seats, Bersatu made inroads. If the opposition does not change its formula, it is running its last course, short of breath and ideas; UMNO with BN and Bersatu with PN will be the main challengers for the coming general election.
While the political giants of PH, PN, and UMNO-BN are actively looking forward to the next general elections, factionalism has increased. In UMNO, the Najib-Zahid faction, strengthened by the optics of the Melaka state victory, hopes for an early general election. Najib's popularity remains strong among the UMNO grassroots, and he likely hopes that a victory for the party, particularly for his faction, would help him out of the 1MDB legal maze. The eligibility of Najib, who has been sentenced to 12 years prison and lost his latest appeal this month, remains an object of intense speculation by legal and political experts. For these reasons, other quarters of UMNO would rather see Ismail Sabri remain in the top post to give justice time to follow its due course and put away Najib and his counterparts.
Meanwhile, the Bersatu-led PN coalition's hopes are resting on an influx of new voters in 2022. The implementation of automatic registration of voters and the lowering of the voting age from 21 to 18 means that the number of voters for the next general election will increase by approximately 30 percent and be mostly composed of first time-voters below the age of 25. But the Muda (Youth) party led by former minister of sports Syed Saddiq could also be in a good place to attract some of these voters. The party had been facing resistance from the administration but successfully registered last week. It is attempting to create a new coalition with the Sabah-based party Warisan, but that has yet to materialize.
A faction of Anwar's Keadilan led by Azmin Ali, which had left the party in 2020 to join the Muhyiddin government, is also suffering from dissension. Frustrations have grown within what detractors label "Azmin's gang" whose members are now part of Bersatu. One of its leading figures, Zuraida Kamarrudin, is said to be behind the creation of a new party, Parti Negara Malaysia, although she has yet to officially join it. It is unclear, as of now, if other leaders of the Azmin group would join her. Besatu president Muhyiddin will not risk losing the precious Bersatu ministerial positions, as that would create an imbalance of power in a government shared mostly between his party and UMNO. In this political mess, Ismail Sabri, influenced by Muyhiddin, could decide to remove Zuraida and others from their ministerial positions and ensure the stability of his government.
This past year has shown that Malaysia has not yet transitioned to a consolidated democracy, though hiccups are part of all political transitions. Foreign political observers seem confused by the directions taken by Malaysia's unique political path, as well as why Najib Razak remains so popular. What is needed here is a change in paradigm for better analysis and anticipation of Malaysian politics. The dramatic dimension of politics is universal, and without considering that politics is a human, and as such an emotional, matter, analysis of Malaysian politics can only ever be an approximation. As the politicking continues and the political culture remains entrenched, recent years have shown that, more than ever, Malaysia's political scene needs to bid farewell to its titans and allow a new generation to rise.
This article was originally published on New Perspectives on Asia from the Center for Strategic and International Studies and is reprinted with permission.