Assessing Antony Blinken's Jakarta Speech on the Indo-Pacific
The U.S. Secretary of State made a broad array of promises, but was frustratingly short on specifics.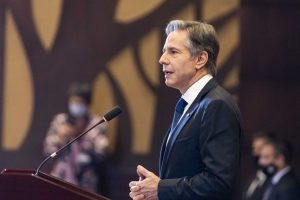 Today, U.S. Secretary of State Antony Blinken delivered a policy speech in Jakarta that was mooted as outlining the Biden administration's strategy for the Indo-Pacific. However, any observers expecting a radical update on previous U.S. government statements were likely to have come away disappointed. While hitting all of the usual notes about "freedom," and "openness," and "rules-based order," the speech remained frustratingly vague as to its specifics.
In sum, Blinken, who is in Indonesia on the first leg of a three-nation tour of Southeast Asia that will also take him to Malaysia and Thailand, promised to deepen and broaden the U.S. relationship with the region.
"Threats are evolving, our security approach has to evolve with them. To do that, we will lean on our greatest strength: our alliances and partnerships," he said. He promised that the U.S. would "adopt a strategy that more closely weaves together all our instruments of national power – diplomacy, military, intelligence – with those of our allies and partners."
He underscored U.S. efforts to deliver high-quality infrastructure and vaccines to the region while working closer on security issues, integrating supply chains, and cooperating on technological innovation. "It's about reinforcing our strengths so we can keep the peace, as we have done in the region for decades," he said.
Blinken also repeated the mantra that the U.S. is not asking the region to choose between it and China, but did not shy away from running down Washington's familiar list of concerns about Beijing, from its government "claiming open seas their own" to its use of economic coercion to secure its strategic objectives. "The goal of defending the rules-based order is not to keep any country down," Blinken said. "Rather, it's to protect the right of all countries to choose their own path, free from coercion and intimidation."
Little of this is new, and the speech's references to abstractions like the "rules-based order" were backed up by few concrete proposals. Take Blinken's pledge that the U.S. would promote "broad-based" prosperity in the region through a mooted Indo-Pacific economic framework that will focus on trade, the digital economy, technology, supply chains, and clean energy (among other things).
Despite the widespread talk of the need for Washington to raise its economic game, there was little detail about how the U.S. plans to get there. Since Donald Trump's withdrawal from the Trans-Pacific Partnership (TPP) in 2017, the U.S. domestic political context has remained highly allergic to multilateral trade deals.
Alexander Arifianto of the S. Rajaratnam School of International Studies at Singapore's Nanyang Technological University likened the mooted Indo-Pacific economic framework to a "TPP 2.0," and asked, "Would the U.S. be able credibly commit to it if it decided to withdraw from the latter in light of domestic populist pressures?" With the Republican Party poised to make inroads at next year's mid-term elections, and possibly recapture the White House in 2024, it is a not unreasonable to ask whether any of what Blinken said will be relevant in four years.
Blinken's speech also evinced the broader problem with U.S. engagement with Southeast Asia, and much of the wider Global South: its assumption of both an overly benign perception of U.S. power and influence, and an overly malign view of the threat posed by China. This Manichean framing is more broadly reflected in the administration's division of a complex, interconnected world into two competing "democratic" and "authoritarian" camps, a binary that was institutionalized at last week's Summit for Democracy.
Few Southeast Asian governments share these ideological premises. Instead, they each exist in a complex state of tension and co-existence with China, the common denominator of which is the close economic relations. While the U.S. foreign policymaking establishment is seeking to exorcise the ghost of Donald Trump by embarking on the sort of grand global crusade that Trump so openly disdained, the elites of the region, democratic and otherwise, are focused on shoring up their domestic legitimacy in the midst of a COVID-19-induced recession.
As Evan Laksmana, a senior research fellow with the Centre on Asia and Globalisation at the National University of Singapore's Lee Kuan Yew School of Public Policy put it recently in the Australian Financial Review, this legitimacy "now significantly depends on the private benefits and public goods China provides. A regional order that excludes one great power over the other may make sense geostrategically, but be unpalatable politically."
This suggests that the U.S. government would be better off eschewing alienating grand narratives and tailoring its engagement to each government's needs for social and economic development, in order to give them greater leeway to stand up to China when necessary.
The Indo-Pacific is generally in favor of more robust American engagement, but rejects the rigid binaries that lie at the heart of Washington's current approach to the region. If the U.S. fails to heed that, its policy in Southeast Asia, and the wider Indo-Pacific, is destined to remain a slogan without a strategy.