Duterte's Sluggish Typhoon Rai Recovery Spending
Frustration is growing two weeks after a devastating typhoon struck the Philippines, with government assistance slow to reach the affected areas.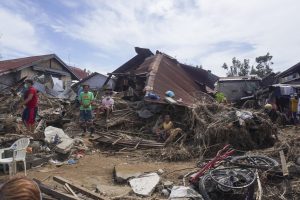 Almost two weeks since Typhoon Rai, a super typhoon, hit the central and southern Philippines on December 15, survivors are still in desperate need of relief and rehabilitation. The death toll has now risen to nearly 400, while the National Disaster Risk Reduction and Management Council (NDRRMC) estimates that around a million families have been displaced by the tragedy. 
It took President Rodrigo Duterte five days to formally declare the affected areas under a state of calamity, triggering the release of resources specifically allotted for recovery. 
"The first step is for government to admit this is an emergency. And it's an emergency that requires immediate action," said Katrina Stuart Santiago, founder of the People for Accountable Governance and Sustainable Action (PAGASA). She slammed the government for the slow and incremental release of funds for typhoon-affected areas, doing a worse job than civil society groups in racing to the need of its constituents.  
Twice, on December 21 and 25, Duterte announced that government funds had been "depleted."  Senator and close Duterte ally Christopher "Bong" Go explained: "The President's Calamity Fund is really gone. It was used for COVID response. Duterte just found a way to allot [2 billion Philippine peso] extra for the calamity fund and another 2 billion from the contingency fund."
Santiago disputed this claim. "We have seen that in times of crises, such as the pandemic and typhoons, there is no sense of urgency at all, or suddenly laws are 'in the way' of timely and appropriate response," she said. "At this point it's clear that it's all just an excuse for his utter refusal to respond with urgency."
Meanwhile, on December 27, Duterte promised another round of aid, approximately 4 billion pesos, to be used as to make financial aid payments of 5,000 pesos for some 800,000 beneficiaries. The amount is half of what the National Economic Development Authority considers livable. Moreover, it cannot cover the more than a million families that have been dislocated by Typhoon Rai.
Some lawmakers have pointed out that aside from the slow-moving delivery of funds, the Duterte government is neglecting to use and make public other significant budget sources. 
Congressman Ferdinand Gaite of the Bayan Muna (People First) Party revealed that presently there are 20 billion pesos available in calamity funds from the 2021 budget. He called for a swifter distribution of aid and for Duterte to stop dilly-dallying. "The P16 billion Calamity budget for 2020 has been extended until December 31 of this year. We cannot accept that Duterte is only willing to part with a morsel of that to help areas hit hard by the typhoon," he said.

The Department of Budget and Management elaborated that another 6 billion pesos will be pledged from the country's national budget for 2022. The funds only became available on December 30, when Duterte signed next year's budget into law. 
Gabriela Women's Party Representative and Congressional Housing Committee member Arlene Brosas told The Diplomat that she suspects Duterte first wanted to ensure his "war chest" for next year's election was intact before giving the go-ahead. "Discretionary funds worth P406.49 billion, which are in the form of budgetary support to government corporations, Local Government Support Fund, and funding for executive offices, are big red flags which are prone to misuse for patronage and election-related purposes," she said. "True to his form, Duterte is leaving a budget legacy of massive misuse of public funds for programs which line the pockets of favored contractors, generals, and allies." 
Brosas also doubts the swiftness with which the executive branch can utilize these resources. She commented on the National Housing Authority, which was given the go-ahead to distribute 100 million pesos in emergency shelter assistance. Not only was this grossly insufficient, but the agency is symptomatic of the snail-paced delivery of services. Typhoon Rai has drawn many comparisons to Typhoon Haiyan of 2013 because of the level of destruction. However, housing and shelter projects for the survivors of Haiyan, a crucial aspect of recovery, have yet to be completed eight years later. Brosas expressed fears that the same will happen with Rai, especially with such reluctant spending. 
"Estimates of the property damage is around P29 billion already. We saw how roofs were torn off in almost every area of the typhoon. What's more, there has yet to be a comprehensive assessment by the state on the damage. We should be better by now. Shelter is a priority, but it looks like the government hasn't learned its lesson," said the lawmaker. 
Santiago underscored this point from a civil society standpoint. She said, "the more important question for us at this point is when that amount – or any amount at all – will be felt by people who most need it. All we have heard from communities across Bohol, Surigao, Siargao, and Cebu is that relief goods are few and far between, with most of [them] coming from CSOs and NGOs."
The budget for 2022 is 11 percent higher than for 2021, with both the military and police getting significant boosts amounting to a combined figure of over 400 billion pesos. Lia Torres, executive director of the Philippines' Center for Environmental Concerns, explained that climate and natural disasters are sadly not among the president's priorities. On top of 2022 being an election year, funds have historically gone to the military and projects for the president's allies. 
Torres said, "the reality is that [the] state will never fill disaster relief funds because of systematic government corruption and misuse of its resources."
She pointed out that the country is chronically under-preparing for such catastrophes despite knowing they happen every so often to varying degrees of intensity. Moreover, 130 of the 142 critical watersheds in the country are already in bad shape, she added. Hence, "it shouldn't be a surprise that the regions afflicted by Rai could not mitigate the extreme rainfall and flooding caused."
Continued underspending has left the Philippines once again contending with significant levels of destruction. The Duterte administration instead is looking ahead to an election year and aiming to safeguard its political interests by again investing in law enforcement, intelligence, and the military. As mentioned, hundreds of billions have been funneled to these sectors in the current and upcoming fiscal year. Meanwhile, the current total of spending by the national government on those afflicted by the latest typhoon's devastation stands at 14 billion pesos, of which 10 billion pesos (financial assistance and congressional aid) has only just been announced in the last couple of days. 
Proper auditing and public transparency on the allocation and use of COVID-19-related loans and donations has also yet to be undertaken, making claims of the calamity budget's "depletion" highly suspect. Millions of Filipinos have endured over two weeks with insufficient food, water, shelter, and other basic necessities. The indifference and neglect shown to people over the holiday season, in what is one of the worst natural disasters to hit the country under Duterte, may well manifest in the polls next year.