Myanmar Troops Massacre 11 Civilians in Sagaing: Reports
The killings come amid an upsurge of civilian militia activity in Sagaing Region and other parts of central Myanmar.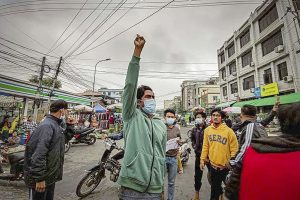 Over the past two days, a spate of reports have emerged of a gruesome massacre carried out by junta troops in central Myanmar, a sign that the Tatmadaw's repression of resistance to its February coup is becoming increasingly barbaric.
According to the reports, Myanmar military personnel rounded up 11 villagers, some believed to be children, tied them up, and slaughtered them in the street.
Myanmar Now, citing local media outlets, reported that the massacre came after some 100 soldiers raided Done Taw village in Salingyi Township at around 11 a.m. on Tuesday, after local pro-democracy insurgents detonated explosives in an attack against a military convoy.
Troops retaliated by shelling the village and then rounded up any residents that they could capture. Villagers later found the charred bodies of the 11 victims in a pile, some with their hands tied, leading many to assume they were burned alive. Grisly photos of the charred corpses were widely shared on Twitter and Facebook from Tuesday evening, along with expressions of outrage from social media users, though it took some time for specifics of the attack to be confirmed.
Myanmar Now also quoted the leader of the Done Taw People's Defense Force, a local anti-junta guerrilla group, who said that the 11 were unarmed when they were captured. "They beat them to the brink of death and burned them alive before they died. Some of them are not even 18," he said. Another source who spoke to the Associated Press largely corroborated this account, saying that about 50 troops marched into Done Taw village, seizing anyone who did not manage to flee. "They arrested 11 innocent villagers," the witness told the news agency.
U.N. spokesman Stephane Dujarric expressed deep concern at the reports of the "horrific killing of 11 people" and strongly condemned such violence, saying that "credible reports indicate that five children were among those people killed." A spokesperson for the U.S. government said it was "outraged" at the reports.
Dr. Sasa, the international spokesperson for the National Unity Government (NUG) set up to represent the ousted civilian government said that the "sickening scenes" in Sagaing were "reminiscent of the Islamic State terrorist group and bore witness to the military's escalation of their acts of terror." The junta predictably denied any massacre, publishing a statement filled with hysterical claims that reports of the killings were "misinformation" published by "nation-destroying media supporting terrorists and terrorism."
Sagaing Region has emerged a stronghold of civilian militias known as People's Defense Forces, hundreds of which have mushroomed across the country in support of the NUG and in staunch opposition to the coup government.
Every day brings fresh reports of these groups launching increasingly deadly and well-planned attacks on Tatmadaw soldiers and military convoys. The Democratic Voice of Burma reported today that at least 15 military personnel were reportedly killed and many more injured following a roadside bomb attack on a military convoy in Salingyi. It cited a local PDF member as saying that the convoy included some of the soldiers who took part in the killing of civilians in Done Taw village.
In some areas, the PDFs appear on the verge of establishing a parallel system of administration. In a statement earlier this week, the Sagaing PDF declared that by January 15, all large businesses transporting goods must show proof of tax payment to the NUG, and that appropriate actions will be taken if they fail to do so.
Coming after an incident in Yangon in which an army truck drove at high speed into a crowd of protesters, killing at least four, this latest outrage is a sign that the military, hardened through decades of fighting against ethnic minority rebels, remains bent on using terror to stamp out any resistance. In his statement, Dr. Sasa said, "The sheer brutality, savagery, and cruelty of these acts shows a new depth of depravity, and proves that, despite the pretense of the relative detente seen over the last few months, the junta never had any intention of de-escalating their campaign of violence."
But given the inroads being made in Sagaing by the PDFs and other civilian militias aligned with the NUG, the sheer violence may also be a sign of increasing siege and desperation, as the anti-regime movement continues to make gradual inroads.
If there was any doubt about the near-universal opposition of the Myanmar people to the military junta, it was made clear today, when the NUG and its allies called a symbolic "silent strike" to mark International Human Rights Day, asking its supporters to keep businesses closed and stay at home.
The subsequent empty streets and vacant cityscapes, recalling the height of the COVID-19 lockdowns, offered mute testament to the depth of the popular opposition to the junta, and is a sign of hope, amidst the army's brutality, that it might eventually prevail.