Nazarbayev to Step Down From Nur Otan Party Leadership
Kazakhstan's protracted political transition is moving steadily along.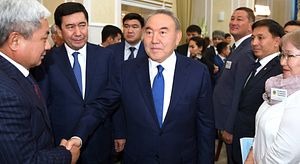 Last week, Kazakhstan's glacial political transition slid forward again with the announcement that Nursultan Nazarbayev, Kazakhstan's first president, had decided to transfer leadership of his ruling Nur Otan party to current President Kassym-Jomart Tokayev.
Aidos Ukibai, a spokesman for Nazarbayev, said on Twitter that: "At the extended session of [Nur Otan's] political council, Nursultan Nazarbaev decided to give up his duties of the chairman of the Nur Otan party, emphasizing that the party must be led by the country's president. The process of the [chairmanship's] transfer will be carried out according to the party's charter."
"We're witnessing a long, protracted power transition in Kazakhstan," Dr. Luca Anceschi of the University of Glasgow told The Diplomat. "One that has been carefully orchestrated since the mid-2010s. The recent replacement of Nazarbayev at the helm of Nur Otan is merely another step in this transitional path."
Nazarbayev served as Kazakhstan's president from just before the collapse of the Soviet Union until his resignation in March 2019. He remains elbasy, or "Leader of the Nation," having been given the honorary title in 2010 by Kazakhstan's parliament, which also granted him lifelong immunity and a variety of other privileges as Kazakhstan's forever "First President."
Following his 2019 resignation, Nazarbayev retained a number of critical positions, which enabled him to remain connected to power but not necessarily involved in day-to-day decision-making. These positions included the chairmanship of the Nur Otan party, which currently controls 76 of 107 seats in the Kazakh parliament; the chairmanship of Kazakhstan's Security Council; a lifetime membership in the Constitutional Council and a variety of other honorary positions, including honorary chairmanships of the Turkic Council and the Supreme Eurasian Economic Council. In the aftermath of his resignation from the presidency Nazarbayev continued to meet with world leaders, and it seemed as if Kazakhstan had two presidents.
But with time, Tokayev has become more visibly central, though making clear that his administration wasn't aiming to deviate wildly from Nazarbayev's vision.
The elite structure and political arrangements that enabled Nazarbayev to stay in power for nearly 30 years have been preserved into the post-Nazarbayev era, Anceschi said.
"Tokayev is part of this system: his duty is to maintain it not to dismantle it," Anceschi explained.
Since Tokayev took power, elections have remained uncompetitive, Nur Otan's control uncontested, and — despite advertised reforms to the country's protest laws — protests remain flashpoints for arrests and requests to protest (excuse me, notifications of plans to protest) are routinely denied.
In Anceschi's view, focusing on the dyad of Nazarbayev and Tokayev distracts from "the more interesting developments taking place at a lower elite level." 
As Kazakhstan's 30th independence anniversary approaches, Nazarbayev's cult of personality has again become more visible, with the anniversary inextricably tied to his leadership of independent Kazakhstan.
"This resurgence of the Elbasy cult does not indicate that the first president continues to call every shot and make every important decision," Anceschi said. "My sense is that he is too old for that kind of direct involvement that requires unrelenting dedication."
Through the final years of his presidency and into his retirement, the cult of personality tied to Nazarbayev grew. For example, to celebrate the country's 25th independence anniversary in 2016, Kazakhstan issued a new 10,000 tenge note featuring Nazarbayev's face. (He'll appear on the 20,000 tenge note in honor of Kazakhstan's 30th independence anniversary this month.) The Kazakh parliament approved a bill to rename Astana after Nazarbayev in November 2016, though the president later declined to sign it into law. In 2017, Astana's main airport was renamed in Nazarbayev's honor. And immediately after Nazarbayev's 2019 resignation, Tokayev approved the change to the name of country's capital from Astana to Nur-Sultan. The decision triggered protests, but stuck.
Central Asia has not had many political transitions in 30 years of independence. Changes of presidents in Turkmenistan and Uzbekistan were triggered by the deaths of those countries' first presidents in office, in 2006 and 2016, respectively. Kyrgyzstan, meanwhile, has seen most of its presidents ousted by protest movements at fairly regular intervals (2005, 2010, 2020).
In the careful orchestration of what is ultimately a necessary political transition in Kazakhstan (no one lives forever, after all), it's clear that Kazakhstan's powers-that-be want to avoid upheaval and uncertainty. A steady, managed, transition into the post-Nazarbayev era is the result, with the careful withdrawal of Nazarbayev matched by his simultaneous enshrinement as a revered figure.