Pakistan: Climate Change, Food, and Geopolitics
The country's vulnerability to natural disasters and adverse effects on labor productivity will add to its existing challenges and concerns.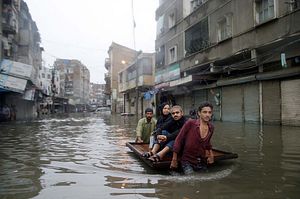 A recent report by the Office of National Intelligence (U.S.) has identified the 11 countries most vulnerable to sociopolitical and geopolitical instability due to climate change – and Pakistan is one of them.
According to different estimates, climate change could cost Pakistan a staggering $3.8 billion annually. Given the importance of agriculture in Pakistan – it contributes 22 percent of its GDP and provides employment for almost 39 percent of its workforce – along with soaring food price inflation, exacerbating climate change can jeopardize its energy, food and national security.
Drawing attention to the asymmetrical effects of climate change on the Global South in his book "The Divide: A Brief Guide to Global Inequality and its Solutions," economic anthropologist Jason Hickel points out that 83 percent of deaths related to climate change happened in countries with the lowest carbon emissions, whereas out of 588 billion tons of carbon emissions (figures until 2017), 70 percent came from industrial economies. Pakistan is illustrative of this.
The future holds some tough choices for the country. On the one hand, the need to shift to cleaner sources of energy is necessary and extraordinarily important. On the other, as I have argued elsewhere, the inherent limitations of these systems make such a shift challenging, to say the least.
Reality jeers at the ideal. More than 40 million of Pakistan's population lack electricity and more than 50 percent are deprived of "clean cooking facilities." Unemployment is worrisome as one out of 10 people in Pakistan is unemployed with the total rate around 4.65 percent in 2020. Pakistan's per capita income was $1,465 in 2020. Recently, the country's total liabilities reached $283 billion (2021), the highest ever recorded. Finally, a reality check: fossil fuels still account for 64 percent of Pakistan's energy mix with renewables providing a paltry 4 percent.
The exacerbating climate situation underscores the need for Pakistan to pay urgent attention to several issues. One such issue is that of food. Recently, the U.N.'s Food and Agriculture World Food Price Index touched 134.4, the highest since 2011. People in Pakistan spend almost 39 percent of their income on food and 24 percent on other basic provisions such as rent, gas, and water. According to a 2017 estimate, around 68 percent of households receive inadequate nutrition. This recent rise in food prices will only exacerbate this situation as the Sensitive Price Index registered a 37 week high with an increase of 17.4 percent, while food is roughly 48 percent more costly than in 2018.
This rise in food prices, inter alia, has a direct correlation with social unrest and political instability. Research shows that between 2005 and 2011, food riots jumped 250 percent, triggering protests in Egypt, Libya, and Syria. The Arab Spring was also a result of rise in food prices.
This issue spills over to the geopolitical domain as well. It is instructive to note here that India is building a food corridor, called the India-Middle East Food Corridor, under the auspices of a wider India to Europe Arab-Mediterranean Corridor. According to recent study by the Singapore-based Institute of South Asia Studies, Saudi Arabia and the UAE are providing billion dollar investments to help India create integration in the whole value chain from technologies to food production. There is already in place a platform, Agriota, which is assisting Indian farmers link up with companies in the UAE.
The food corridor is expected to create 200,000 jobs with more than 2 million Indian farmers as beneficiaries. The overall aim remains to build higher value added production that integrates farms to retail outlets.
As pointed out above, given the extreme significance of agriculture in Pakistan's economy and the threat to food security, which can easily trigger social unrest or become a geopolitical flashpoint, the need for Pakistan to work on a similar corridor is both obvious and logical.
While financial and administrative help by the UAE and Saudi Arabia to India seemingly violates its principle of identity, however, it makes perfect diplomatic and strategic sense. Pakistan has a palette of other options – Turkey, Qatar, China, and Russia, for example, with whom it has stable or friendly relations – to build a similar corridor. A food corridor with Russia and China could be especially beneficial to us in terms of volume, technological assistance, and knowledge transfer. Such an initiative could help Pakistan to be food secure.
Besides this dimension, there are steps to be taken on the domestic front too. There is a need to introduce congestion charges for vehicles entering busy areas. Improving the public transport system is also required. Tree plantations are good; making factories energy efficient is better. Brick kilns need to go. Climate change should be taught in schools.
Studies show a drastically negative impact on Pakistan's crop yields as temperatures continue to rise. Pakistan's vulnerability to disasters and the adverse effects on labor productivity will add to the already existing worries. As always, the suffering of the poor will be highly asymmetrical to that of the upper class.
Research says that the average temperature in Pakistan is already at such high levels that any further increase in consumption will adversely affect standards of living owing to the environmental consequences.
Finally, South Asia is expected to deal with 36 million "internal climate migrants" in the wake of climate crisis by 2050. This would increase the existing migrant/refugee burden on Pakistan.
There is a need to prioritize climate change. The issue goes beyond improving the air quality index and being able to enjoy al fresco dinners; it relates to social unrest, political instability, and geopolitical issues feeding into a country's foreign policy, and diplomatic and economic prowess.