PM Ismail's First 100 Days: Beating Expectations Is Not Enough
Ismail Sabri's leadership has offered much-needed stability, but Malaysians deserve more than just the status quo.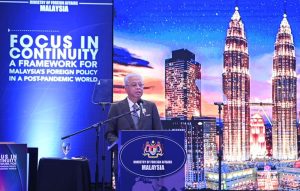 When Prime Minister Ismail Sabri Yaakob took his oath of office over three months ago, Malaysia was at the height of the COVID-19 pandemic and the nation was reeling from its deep political divisions.
Expectations were low for Ismail, the nation's third premier in three years, with many viewing the 61-year-old as a "stop-gap leader" who would fill the top position just until the next general election is called. So far, Ismail has not proved otherwise.
Faced with the prospect of leading the country for only two years, Ismail has not been entirely ambitious in his policies, nor has he shown considerable interest in consolidating his power beyond the appointment of several special advisers.
While one could argue that Ismail's first 100 days have surpassed expectations with the passing of the country's biggest-ever spending bill, the inking of a historic bipartisan deal with opposition bloc Pakatan Harapan, and the decrease in new COVID-19 case numbers, others would contend that this constitutes the bare minimum that could have been expected.
The coronavirus pandemic has exposed and exacerbated many inequalities in Malaysian society, with over half a million middle-income households having fallen into the low-income category.
Inflation and rising food prices have forced many to change their eating habits, with children from poor communities often having a higher carbohydrate intake to substitute for other food groups, which puts them at greater risk of COVID-19 and other health complications.
Out-of-pocket spending on health care has also increased in the past 15 years as demand rises, and will continue to climb if the government does not build on the many public-private partnership efforts carried out over the course of the pandemic to transform health financing.
Slogans like "Keluarga Malaysia" (Malaysian Family) do not ring true when a five-decade-old pro-Malay affirmative action policy continues to shape the federal budget even though the devastating toll of the pandemic treads beyond racial lines.
A record-high budget also does not necessarily translate into positive outcomes when people are still forced to exhaust their savings, with 6.1 million people having less than 10,000 ringgit (roughly $2,400) in their pension fund, of whom 3.6 million have barely 1,000 ringgit left.
Meanwhile, allegations of poor treatment of migrant workers have hurt investor confidence, with British high-tech home appliance manufacturer Dyson Ltd becoming the latest to cut ties with its Malaysian supplier over labor abuse claims.
U.S. Customs and Border Protection has similarly banned imports from at least five other Malaysian companies – selling medical gloves to palm oil – in the past year, over allegations from rights groups and workers of foreign employee abuse which included excessive hours, debt bondage, and physical violence, as well as brutal working and living conditions.
These are some of the many challenges that Ismail's government must face if Malaysia aspires to achieve high-income status in less than five years.
Ismail's leadership has so far offered much-needed stability as the political landscape shifts, but surely Malaysians deserve more than just the status quo.
Ismail may want to play it safe by running the country on autopilot until the next federal election comes. But there's no denying that Malaysia needs urgent reforms to not only survive the outcomes of the pandemic, but to also thrive.