ARSA After the Myanmar Coup: Between a Rock and a Hard Place
Isolated from its main popular base of support, the ragtag militant outfit has withered on the vine.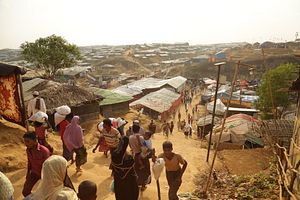 Since the Myanmar armed forces, or Tatmadaw, seized power in a coup d'état on February 1, the country has been beset by mass civil disobedience and the emergence of People's Defense Forces fighting for Myanmar's shadow National Unity Government (NUG). In Rakhine State, in the country's west, the Arakan Rohingya Salvation Army (ARSA) continues to engage in sporadic skirmishes with security forces. Recent clashes involving ARSA are, however, more indicative of the group's current weakness than its strength.
ARSA first came into the spotlight in October 2016 after launching a "human wave"-style assault involving several hundred attackers armed with knives, slingshots, and firearms on three Myanmar border police posts in northern Rakhine.
Despite a brutal military crackdown, ARSA was involved in 15 further smaller-scale skirmishes with security forces, including two successful IED attacks on Tatmadaw convoys, before it launched another major attack on August 25, 2017. Having taken several months to reconsolidate and ramp up its training and IED production, ARSA launched what would proved to be its last major offensive. The attack saw hundreds of locally-recruited attackers armed with rudimentary farming tools and IEDs swarm some 30 Myanmar border guard posts.
ARSA's Gradual Decline
The ensuing "clearance operations" by the Tatmadaw, which sparked a humanitarian crisis that saw the mass exodus of hundreds of thousands of ethnic Rohingyas into neighboring Bangladesh, has meant that the magnitude, frequency, and complexity of ARSA's attacks have been on the decline.
Data collected from the Southeast Asia Military Atlas shows that the number of reported ARSA attacks in Myanmar dropped from 70 in 2017 to just one in 2018. ARSA's use of IED attacks has also noticeably decreased. In 2017 alone, ARSA was able to carry out eight successful IED attacks. Since 2018, ARSA has only managed to carry out just five.
Since 2019, ARSA has been involved in just 19 skirmishes with Myanmar security forces. The scale of these attacks is incomparable to the "human wave"-style formations seen in 2016 and 2017, with the size of ARSA's forces now ranging from small bands to platoon-sized groups. Rather than taking place in the village tracts where much of ARSA's support base resides, the group's attacks have largely been confined to the mountainous terrain stretching along Myanmar's border with Bangladesh.
Despite the Tatmadaw becoming bogged down in a high-intensity conflict with the Arakan Army (AA), an ethnonationalist group fighting for the autonomy of the Rakhine Buddhist majority in Rakhine State, between 2019 and 2020, ARSA failed to capitalize on the Tatmadaw's increasingly stretched resources to launch any new offensives. This drop in ARSA's use of IEDs and its reliance on small hit-and-run attacks on lightly defended Myanmar border police posts is symbolic of ARSA's inability to reconstitute itself in Rakhine.
The mass exodus of ethnic Rohingya in 2017 and the Tatmadaw's dislodgment of many of ARSA's training camps through clearance operations has limited ARSA's foothold in Rakhine. Critically, ARSA has lost access to the disenfranchised population base from which it drew its strength. It is for this reason that ARSA has shifted much of its recruitment and sustainment activity from northern Rakhine State to refugee camps in neighboring Bangladesh.
Down and Out in Rakhine and Cox's Bazar
Since the February 1 coup, ARSA has struggled to respond to the situation in Myanmar, being involved in just seven skirmishes with security forces along the border with Bangladesh. Things are unlikely to change for ARSA in the near future, with four key factors preventing the group from regaining any serious ground in northern Rakhine.
First, the informal ceasefire agreement reached between the Myanmar military and the AA ahead of the November 2020 elections offered some respite for the Tatmadaw. Having fought the AA to a stalemate, the military has found itself facing a far weaker ARSA and an uneasy peace with the AA. Without the AA in direct conflict with the Tatmadaw, any attempted resurgence by ARSA as seen in 2016 or 2017 would be easily suppressed.
Second, ARSA is fighting alone. As a designated terrorist organization claiming to represent the rights of an already persecuted ethnic minority, ARSA has little to no hope of gaining concessions or a peace deal from the government. Previous attempts to extend the olive branch to Naypyidaw have fallen on deaf ears.
With the AA referring to ARSA as "savage Bengali Muslim terrorists," any form of cooperation with the group is highly unlikely. The two organizations have at best tolerated each other's presence in the face of a common enemy.
Third, ARSA's criminal activity in the Bangladeshi refugee camps has prompted a crackdown by the authorities and growing resentment from the Rohingya community. In the past few months, ARSA has been suspected of killing a Rohingya human rights advocate and attacking a madrasa at the Kutupalong refugee camp. The ensuing crackdown by Bangladeshi authorities has seen the arrest of over 170 Rohingyas.
These attacks have had a clear impact on the Rohingya population in the camps. Rather than viewing ARSA as a protector, many have come to fear the group. Not surprisingly, this fear is turning to anger as ARSA's support base dwindles. In early November, an alleged senior ARSA leader was supposedly "lynched" by a mob in the Whykong refugee camp. Recently, 22 Rohingya rights organizations came together to publicly denounce the insurgent group.
In the short term, this will impact ARSA's freedom of movement, recruitment activities, and ability to procure weapons. As resentment toward ARSA grows, there is a possibility that this may reach Rohingya diaspora communities in both Saudi Arabia and Malaysia, an important source of funding and international solidarity that ARSA cannot afford to lose.
Fourth, ARSA now founds itself in an increasingly contested space for the hearts and minds of the Rohingya population.
In June of this year, the long-defunct Rohingya Solidarity Organization (RSO), a Rohingya insurgent group active in the 1990s, reemerged in response to the February 1 coup. With the RSO appearing to have a strong anti-ARSA stance, the historical and political legacy of the group's name, coupled with its condemnation of alleged ARSA criminal activity in the refugee camps, will undoubtedly give it some clout amongst the Rohingya.
Another key player to consider is Katibah al-Mahdi fi Bilad al-Arakan (KMBA), a new jihadist outfit that emerged in November 2020. Although the group's leader, Abu Lut al-Muhajir, has sworn allegiance to Islamic State leader Abu Ibrahim al-Hashimi al-Qurashi, the group has yet to conduct any attacks and its capabilities remain unknown. As a self-proclaimed secular organization, ARSA will seek to avoid being lumped into the al-Qaeda-esque transnational jihadi camp alongside the KMBA.
What's Next for ARSA?
ARSA's lackluster response to the February 1 coup is representative of both its current weakness and the multitude of challenges it faces in post-coup Myanmar.
The biggest challenge for ARSA will be overcoming its divergence from its potential support base – much of which has grown to become fearful of the group. In the face of increasing competition in both Bangladesh and Rakhine State, ARSA faces the potential loss of support, recruits, influence, and funding.
With the Rohingya community beginning to turn its back on the group, ARSA stands at a crossroads. If it continues down its current path, it will unlikely amount to more than a shadowy gun-toting outfit on the fringes of the sprawling refugee camps of Cox's Bazar. To turn the tide, ARSA needs to win back the support of the Rohingya population in Bangladesh and Rakhine. This, however, seems like an unlikely feat.