ASEAN and Myanmar: Crisis and Opportunity
The regional bloc must use the situation in Myanmar to bolster its capabilities.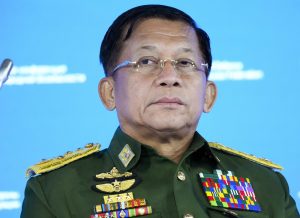 In 2021, ASEAN finally released itself from a self-imposed dilemma created by the principle of non-interference it has maintained since its founding. Viewed through the lenses of the rule of law and democracy, February's coup in Myanmar clearly violated the ASEAN Charter, but any potential action that ASEAN takes in response to that violation runs up against this principle. Until this year, each time ASEAN has faced this dilemma, it has allowed itself to be hamstrung, assuming a wait-and-see attitude.
One precedent is the 2014 coup in Thailand. At that time, Indonesia insisted that ASEAN act, but its fellow members merely looked on, citing the principle of non-interference. That gave the impression that democracy within ASEAN itself was in decline. Thailand's election that saw it transition to civilian rule was widely criticized as a sham and the Prayut regime remains in power today. The international community has condemned Thailand's strong-armed methods, such as its clampdown on anti-government protests, and some observers have argued that Thailand's coup encouraged the Tatmadaw (as Myanmar's military is known) to follow suit.
If ASEAN had again been content to maintain sit back and wait during the Myanmar crisis, the bloc's credibility in the eyes of the international community would have plummeted, casting doubt on "ASEAN centrality." ASEAN may have also sent a dangerous signal to other factions in member countries that are dissatisfied with their government.
This time, however, ASEAN has pivoted from its conventional stance and sought to get involved. At the end of April 2021, Myanmar's Commander-in-Chief of Defense Services Min Aung Hlaing, who rose to power through the coup, was invited to the ASEAN Leaders' Meeting, while ASEAN obtained a commitment through the Five-Point Consensus that included mediation by a special envoy of the ASEAN Chair. When the army refused to allow the special envoy to "meet with all parties concerned" in Myanmar, members of the military, including Min Aung Hlaing, were excluded from ASEAN summit meetings.
In taking this step, ASEAN was still adhering to its principles of consensus and non-interference, albeit with a more flexible interpretation. Some ASEAN member countries received a letter from the National Unity Government of Myanmar (NUG), which comprise the democratic forces, asking to be invited to ASEAN summit meetings. That in turn led to a tussle to participate between the Myanmar military government and the NUG. ASEAN claimed that consensus could not be reached regarding attendance by the country's political representatives and so participation was limited to non-political representatives such as foreign vice-ministers. They also stated that requesting participation from either side would run counter to, yes, ASEAN's principle of non-interference.
With opposition from China and Russia blocking action in the UN Security Council, the international community values ASEAN intervention, allowing ASEAN to suppress skepticism to some degree. However, Myanmar is still in crisis and member states are paying close attention to whether Cambodia, the new chair for 2022, can demonstrate the leadership to avoid isolating Myanmar while providing guidance and maintaining ASEAN unity, or whether the country will disrupt that unity, as happened with the previous chair. Cambodia was last chair in 2012 and the stance it took in ASEAN meetings based on China's action over sovereignty rights to the South China Sea severely damaged ASEAN unity. This is therefore an excellent opportunity for Cambodia to redeem itself.
Getting Myanmar to fulfill the Five-Point Consensus will demand a new approach that blends rigidity and flexibility. If the Myanmar military government continues to refuse to fulfill the consensus or if it acts to further undermine democracy or violate human rights, ASEAN may need to proactively consider additional measures, such as a suspension of membership.
One possible idea would be to dispatch a person from Thailand to assist the chairman's special envoy, which maintains exceptionally close ties with the Tatmadaw, to oversee the arbitration. Two months after Thailand's May 2014 coup, initiated by Prayut and during the country's period of isolation, the first person to make a public visit to Thailand as a foreign dignitary was Min Aung Hlaing. Apparently, Prayut is still indebted to him for that.
Shortly after his own coup, Min Aung Hlaing sent Prayut a letter asking for assistance. The Tatmadaw sees the Prayut administration remaining in power after its election to transition to citizen rule and wants to use that as a model for itself. Under international scrutiny, it is difficult for Thailand to overtly take the side of the Tatmadaw, but perhaps Thailand could use diplomacy to encourage Myanmar to take some steps toward fulfilling the Five-Point Consensus.
If ASEAN can move beyond a rigid adherence to the principle of non-interference and involve itself in issues of member countries that affect ASEAN itself, it could contribute to strengthening the resilience of the bloc as a regional cooperative organization.
Seiya Sukegawa is a professor at the Faculty of Political Science and Economics, Kokushikan University.