Bangladesh, Turkey Sign New Security and Counterterrorism Deal
The MoU takes a longstanding but low-key partnership to a new level.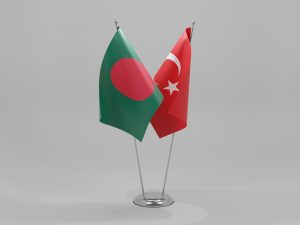 On January 8, Bangladesh and Turkey signed a memorandum of understanding on security cooperation, counterterrorism, and countering drug trafficking. Turkey first recognized Bangladesh as a sovereign nation state on February 22, 1974 at the summit of the Organization of Islamic Cooperation (OIC). Since then, the relationship has gone through many ups and downs, and now it has reached a new height as the two countries have stepped up efforts for defense exchange and security cooperation.
Bangladesh is the fourth-largest weapon buyer from Turkey. In the first four months of 2021, Bangladesh imported $60 million worth of arms from Turkey, out of Turkey's total of $1 billion in defense sales. This indicates the importance of Bangladesh for Turkey, and indeed Ankara attaches special importance to Bangladesh in its Asia's foreign policy agenda.
Turkey's Asia Anew Initiative (ANI), launched on August 5, 2019, aims to diversify its diplomatic relations with Asian countries, putting greater weight on cooperation and coordination through institutional mechanisms. As a part of the ANI, Turkey is seeking closer ties with Bangladesh as one of its oldest partners in Asia. The security deal can be seen as an effort from Ankara's side not only to bolster relations with Bangladesh specifically but also to successfully implement the ANI.
The recent security deal indicates Turkey's concern over Bangladesh's security issues on one hand and, on the other hand, it implies the level of trust Bangladesh has in Turkey.
After the Holey Artisan Bakery attack on July 1, 2016, the Bangladesh government has undertaken a "Zero Tolerance Policy" to fight against extremism and militancy. In the recent security deal, Dhaka and Ankara agreed to cooperate with each other in countering terrorism, including through information exchanges, which will help both countries to fight terror and ultimately improve their ranking on the Global Terrorism Index. In 2020, the Index found that Turkey was the 18th most impacted by terrorism in the world, while Bangladesh was 33rd.
Another major concerns for both countries is drug trafficking as it endangers business, ravishes communities, and drags down the economy as a whole. In the recent deal, Bangladesh and Turkey agreed to tackle drug trafficking both inside and outside their borders. Now both countries may work to stop the trade in illicit drugs, including their cultivation, distribution, and sale in both countries.
From an economic perspective, this security deal has huge implications for Turkey. Bangladesh allocated $4.45 billion to its military budget in the fiscal year 2021-22. The size of this budget indicates the market size and demands for weapons for Bangladesh's Armed Forces. The global arms industry always has an eye on Bangladesh to capture this market, and through this security deal, Turkey has successfully penetrated into this market again.
Bangladesh has a plan to diversify its suppliers of defense equipment to meet the Armed Forces Goal 2030. Meanwhile, the Turkish foreign minister, on an earlier visit to Dhaka, expressed keenness to increase defense cooperation with Bangladesh and pursue a "Joint Production and Technology Transfer" initiative. The recent security deal will actually open a new window for Bangladesh's Security Forces and Armed Forces to buy new weapons as part of their diversification plan. Also, Bangladesh may seek assistance from Turkish Armed Forces, defense industries, and arms manufacturing companies to set up its own manufacturing plant to become self-reliant and diversify defense capabilities.
Apart from supplying weapons to Bangladesh, Turkey also provides training to the security forces. For example, Ankara provided training to 41 members of the Bangladesh Armed Forces in June. The new deal will also follow the same path and will create opportunities for more training and ultimately lead to better understanding, coordination, and cooperation between these two countries.
Bangladesh-Turkey relations have been cooperative and cordial since their inception, and the recent security deal is just the latest example. Turkey and Bangladesh should work closely not only for defense cooperation but also for greater economic engagement. Bangladesh's stable economic growth and big internal market has increased its geopolitical importance and commercial noteworthiness across the world. Turkey has also shown an interest to boost people-to-people contact, investment, and trade. Most importantly, Ankara assured Bangladesh that Turkey would extend its support for Rohingya repatriation.
Apart from enhancing security cooperation, Dhaka can grab the interest of Ankara to ensure more and more investment from Turkey, penetrate into Ankara's market as part of diversifying its export destinations, and open the Turkish market for Bangladeshi migrant labor. If Dhaka and Ankara want to give their bilateral partnership a comprehensive and strategic shape, they should leverage their increased cooperation in the security and defense sector. The recently signed memorandum of understanding on security cooperation and counterterrorism demonstrates that the countries are moving along the right trajectory toward building a strategic partnership.