CSTO Deploys to Kazakhstan at Tokayev's Request
For the first time since its 1994 founding, the CSTO has agreed to deploy forces to a member state.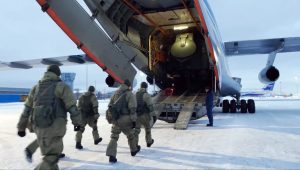 Kazakhstan's unprecedented protests have now led to an unprecedented request: Kazakh President Kassym-Jomart Tokayev appealed to the Collective Security Treaty Organization (CSTO) for assistance dealing with what he called a "terrorist threat" and, for the first time, the CSTO agreed to send "peacekeepers."
Overnight in Almaty, Kazakhstan's largest city, government forces carried out an "anti-terrorist" operation and rapid gunfire echoed through the streets. There are reports of dozens of casualties (unnamed and unidentified individuals that authorities say have been "eliminated") and thousands of arrests. 
Some reports suggested that Nur-Sultan had banned the entry of foreigners, but that was disputed by the Kazakh Foreign Ministry which said that airlines had cancelled flights into the country.
Tokayev expanded the state of emergency that had been declared in Almaty to the entire country through January 19.
A communications blackout remains in place, which makes the situation fertile ground for natural confusion and calculated misinformation. It is difficult to verify reports about the happenings in the country, and official statements from the government ought to also be assessed critically. 
On Thursday, CSTO troops reportedly began to arrive in Almaty. Some reports indicated that Russia would deploy 3,000 troops, Belarus would send 500, Tajikistan had committed 200, and Armenia would send 70. 
The CSTO's members include Armenia, Belarus, Kazakhstan, Kyrgyzstan, Russia, and Tajikistan. Uzbekistan was a member from 1994 to 1999 and again from 2006 to 2012.
In Kyrgyzstan, on January 6 protesters gathered outside the White House to oppose Bishkek sending any troops to Kazakhstan. In a carefully worded statement, the Kyrgyz Cabinet of Ministers said Bishkek had received an official appeal and would put the question before the Kyrgyz parliament on sending a "limited contingent" to Kazakhstan. It's not clear whether this consultation is technically necessary, given the paring down of the Kyrgyz parliament and restructuring of the country's constitution in 2021, but whether necessary or not it illustrates Kyrgyzstan's unique position. Kyrgyzstan, after all, has had three revolutions in 30 years and its present government came to power in the wake of public protests in October 2020.
The CSTO, currently chaired by Armenian Prime Minister Nikol Pashinyan, is sending forces under the organization's Article 4, which states, "In the case of aggression (an armed attack threatening safety, stability, territorial integrity and sovereignty) against any Member States, all other Member States at request of this Member State shall immediately provide the latter with the necessary aid, including military."
The application of Article 4 is extraordinary in several ways. First, it marks the first time the CSTO has deployed troops since its 1994 founding. As Joshua Kucera explained for Eurasianet, the CSTO has denied such requests for assistance on at least two occasions: Kyrgyzstan in 2010 and Armenia in 2021.
Second, ostensibly the intent of collective security obligations are to protect members from outside attack. In the Kyrgyz case in 2010, the CSTO's refusal to engage was predicated on the argument that protests that year, which successfully overthrew the government of Kurmanabek Bakiyev, were an internal matter. In the Armenia case, the brief war with Azerbaijan was characterized as a border incident. 
But Kazakh authorities have actively tapped into a standard narrative that frames the protests and unrest as driven by outside influences. Russian authorities and media are humming the same tune. This artfully paves the way for the CSTO to engage.
Tokayev blamed foreign-trained "terrorist gangs" for the violence in Almaty, though he presented no evidence to substantiate the claim. For those familiar with the region, this is a familiar tactic in which authoritarian governments paint any and all opposition as terrorists and thus excuse state violence in response; for those with less knowledge of the region, it's a simple and easily digestible explanation. Be wary of simple explanations for complex issues.