Pakistan's National Security Policy Prioritizes Economic Security
Its content is impressive but it lacks a roadmap.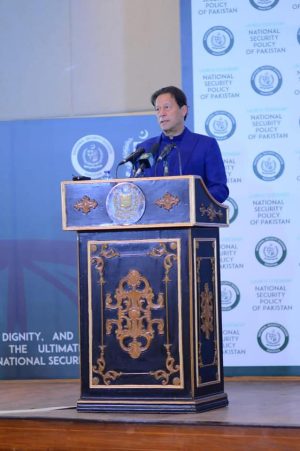 Pakistan's National Security Policy, 2022-2026, which Prime Minister Imran Khan made public last Friday, puts economic security at the forefront of its national security vision. Launching the document, Khan said that a country without a stable economy cannot be considered secure.
While a shorter, nearly 50-page version has been published, the full 110-page document will remain classified.
A distinctive feature of the NSP is that it distinguishes traditional security — primarily defined in terms of defense, sovereignty, and diplomacy — from non-traditional security, which takes a holistic approach and includes human security and the well-being of citizens.
"Appreciating this symbiotic relationship between economic, traditional, and human security allows the articulation of holistic policy actions that will prepare Pakistan to optimize national security outcomes in the coming decades," reads the executive summary.
National Cohesion
The document begins by stressing "unity in diversity" of religion, ethnicity, and socioeconomics, and then quickly moves to highlight "divisive discourse" amplified by "external forces" without specifying who they are.
In the past, Foreign Minister Shah Mehmood Qureshi has been critical of Indian and Afghan spy agencies for creating trouble in Pakistan while National Security Advisor Dr. Moeed Yusuf has frequently highlighted a 15-year disinformation campaign targeting the European Union and the United Nations to serve Indian interests and spread fake news regarding Pakistan.
It is likely that the "external forces" mentioned in the document are Pakistan's neighbors.
The NSP calls for fostering "patriotism and social cohesion through national values and ethnic, religious, cultural and linguistic diversity." Although the document does not explicitly detail strategies, these are loaded terms, particularly when rights groups such as the Pashtun Tahaffuz Movement and nationalist political parties are often depicted as "external forces" aiming to disrupt Pakistan.
The NSP aims to push national cohesion through "education, cultural institutions, and an inclusive national discourse." Oddly, the biggest challenge to achieving this may be the government's own Single National Curriculum which prioritizes religious content over modern learning.
Economic Stability 
Underlining that the paradigmatic shift hinges on economic security through regional connectivity and shared prosperity, the policy looks to address the long-standing higher foreign exchange outflow over inflow through a "dedicate focus" on export-oriented foreign directive investments and remittances.
The same section prioritizes "equitable economic development" to overcome socio-economic inequality through existing programs for the poor such as Ehsaas, a cash facility, and Panah Gah, which provides them with shelter homes.
Lastly, it aims to remove disparities in economic development between various regions of the country.
The NSP observes that current jobs may be obsolete in the next three decades and stresses the need for creation of high-tech jobs and investment in start-ups and public-private partnerships.
Under its latest economic policies, however, prices of laptops have inflated, putting a strain on the startup sector. The government has also banned cryptocurrencies.
Blaming the energy crisis for low output, the policy proposes increasing the renewable energy pool by 30 percent in 2030 – four years after the policy would have ended. Ironically, the government slapped additional duty and taxes on solar panels just last week under an IMF condition.
Realigning Foreign Policy
Economic interests once again take center stage while reintroducing regional connectivity to realign the country's foreign policy. Prosperity is linked to the exploration of markets in Eurasia and the African continent with the aim to change Pakistan's international image from a security-centric state to an economic leader.
The document recognizes Pakistan's support for Afghanistan as a potential gateway for economic connectivity with Central Asian states.
With China, Pakistan hopes the China-Pakistan Economic Corridor will drive its economy to jump-start domestic growth and alleviate poverty. With the United States, interestingly, it insists Islamabad will not subscribe to "camp politics" yet seeks convergence in trade, investment, energy, security, and intelligence cooperation.
The policy prompts better ties with India while reproaching Narendra Modi's divisive policies. On Jammu and Kashmir, it insists on remaining "steadfast" in providing moral, diplomatic, political, and legal support to Kashmiris until they achieve the right to self-determination. It declares resolution of the Kashmir dispute to be a "vital national security interest."
Nothing in this section is a revelation.
Integrating Security
The policy prioritizes fencing along the Afghanistan-Pakistan border and enhanced defense at the Line of Control (LoC) with India.
It lays emphasis on Pakistan's developing its naval capabilities. It expands the tangible domains of national security to include the cyber realms by stressing the need for counter-propaganda against the country in the digital world.
Terrorism tops the list of issues of concern relating to internal security. While acknowledging economic disparity as an important reason for militancy in conflict areas, it views sub-national groups as being aided by foreign intelligence agencies.
The rise of violent religious extremism certainly poses a great risk to the country's security, hence the policy promising "action against those producing and disseminating hate speech and material will be swift and uncompromising" comes in good faith.
Covering the 2022-2026 period, the policy gives the government four years to deliver but having introduced it two years before the general elections, Khan's government has little time to implement it. The citizen-centric policy is yet to be presented before the Parliament.
The NSP's content sounds impressive. However, it does not lay out practical steps for implementation and is vague in explaining the crucial aspects of security. One can only hope that the full version of the policy, which Khan's government has kept confidential, would outline concrete steps to achieve the goals it has set out.