Philippines' Marcos to Pursue Bilateral Deal With Beijing Over South China Sea
The leading candidate's comments suggest that his victory in May could lead to an extension of President Rodrigo Duterte's divisive China policy.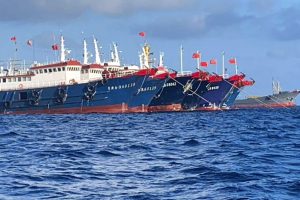 Ferdinand "Bongbong" Marcos, the current frontrunner for the Philippines presidency, said this week that if elected, he will set aside the historic 2016 arbitral ruling on the South China Sea and negotiate directly with Beijing on long-running maritime and territorial disputes.
The candidate laid out his position on the South China Sea in a series of media interviews this week, during which he said that asserting the arbitral case, which the Philippines brought against China in 2013, could not be pursued because Beijing had rejected it.
"That arbitration is no longer an arbitration if there's only one party. So, it's no longer available to us," Marcos said in an interview with the popular entertainment host Boy Abunda on Tuesday, according to Rappler. With the option of war something that "must be dismissed outright," Marcos said that "bilateral agreement is what we are left with."
In a DZRH radio interview on Tuesday, Marcos, the son of the late dictator Ferdinand E. Marcos, repeated his claim that the case that the Philippines won against China was "not effective," and that a bilateral agreement with Beijing is the "only practical option." He added, "I think we can come to an agreement. As a matter of fact, people from the Chinese embassy are my friends, we have been talking about that."
In a third interview with the ABS-CBN network, Marcos added that if elected president, he would dismiss any potential offer of help from the United States in negotiating with China, BenarNews reported. "The problem is between China and us.  If Americans come in, it is bound to fail," he said.
The ruling by The Hague-based Arbitral Tribunal, which is constituted under the United Nations Convention on the Law of the Sea (UNCLOS) found in favor of most of the Philippines' claims. It invalidated Beijing's expansive claim of "historic rights" to nearly the entire South China Sea and recognized Philippine sovereign rights in areas within its Exclusive Economic Zone, which over the past decade has seen repeated incursions by Chinese fishing boats, coast guard ships, and maritime militia vessels. Beijing, unsurprisingly, has refused to accept the ruling.
Needless to say, this approach bears a close family resemblance to that taken by President Rodrigo Duterte, who took office a month before the arbitral award was handed down but immediately set it aside in favor of cultivating Beijing for much-needed infrastructure financing. Last May, he described the ruling as a "piece of paper" that had done little to advance the Philippine national interest. "In real life, between nations, that paper is nothing," he said, adding that calls for him to continue the legal fight was "a waste of time and at the same time disrupting the good relations of China and the Philippines."
But critics of Duterte's "pivot to China," who fill a good part of the Philippines political and security establishment, have accused him of selling out national interests in the West Philippine Sea (as Manila refers to it) for very little in return. As Rappler editorialized this week, Marcos' position against asking U.S. assistance "echoes Duterte's defeatist policy." The policy has also led to conniptions in Washington, where policymakers have blanched at the sight of their long-time treaty ally gliding into Beijing's embrace.
Given the strong pro-U.S. baseline in Philippine political life, Marcos' position also sets him apart from his four main presidential rivals – Vice President Leni Robredo, boxer-turned-senator Manny Pacquiao, Senator Panfilo Lacson, and Manila Mayor Isko Moreno – all of whom have taken hawkish positions on Chinese behavior in the South China Sea. Robredo has been the most outspoken, saying that, if elected president, she would "leverage" the win "to form a coalition of nations" supportive of the 2016 ruling. She said this coalition could block the "ongoing militarization of the West Philippine Sea."
It might be too hard to read into comments made this week, especially since they were made a day after Marcos was assailed for ducking questions about the South China Sea, suggesting the policy was formulated on the fly. But after six years of concern about Duterte's dalliance with Beijing, Marcos' comments have no doubt given many in Manila and Washington another reason to pray that the son of the former dictator stumbles in his trek toward the presidential palace.