The Vietnam-Germany Strategic Partnership Takes Another Step Forward
A growing congruence of interests has prompted the two nations to expand their strategic partnership into the realm of defense and security cooperation.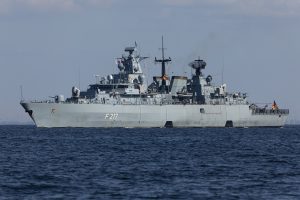 On January 6, the German frigate Bayern entered the port of Ho Chi Minh City to begin a four-day visit to Vietnam. This is the first time a German warship has paid a port call to the Southeast Asian nation since the two countries established diplomatic relations in 1975. Vietnam is one of the 10 stops that the frigate will make during a seven-month Indo-Pacific deployment that began last August, the others being the Horn of Africa, Pakistan, Australia, Guam, Japan, South Korea, Singapore, Sri Lanka, and India.
A press communique published by the German Embassy in Hanoi stated that the deployment of the Bayern "underscores the security component of the Indo-Pacific Guidelines," which were adopted by the German government in September 2020 following similar steps by other European nations. The communique quoted the German Ambassador's as saying that the frigate's visit was an expression of friendship between Vietnam and Germany.
In 2011, Vietnam and Germany elevated their "friendship relationship" to a strategic partnership in a declaration signed by Vietnamese former prime minister Nguyen Tan Dung and German former chancellor Angela Merkel during the latter's visit to Hanoi. The declaration included a strategic action plan (SAP) that spelled out five areas of prioritized cooperation. These were strategic political-diplomatic cooperation, trade and investment, cooperation in the field of justice and legislation, environmental protection and development cooperation, and social, communication, cultural, technological, science, and education cooperation.
In order to advance strategic cooperation, the two sides agreed to establish a Strategic Steering Group (SSG) co-headed by Vietnam's deputy minister of foreign affairs and a German state secretary of foreign affairs. This group was expected to hold periodic meetings to review SAP implementation as part of political consultations between the two ministries of foreign affairs. However, what is notable here is that defense and security cooperation was not a priority but rather mentioned as a secondary consideration in the two countries' strategic partnership.
Vietnam's diplomatic ties with other countries are normally, but not necessarily, defined by four progressive levels, and usually a "strategic partnership" happens after the establishment of a "comprehensive partnership" that embraces cooperation in all areas across the board. However, the Vietnam-Germany strategic partnership was established without first implementing a comprehensive relationship.
The absence of defense and security cooperation reflects the strategic priorities of the two countries at the time that their strategic partnership was established. But it also corresponds to the situation in the South China Sea and in international affairs in the Indo-Pacific a decade ago. China's "rise" in the intervening period has been associated with its aggressive actions in the South China Sea, marine sovereignty disputes with Vietnam, military expansion, global power politics and an increasingly explicit ambition to create a new world order according to its own rules. The role of the Belt and Road Initiative as part of President Xi Jinping's "China Dream" and campaign of "national rejuvenation" has become a particular trigger for both Vietnam and Germany to review their defense and security policies in respect of the region.
Vietnam's national defense policy has recently shifted from three to four "No" principles: namely, no joining military alliances, no siding with one country against another, no giving any other countries permission to set up military bases or use its territory to carry out military activities against other countries, and "no using force or threatening to use force in international relations." However, as I argued in a recent interview with Radio France International, this policy imposes no limits on Vietnam's cooperation with other countries, particularly those with which it has strategic and comprehensive partnerships, intended to improve its defense capabilities. This adjustment in the national defense policy reflects Vietnam's response to China's continued encroachment in its waters and aggressive actions elsewhere in the South China Sea.
In the meantime, Germany's policy guidelines for the Indo-Pacific recognize open shipping routes via the Indian and Pacific oceans and the South China Sea as vital for the world's foreign trade and the economy of both the European Union (EU) and Germany. While Germany is not a regional country it has a stake in the EU's participation in the growth dynamics of Asia and the Indo-Pacific. Consequently, it considers itself a shaping actor and partner in the region, seeking to uphold global norms and regional structures.
In September 2020, Germany, together with France and the United Kingdom, lodged a joint Note Verbale to the United Nations to present their positions on international law and the U.N. Convention of the Law of the Sea (UNCLOS), with regard to maritime claims in the South China Sea. This rejects China's exercise of historical rights over the South China Sea waters and indicates the three countries' endorsement of the arbitrated award in the Philippines-China case in 2016.
According to a press communique, from the German Embassy in Hanoi, the mission of the frigate Bayern is to make a tangible contribution to protecting and safeguarding  the rules-based order in the Indo-Pacific. Its voyage through the South China Sea underlines the significance of UNCLOS, which provides for freedom of navigation and overflight in international waters, as well as the right of innocent passage through coastal waters. Germany has consistently endorsed Vietnam's position on dealing with disputes through peaceful means and the implementation of an international rules-based order in the South China Sea.
This congruence of interests has provided an obvious stimulus for Vietnam and Germany to expand their strategic partnership to include defense and security cooperation in a more substantive manner, though progress in this domain has been slow.
In 2003, Vietnam appointed a permanent resident defense attaché to Berlin, while the German counterpart was permanently posted in Bangkok. The following year, during the first-ever visit by a Vietnamese minister of defense to Germany, a memorandum of understanding was signed between the two ministries of defense, paving the way for Vietnam to send military officials for training in Germany. Since then, a cohort of Vietnamese army officers has participated in training courses at German military bases on an annual basis. Since 2011, Vietnam-Germany defense cooperation has been expanded to military medicine and U.N. peacekeeping operations and witnessed more exchanges of visit by high-ranking military officials. Vietnam sent two deputy ministers of defense on separate visits to Berlin in 2012 and 2019. In 2016, the German state secretary of defense visited Vietnam. Of particular note, in 2019, was Germany's appointment of its first permanent resident defense attaché to Hanoi, which suggests scope for further defense cooperation in the future.
The relationship has not been without its frictions. A diplomatic spat in 2017, which followed German allegations of Vietnamese secret services' abduction of Vietnamese citizen Trinh Xuan Thanh in Berlin, caused a disruption in the relationship between the two countries. Thanh was a target of a high-profile anti-corruption campaign launched by the ruling Vietnamese Communist Party, but fled overseas to escape punishment.
However, human rights concerns have not stopped German and Vietnamese officials from calling for improvements in the strategic partnership. So far, the Vietnam-Germany SSG has held six meetings, though contents relating to defense and security cooperation were not formally discussed until the fifth and sixth meetings of the group in 2019 and 2021, respectively. The SAP for the 2019-2022 period included defense and security as a new priority of bilateral cooperation.
The Bayern's visit to Ho Chi Minh City in the very first days of 2022 was a concrete step that signaled the closer defense cooperation between Vietnam and Germany, especially in the naval domain. Further enhancing defense cooperation would be the next step in moving towards upgrading the current strategic partnership to a comprehensive strategic partnership in three years' time, when the two countries will be celebrating the 50th anniversary of their diplomatic ties, given the fact that German and Vietnam are each the largest trading partners of one other in the EU and ASEAN.