Amid Anti-Corruption Drive, Tokayev Faces Questions About Offshore Wealth
Kazakhstan's President Tokayev is vocal against corruption, but faces tough questions after new leaks.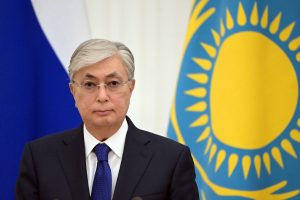 An investigation into the trove of leaked material from Swiss banking giant Credit Suisse outlined that Kazakhstan's President Kassym-Jomart Tokayev and his family owned properties and offshore companies worth millions of dollars that were previously undisclosed. The Kazakhstani government's new drive against corruption now looks inconsistent with the long-lasting practices of capital flight that often involves officials.
The joint reportage by OCCRP and Vlast.kz exposed details of the wealth that Tokayev's family had amassed in Russia and Switzerland dating as far back as 1998, when Tokayev served as foreign minister.
In particular, the Credit Suisse files showed how a particular bank account was used to store hundreds of thousands of dollars and invest in several properties and offshore companies. The account was closed in 2012, while Tokayev served as director-general of the United Nations' Geneva office, and two companies in the British Virgin Islands (BVI) were opened as vehicles to invest into a U.K.-based company, Edelweiss Resources. 
According to a 2014 filing, the latest available, the company's assets amounted to around $5 million. A Cyprus-based company formation agent later removed Tokayev from its list of shareholders and liquidated the companies, indicating that the family's assets could now be held in an even more secretive web of offshore companies.
The official response from Tokayev's press secretary, Berik Uali, came through a Facebook post and was one of denial.
"[Tokayev] has no accounts in the cited Swiss bank, as reported in the media. The President does not own accounts in foreign banks, offshore companies, he does not own real estate abroad," Uali wrote.
The investigative report comes after Tokayev engaged in a distinctly more vocal anti-corruption campaign in the country. He openly pointed the finger toward former President Nursultan Nazarbayev, who allowed "a small group of businessmen to amass large wealth" and called the Anti-Corruption Agency to take measures to return assets that the richest elite had diverted offshore.
"[The dossier] is false information that seeks to discredit the President, who is energetically working to restrict monopolies in economy and politics, and carrying out reforms," Uali concluded in his statement.
Tokayev became president in 2019 after a long career in public office, serving in government and as a diplomat before ascending to the prestigious seat of head of the Senate. After the January 2022 events – violent clashes that caused urban chaos and led to major reshuffling in the state apparatus – Tokayev has tried to explicitly tackle the issue of corruption.
Margaret Hanson, a political science professor at Arizona State University, wrote in an op-ed for the Washington Post that presidential campaigns in Kazakhstan against corruption have become more frequent since 2017.
"Since 2017, Kazakhstan's leaders have added an emphasis on corruption and government accountability," Hanson wrote.
Tokayev's plans to stoke responsibility in the richest businessmen and to urge the largest companies to further contribute to society and repatriate their offshore assets, however, could hardly be trusted by the population, as evidence of his own secretive dealings through offshore channels emerged.
According to an investigation by the team of Russian opposition figure Aleksei Navalny, Tokayev's properties in Moscow, along with the real estate assets of a number of high-ranking Russian figures, were taken down from the Russian property registry. "We had downloaded the information before, but now it looks like it's classified," the journalists said in a video.
A previous investigation in local media outlined how in 2002 Timur Tokayev was a co-founder in the AB Petroleum company, which developed a small oil field in the Atyrau region. Another co-founder was Mukhamed Izbastin, the son of a career diplomat married to Tokayev's sister. In 2012, one of its most successful years, the company made $5.7 million in profit. In 2019, a court case highlighted that oil theft and smuggling had occurred at the AB Petroleum-operated field.
While the ownership of real estate in Geneva or Moscow is not per se an indication of wrongdoing, the Credit Suisse leaks clearly put a dent in Tokayev's reputation as a champion of anti-corruption and a symbol for a "New Kazakhstan."
Previous allegations and court cases have pointed to the secretive extraction of billions of dollars from Kazakhstan's budget. Tokayev's millions might not rank in the same scale, but providing an explanation, instead of a full denial, would be a step in the right direction.