Bay of Bengal Countries Need to Pay Closer Attention to the Climate-Security Nexus
There is widespread global consensus on the seriousness of climate change, but we are yet to understand the full extent of its consequences on our polities and societies.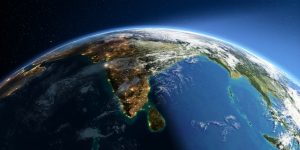 Climate change is the most significant planetary crisis of the modern era. It is a uniquely multidimensional and intersectional phenomenon, altering the biophysical environment in tremendous ways. Its global scale, variable impact, and long-term effects make it nothing less than an existential threat.
So far, climate change and its effects have predominantly been seen through geomorphological and developmental lenses. Policymakers, researchers, and academics have paid scant attention to how emerging climate threats affect the security of nations, regions, and communities. This, however, is changing. Over the last few years, the climate security discourse within traditional climate and security policy fields has gained greater prominence. 
But climate security is not an easy concept to define. Every stakeholder or actor may define it from their own vantage point, especially given divergent interpretations of security and how to achieve it. Further, there are fundamental disagreements between various countries on whether climate should be securitized at all. Yet the normative common denominator on this is that climate security is simply a new way to look at climate and create a solution-oriented approach. Most importantly, it is a strategy to accord greater urgency to the climate change agenda. "Security," after all, is an effective head-turner for most governments around the world.
Despite the growing attention in recent years, the literature on climate-security continues to be dominated by case studies from North Africa and the Middle East. Further, besides in the case of some developed economies like the United States and Japan, the concept hasn't found much traction in the official policy domain of other countries.
A new report jointly produced by the Institute of Peace and Conflict Studies (New Delhi) and the Clingendael Institute (The Netherlands) attempts to plug this literature gap by putting the spotlight on climate security in the Bay of Bengal region. Through a juxtaposition of climate profiles of five countries – India, Bangladesh, Myanmar, Sri Lanka, and Indonesia – with their respective social, political, and military profiles, it aims to explore the climate security concept in a region where climate change is largely seen in very compartmentalized ways.
Why the Bay of Bengal?
There are several reasons why the climate security concept is relevant for  policy planners in the Bay of Bengal region. 
First, it is highly climate-vulnerable, characterized by the prevalence of both short-term natural disasters triggered by sudden shifts in weather and long-term changes induced by climate change. Second, it is a densely-populated region, with a quarter of the world's population living along its coastline. Third, the region accounts for almost 4.7 percent of the global economy, thanks to its abundance of natural resources and rising growth-oriented economies. Fourth, it contains a critical maritime chokepoint — the Malacca Strait — which makes it an important sub-region in the international connectivity discourse as well as a strategically volatile transregional space. 
In today's context of shifting geopolitical dynamics, the Bay of Bengal is emerging as a site for heightened international competition and collaboration between a host of big and middle powers – such as China, India, the U.S., and Japan – which could reshape the overall politico-security landscape of the Indian Ocean Region. These crucial dynamics have also led to increasing militarization of the region, including its maritime sectors, raising geopolitical anxieties even further. 
Besides these, the region has a range of endemic characters that make it a security tinderbox. The socially heterogeneous countries here are characterized by serious socio-political tensions, ranging from communal clashes to ethnic insurgencies. The existence of several porous borders and perennial sociopolitical instability in certain quarters also create secondary challenges, such as internal and cross-border irregular migration and forced displacement. Combined with weak governance regimes, frail institutional capacity, lack of monitoring mechanisms, and disjointed regional cooperation, these intrinsic problems continue to pose a serious challenge to the region's overall social and political stability.
The Climate-Security Nexus
The IPCS-Clingendael report, which is based on secondary research and interviews with experts, echoes the fundamental normative premise of the existing literature on climate security – climate change doesn't directly lead to violent conflict, but can create conditions for the same by aggravating certain intermediate factors in specific contexts. This complex relationship operates across a multi-layered chain of consequences, which begins with ostensibly insignificant climate threats and ends with violent conflicts. This is largely true in the Bay of Bengal context.
At the same time, the report also finds that certain climate threats can directly affect security in the region. This is especially true in the case of extreme climate events, such as cyclones and coastal erosion, causing short-term degradation of military assets in the coastal regions, which would then affect force postures. They can also affect troop health and operational tempos. Additionally, certain long-term climate-induced changes could severely affect critical infrastructure. For instance, rising sea levels can expose civil and military infrastructure – runways, docks, airfields, roads, electric lines, and bridges – and also disputed landforms to encroaching waterlines. New Moore Island, a small rock island claimed by both India and Bangladesh that submerged into the sea in 2010, is a relevant example. 
Further, climate change can induce certain geomorphological changes, which could jeopardize planned strategic and other types of infrastructure. For instance, Dhaka is planning to build a naval base in Bhashan Char, a remote island off the coast of Bangladesh that also houses Rohingya refugees. But rising sea levels and coastal erosion could submerge large parts of the island, putting both the proposed naval base and Rohingya refugee settlements at risk.
The report also presents a set of alarming trends on how climate threats can rapidly widen local social, economic, and political fault lines, both within and across international borders, triggering instability and in many cases, violent conflict. For instance, rising coastal-to-hinterland migration within Bangladesh due to coastal erosion and cyclones could create low-intensity conflicts over resources. In the ethnic minority region of Chittagong Hill Tracts, in-migration from the coastal areas could reanimate the old armed conflict. 
Similarly, greater climate-induced cross-border migration from Bangladesh to Northeast India could trigger fresh cycles of insider-versus-outside conflict and even violence, especially in Assam. In Myanmar, climate-induced displacement from low-lying delta regions to the hinterlands and ethnic minority regions could widen existing sociopolitical fault lines within the context of an already-volatile political landscape and fragile state structure. Similar trends are conspicuous in northeastern Sri Lanka and southwestern Indonesia, where internal migration and competition over resources triggered by specific climate threats could widen longstanding ethno-religious cleavages and spur political instability.
Coordinated Action Needed
While the sequence of events from climate threats to conflict can be long and nonlinear, some of the adverse consequences could manifest before adequate mitigation strategies are put in place. Thus, the trends mentioned above warrant urgent attention of policymakers in the region – both civilian and military. 
Governments in the region remain hesitant about using the term climate security, given its political connotations. However, they still need to acknowledge the reality of the nexus in practical terms. To this end, governments in the region need to make a fundamental policy move within the climate change space – from short-term responses to long-term adaptation and resilience-building. This includes sensitizing national defense forces to the complex ways in which emerging climate threats could affect them in the years to come and how to mitigate them. Stakeholders also need to encourage local solutions that can make coastal communities more resilient to climate threats, so that they don't have to move to the hinterlands in search of resources and livelihoods. 
However, national responses won't suffice. Given the deeply transborder nature of the problem, collaboration between state and non-stakeholders is paramount. In this regard, there is already significant scope for institutional regional collaboration. Governments in the region remain averse to discussing the issue at international security forums, such as the U.N. Security Council, due to the disproportionate responsibilities flowing from such global bodies. Thus, the most logical way forward for Bay of Bengal countries here is to cooperate regionally to find locally acceptable solutions. The Bay of Bengal Initiative of Multi-Sectoral Technical and Economic Cooperation (BIMSTEC) offers a concrete platform for the same. 
However, the regional organization needs to step up and create a separate working group on climate security to ensure more targeted knowledge creation and sharing across borders. This working group has to work in tandem with other relevant bodies, such as the BIMSTEC Center for Weather and Climate (BCWC), BIMSTEC National Security Chiefs Meeting (BNSC), and the yet-to-be established Track 1.5 BIMSTEC Security Dialogue Forum (BSDF). Further, the report suggests that the mandate of the SAARC Disaster Management Center (SDMC) could be expanded to monitor population groups and assets that are vulnerable to climate threats.
There is widespread global consensus on the seriousness of climate change. However, we are yet to understand the full extent of its consequences on our polities and societies. In this regard, security can be an effective, outcome-oriented lens of looking at the consequences. Worryingly, the time scale between event and outcome in this case is short and it might be too late by the time the water touches our feet – metaphorically and literally. The IPCS-Clingendael report is a warning for policymakers in the Bay of Bengal region and shows that climate change can wreak havoc in ways that they hadn't even imagined before.