Is There an Arms Race Underway in Southeast Asia?
Fear of China is driving the region's recent spate of military procurements – but it's not the only factor.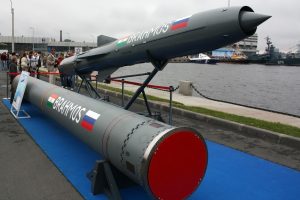 In the last several years the Philippines, which has butted heads with China over maritime and territorial claims in the South China Sea, has contracted to purchase four warships from South Korea's Hyundai Heavy Industries for a little under $1 billion. Additionally, the country recently made headlines by announcing it had inked a $375 million purchase of BrahMos missiles from India.
Indonesia, another country casting an eye toward Chinese territorial aggression, has likewise been upgrading its navy, with the procurement of three submarines and several new warships in recent years. Viewed through a geostrategic lens, this could all be interpreted as evidence of an arms build-up among Southeast Asian countries looking to check an increasingly aggressive China. But a closer look at budgetary data shows it's not that cut and dried.
In the Philippines' most recent 2022 budget, defense actually took a bit of a haircut, with a budget of 222 billion pesos ($4.3 billion) or about 4.4 percent of total government spending. This runs counter to recent trends where from 2015, defense as a percentage of government spending increased every year, peaking at 7.4 percent in 2019. In part, this is an artifice of pandemic spending quirks: the government increased overall spending and then reallocated funds away from the military and toward economic relief packages and the healthcare system, which makes the most recent numbers seem smaller.
But even so, the 2022 defense budget is less than the 239 billion pesos spent in 2018, well before the pandemic. Having said that, the allocation for capital expenditures has gotten a boost, with 39 billion pesos set aside for 2022 (compared to 24.3 billion in 2018). This paints a more nuanced picture, with overall spending not necessarily ramping up, but more funds being blocked out for targeted purchases of military hardware – including BrahMos missiles and warships.
Indonesia's defense budget shows a more muscular trajectory. Defense outlays have risen steadily from 5.8 percent of central government spending in 2011 to 9.3 percent in 2017. As in the Philippines, the pandemic diverted funds away from the military and toward health and economic rescue packages, but only temporarily.
Military spending bounced back in 2021 and 2022, with defense accounting for roughly 7 percent of total central government expenditures in each year. The Ministry of Defense has been allocated a total of 271 trillion rupiah ($18.8 billion) in the last two budgets combined. The Ministry of Finance is projecting a narrower than expected fiscal deficit, thanks, in part to booming commodity exports. So at least for the moment this stepped-up spending does not appear like it's going to break the bank.
It's also telling that other regional militaries which are in less direct conflict with China, such as Thailand and Singapore, have not ramped up military spending in the same way. Singapore, up until its last pre-COVID-19 budget in 2020, has reliably spent 3 percent of GDP on defense, with military spending as a percentage of the total budget actually decreasing from year to year. Thailand, which is currently tied up in a rather messy submarine procurement deal with China, has also not seen military spending jump up in any meaningful way. Defense as a percentage of total spending actually fell from 7.2 percent in 2016 to 5.9 percent in 2021. Capital outlays on new military hardware have remained relatively flat over the same period.
Does this mean there is an arms race shaping up in Southeast Asia, driven mainly by countries that feel threatened by China? Not necessarily. The Philippines' military has been notoriously under-funded for a long time, and the tragic sinking of the aging KRI Nanggala off the coast of Bali last year showed that, Chinese aggression or not, Indonesia needs to upgrade its submarine fleet. What we are seeing then is probably a confluence of several things, with countries like Indonesia and the Philippines needing to modernize their armed forces anyway and finding themselves extra motivated to do so under current circumstances.
Defense spending, including capital outlays on upgraded hardware, is up in the countries where we would expect it to be. But not tremendously so. The thing to look for is whether these patterns remain in place next year, when governments start reining in their counter-cyclical pandemic spending. If defense budgets stay well-funded even as wider fiscal prudence sets in, that will tell us a lot about the underlying priorities and what's actually driving these spending decisions.