Pakistan's Afghan Gamble Worsens Conflict in Balochistan
For Baloch rebels to conduct sophisticated attacks is undeniably a worrying sign for Pakistan.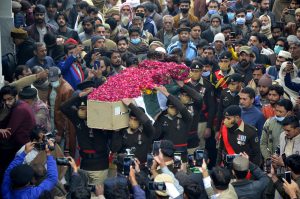 Pakistan's restive Balochistan province has seen a surge in violent attack over the past two months. On the intervening night of January 25 and 26, Baloch militants carried out a major attack on a security checkpost in Kech.
"During intense exchange of fire, one terrorist was killed and several injured," the Inter-Services Public Relations (ISPR), the Pakistani military's media wing said in a statement. "While repulsing terrorists fire raid, 10 soldiers embraced martyrdom," it said.
About a week later, terrorist targeted two checkposts just hours apart in remote areas of the southwestern province. The ISPR said a total of 20 militants were killed and nine soldiers died during the security operations in Panjgur and Noshki. While the Noshki assault ended in 24 hours, it took three days for the military to secure the Panjgur checkpost.
The attacks have continued since – as have security operations. On February 16, the military's media wing said security forces killed six terrorists involved in the Kech attack in an information-based-operation (IBO). Another 10 militants were killed on February 23 during a raid in Hoshab area to "apprehend externally sponsored enemies of peace in Balochistan."
The province may be accustomed to unrest – Baloch rebels have been fighting the Pakistani state for decades now – but what sets apart the recent attacks is the tactical strength and sophistication with which they were carried out. More importantly, the attacks resemble those by the Tehreek-e-Taliban Pakistan (TTP) and its affiliates. Until now, the Baloch rebel groups' modus operandi was to use improvised explosive devices and hit-and-run attacks.
Although there is no concrete evidence suggesting that the TTP is lending support to the Baloch groups, such an alliance under Noor Wali Mehsud's inclusive leadership style cannot be ruled out.
For the Baloch groups to consolidate a TTP-style Majeed Brigade to carry out suicide missions is undeniably a worrying sign for the state. Even more upsetting is the unification of insurgency groups.
Historically, the Baloch rebel groups have found support in foreign players aspiring to destabilize Pakistan. Time and again, Islamabad has stressed the use of Afghan soil by those elements.
The Pakistani state may have assumed that a friendly regime in Afghanistan following the U.S. exit would deny anti-Pakistan elements the space to plan attacks – particularly under the Afghan Taliban. But the recent uptick in terror incidents shows that Pakistani authorities may have misread the situation.
While it may be true that the Afghan Taliban's takeover drove out anti-Pakistan elements from Afghanistan, yet it provided them with an opportunity to regroup. Much like how Noor Wali managed to unite Islamist militancy, the Baloch groups have unified under the Balochistan Nationalist Army (BNA) to form a formidable force against the Pakistani state.
The newly formed BNA is a merger of the Baloch Republican Army (BRA), United Baloch Army, Baloch Raji Ajoi Sangar (BRAS), and other splinter groups.
To the terrorists' advantage, the U.S. and its allies, in their haste to exit, have left behind enough arms and ammunition to feed militancy and fuel violent conflict for at least another decade.
Interestingly, while Islamabad has repeatedly attributed terror activities to India and Afghanistan, it has been mum on Iran's role in stroking tensions. But, according to a report by The News, the issue of Iranian soil being used by terrorists active in Balochistan and involved in attacks on security forces was raised during the Iranian interior minister's visit earlier this month.
Although there hasn't been an official statement on the matter, speculations suggest that Iran is backing Baloch separatists in a bid to undermine Gwadar Port, a China-Pakistan Economic Corridor project, to boost the prospects of Iran's Chahbahar Port instead.
Tehran may also be unhappy with Islamabad for the role it played in installing the Afghan Taliban in Kabul – and a not-so-friendly administration along the Afghan-Iran border.
With emboldened terror outfits and complicated relationships with three neighbors, Pakistan's Afghan gamble may just have kicked off another round of conflict and instability for the country after a decade of peace.