Cambodia Convicts 20 Opposition Activists on Vague, Political Charges
The convictions come ahead of important commune council elections scheduled for June.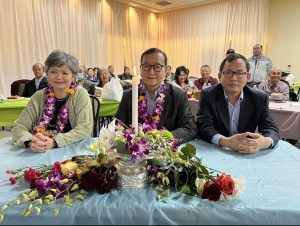 Yesterday, a Cambodian court convicted 20 opposition politicians and activists, including two prominent exiled leaders, on vague charges of "incitement" and "conspiracy," consigning them to lengthy prison terms.
Most of those sentenced by the Phnom Penh Municipal Court were members of the banned Cambodia National Rescue Party (CNRP), which was outlawed in late 2017. The group included seven leaders living abroad, including former CNRP leader Sam Rainsy and deputy leaders Mu Sochua and Eng Chai Eang, who received 10 year prison sentences on charges of "incitement," "inciting military personnel to disobedience," and "conspiracy." Twelve more defendants were sentenced to five years in prison on "incitement" and "conspiracy" charges, but will only be required to serve three years and eight months in prison, with the remainder of the sentences suspended. (The sentence of the last defendant, who was earlier released on bail for health reasons, has been fully suspended.)
During the trial, the prosecutor argued that the group had tried to "overthrow the government," referencing an attempt in late 2019 by party leaders, led by Sam Rainsy, to return to Cambodia with a "tsunami of supporters" and challenge Prime Minister Hun Sen's government. He alleged that the CNRP officials formed part of a "secret network" that sought to disrupt Cambodia's economy and use the COVID-19 pandemic to undermine Hun Sen's Cambodian People's Party (CPP) government. Specifically, the prosecutor also claimed that the group was responsible for the European Union's August 2020 decision to partially suspend the trade preferences that Cambodia enjoys under its Everything But Arms scheme.
In a Twitter post, Sam Rainsy, who has now been sentenced to decades in prison on a raft of charges since his exiling in late 2015, condemned the convictions, claiming that the Cambodian justice system "has again been used as a blunt political took in an attempt to quash opposition to Hun Sen's dictatorship." He added, "Opposing dictators is a duty, not a crime."
According to the advocacy group Human Rights Watch (HRW), aside from the seven exiled defendants and the one released on bail, the defendants have languished in pretrial detention for up to two years. HRW claims that there are now currently more than 60 political prisoners in prison or pretrial detention in Cambodia, "including members of the political opposition, community activists, and trade unionists."
These convictions come amid the protracted trial of former CNRP leader Kem Sokha, who was arrested in September 2017 for allegedly colluding with foreign governments to overthrow the CPP administration. This then formed the legal pretext for the dissolution two months later of the CNRP itself, which prompted most of its senior leadership to leave the country. With most of the CNRP's leading officials either in custody or exile, the ruling Cambodian People's Party (CPP) was free to win every seat in parliament at elections in July 2018.
HRW described yesterday's verdict as the culmination of an "unfair trial in which no credible evidence was brought against the defendants." Charles Santiago of the group ASEAN Parliamentarians for Human Rights said in an emailed statement that the "baseless conviction" of former CNRP activists was "just the latest example of the complete erosion of democracy and pluralism in Cambodia under the iron fist of Prime Minister Hun Sen, and further evidence that he will do whatever is in his power to remove all forms of opposition to his rule."
Indeed, the convictions are best seen as a form of legal-political theater designed to dramatize the "sins" of the defendants and open the way to them forswearing former allegiances and aligning themselves with the CPP's political consensus. (Royal pardons are commonly offered to opposition activists who "apologize" and pledge their loyalty the CPP, or at least promise to give up political activism.)
The conclusion of these cases follows a familiar pattern, in which crackdowns intensify ahead of Cambodia's five-yearly electoral cycle. With important commune council elections scheduled for June, and national elections to follow in 2023, these prison terms send a strong message about what the acceptable political parameters of these elections will be.