Cambodia Weaponizes COVID-19 in its Struggle Against Striking Workers
For months, Cambodia's PM has attempted to quash protests against the NagaWorld casino in Phnom Penh. But his tactics are failing due to workers' opposition and international pressure.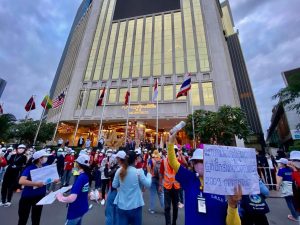 It's noon and Phnom Penh looks like an escape room. At the central intersection between Suramarit and Sothearos boulevards, a swarm of police cars and uniformed and plainclothes officers protect NagaWorld, the capital's only licensed casino-hotel complex. Suddenly, a walkie-talkie command arrives and the game of cat and mouse begins. The police hunt down a dozen strikers and lock them inside a public bus, which serves as a mobile cell. They go on to detain around 200 more strikers.
It is March 13, and nearly four months have passed since the Labor Rights Supported by Union of Khmer Employees of NagaWorld (LRSU), the complex's union, decided to launch a strike against the casino. The December 18 decision was made following the dismissal of 1,329 workers in early 2021, which was justified by a significant drop in the income of the casino's owner, NagaCorp, due to the COVID-19 pandemic.
Since then, Cambodian authorities have tried to stop the strikes with a range of repressive tactics. Initially, they arrested eight union leaders, since released, after calling for the strike to end. More recently, they have played the "COVID-19 card." A recently passed law that empowers the government to impose restrictions to curb the spread of infectious diseases has given Cambodia's Prime Minister Hun Sen the perfect pretext to get rid of the hundreds of protesters who have tried, day after day, to reach the vicinity of the NagaWorld complex.
Unionist Mam Sovathin, a slot supervisor at the casino since 2016, has been forcibly bused away from the strikes 10 times. At first, she was forced to enter a quarantine center, at the headquarters of a local non-government organization called Cambodian Women for Peace and Development. There, doctors proceeded to test everyone for COVID-19 and released them the next day, after they had returned negative results. At that point, they were forced to sign a commitment stating they would not join street protests anymore. But this tactic soon failed. On March 7, all of the detained strikers decided to refuse COVID-19 tests.
Lyheng Ros, a NagaWorld card dealer since 2017, says that given the frequency of the arrests, it made no sense to test them anymore. "There were people being taken even three times per week," he says. Ros, Mam, and Van Rina, a casino pit boss assistant, claim that doctors at the quarantine facility grew so desperate that they dispensed with the COVID-19 pretext and simply started threatening workers with withdrawals of food and water if they didn't sign a form with their names and identity numbers. "Did it work for them?" I ask Ros. "No, we never signed. We had a very hard time, but in the end, after eight hours, they ended up giving in." Adds Mam, "What is the point of signing if they were not going to do the test on us?"
A joint statement by 51 Cambodian civil groups, communities, and trade unions, released on February 24, described the forcible busing and testing as an "arbitrary application of COVID-19 measures." In the statement, they asked the authorities to stop the unjustified sweeps, unlawful under both international and domestic law, and a violation of the constitutional right to peaceful assembly.
In a conversation via Telegram, Mam shows me a photograph from a recent Cambodian national team soccer match. A big crowd of spectators fills the stadium. She doesn't understand why strikers should be treated any differently from the tightly-packed crowds. But the most convincing proof of the political motivations behind the COVID-19 tests can be seen just a few meters away from the police fence, inside the NagaWorld casino. When I step inside, a security officer politely asks me for my passport and vaccination certificate, which I had left at home. "This time you can come in, but make sure you bring it along next time," she says, smiling.
The building is huge, an authentic labyrinth of rooms with carpeted floors. Tinkles, clanks, and brief snatches of melody fill the space. Hundreds of players surround card and baccarat tables. There are men smoking cigarettes, sipping cocktails, side-by-side, without any social distancing being enforced. Players fondle their casino chips and place them on the boards. COVID-19 seemingly runs free in NagaWorld. But there's no jostling and 35-degree heat, just air conditioning and leather seats. Some bets are so high that could pay a dealer's salary in one go.
But the NagaWorld leadership argues that the $77 million in reported losses during the first half of 2021 forced them to lay off hundreds of staff. Strikers allege the situation has since improved and are demanding that 365 laid-off workers be reinstated. They also complain about discrimination against union members, claiming that 80 percent of those who were let go were members of the LRSU. The two parties could not be further apart. Negotiations, which resumed this week, are not bearing fruit. Hun Sen is running out of ideas for bringing the strikes to an end, while strikers are running out of money.
"I'm borrowing from my mother and my partner," explains Mam, who before the strike received a salary of $500 per month. "But I won't give up. If I have to move to a smaller room, I will." Ros adds, "I lost all my savings, but my family is supporting me and I'm not going to stop either."
Van Rina is another who is determined not to throw in the towel. Since the end of January, the strikers have only protested after 2 p.m., and Rina says that one of the goals of this is to give protesters a chance to find another job, earn some money, and take care of their families. While authorities have ruled out any more quarantines, due to pressure from the United Nations and the United States embassy, protesters continue to spend their afternoons held and crammed inside buses.
These buses typically drive them around the city for several hours, before dropping them at Freedom Park, located six kilometers away from NagaWorld's complex, the only place where City Hall authorizes public protests, despite the supposed threat of COVID-19. During the journey, strikers hold posters up to the windows of the bus to communicate their situation to passersby. But strikers say that most people appear indifferent to it.
"Cambodians are very selfish. If it doesn't affect them, they don't interfere," Mam laments.
Once released, protesters have to find their way back home. A few days ago, Van and a hundred other women had to spend the night sleeping in the bus. It was already dark, they were five kilometers from the center of town, and they were afraid to be harmed. If they are lucky enough to leave before nightfall, they share a taxi or tuk-tuk, like "a family," Van says.
"At least, sometimes drivers give us a discount because they feel sorry for us," she adds.