Decoding Bangladesh's Response to the Ukraine Crisis
Bangladesh's traditional policy of non-alignment is on clear display.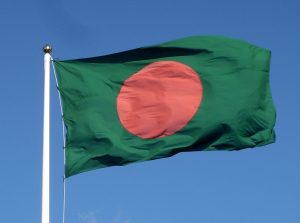 The Russian invasion of Ukraine marks the most notorious military assault on a European country since World War II – and for Bangladesh, one of the most consequential diplomatic dilemmas in recent memory. In this new age of great power rivalries, Bangladesh's own geopolitical and economic compulsions have pushed Dhaka between a rock and a hard place to manage its strategic relations with "revanchist" Russia and "revisionist" China on the one hand and the United States and European Union on the other.
The geopolitical feud reached the U.N. General Assembly (UNGA), which convened a rare Emergency Special Session – just the 11th since the United Nations' founding, and the first since 1997, according to U.N. website. On March 2, the UNGA adopted a historic resolution that deplored Russian "aggression against Ukraine" in violation of Article 2 (4) of the United Nations Charter and demanded "immediate, complete and unconditional" withdrawal of its military forces from the territory of Ukraine to reaffirm Ukrainian sovereignty and territorial integrity.
An overwhelming 141 nations supported the U.S.-backed resolution to diplomatically reprimand Putin's Russia as a pariah state in the world stage. Interestingly, Bangladesh was one of the 35 countries to abstain from the vote – along with its giant neighbors India and China – while Russia and four staunch allies voted against it. In its official response, Bangladesh calls on "all parties concerned to exercise maximum restraint, to pursue dialogue through all channels, including diplomatic means to contain the situation, to prevent it from further escalation and to see peaceful resolution in accordance with international law and the UN Charter."
Prima facie, these statements reveal Bangladesh's ambiguity while dealing with the Ukraine crisis. However, reading between the lines demonstrates that Bangladesh is sending different messages on Russia, Ukraine, and other future potential conflicts.
Dhaka's wishy-washy neutralism, penned with cautious statements about the need for "restraint," "dialogue," and "peaceful resolution" subtly did not mention Russia by name. Notably, Bangladesh's Foreign Minister A.K. Abdul Momen said, "Bangladesh abstained from voting at the UNGA resolution that reprimanded Russia for invading Ukraine as the resolution is not meant to stop the war but to blame somebody." At the same time, Momen emphasized the "importance of international law and respect for territorial integrity and sovereignty," revealing that Dhaka was implicitly condemning Russia for invading Ukraine to support its adherence to international law and the U.N. Charter.
This is not the first time Bangladesh opted for "sitting on the fence" at the UNGA. Bangladesh has been reluctant to take sides regarding country-specific resolutions on Bosnia, Georgia, and Kosovo. Dhaka similarly abstained from a 2014 resolution condemning Russia's annexation of Crimea. There are a good number of multi-faceted and interlinked reasons for Bangladesh's positioning, both in the past and during the current crisis.
Delicate Balancing and Quest for Development
First, its abstention at the UNGA signals Dhaka's act of delicate balancing to conform with its desire "to remain neutral and avoid "choosing sides" amid the increased geopolitical polarization that Moscow's action is likely to provoke in the days ahead. As South Asia emerges as one of the central theaters of the new Cold War, Dhaka's balancing act is now relevant more than ever. Bangladesh relies on U.S. and European markets for its thriving export industries, especially ready-made garments, while Bangladesh shares border, blood, and historical ties with India, the West's "empowered" partner. However, Dhaka also forges a strategic partnership with China – the "pivotal" threat driving U.S.-led minilateral alliances in the region, namely the Quad and AUKUS. By abstaining from voting, Bangladesh, therefore, avoided burning bridges to either Western markets or China – which has a "no-limit" friendship with Russia – and kept space open for dialogues to pacify the flames of fire between the East and West. Dhaka's ultimate goal is to keep its economic and social transformations on track by utilizing all resources it can get access to, no matter which side the offers come from. From this pragmatic point of view, Bangladesh can hardly afford to invest its diplomatic capital in great powers' geopolitical gambit.
Hence, Bangladesh's response to the Ukraine crisis was a diplomatic continuation of its long-term policy – primarily driven by its non-alignment pedigree – to stay at an arm's length from great power competitions and reaffirm the constitutional vindication of its foreign policy of "friendship to all, malice to none."
Historical Ties With Russia
The second factor shaping Dhaka's stance is the reality that Bangladesh shares "historical ties" with Russia, the largest nuclear arsenal state with outsized influence due to its permanent seat on the United Nations Security Council. The former Soviet Union twice vetoed U.S.-backed resolutions to intervene in Bangladesh's war of independence against Pakistan in 1971.
Dhaka-Moscow bilateral ties have strengthened in recent years, with the two nations inking several important deals. To balance Bangladesh's military dependency on China, Moscow and Dhaka had signed a $1 billion arms deal – the largest military deal for Bangladesh – to purchase Russian military hardware in 2013. In addition, Moscow is assisting Dhaka to build a 2400 MW nuclear power plant in Rooppur – the first of its kind in Bangladesh and a much-hyped mega-project to boost Bangladesh's power and energy sectors. The project's total cost is estimated at $12.85 billion, 90 percent of which Moscow will provide. Russia is Bangladesh's fourth largest source of development funding, partnering in sectors like readymade garments, agriculture, fertilizer, military hardware, etc.
Both nations also enjoy healthy trade ties. Official estimates suggest that Dhaka-Moscow economic ties kept growing even during the COVID-19 pandemic and in the fiscal year 2020-21, Bangladesh exported goods worth $665.31 million to Russia and imported goods worth $466.70 million. Given the strength of its ties with Moscow, it was never going to be easy for Dhaka to oppose and condemn Russia at the U.N. openly.
Neighborhood Syndrome
Third, Bangladesh is watching key allies in its neighborhood remain neutral and non-committal regarding the Ukraine crisis. China, as well as four South Asian countries – India, Pakistan, Sri Lanka, and Bangladesh – all "avoided picking sides" in the UNGA resolution condemning Russia's aggression toward Ukraine.
With China expressing sympathy, if not open support, for the Russian action (Beijing has carefully avoided the term "invasion"), and India rewinding its historic romanticism to sit atop of the fence while navigating great power relations, Bangladesh perhaps feels more comfortable, at least for now, to go with the "neighborhood syndrome." Like its South Asian neighbors, Bangladesh does not have any significant interests in Eastern Europe. Therefore, Dhaka might have perceived the Ukraine crisis as remote and not directly relevant to its interests, except for the potential global economic effects. Henceforth, this particular decision is a product of the geopolitical circumstances, where Bangladesh wants to avoid angering the West (the U.S. and EU), East (China and Russia), and its neighbors (India, Pakistan, and Sri Lanka).
Thus, threading together all of these factors, Bangladesh manifests a reflexive desire to remain neutral and non-committal – to avoid choosing sides – in this age of great power rivalries to keep space open for its strategic autonomy to meet its strategic needs. Dhaka has acted upon the most cited dictum of international politics – there are no permanent friends or enemies; there are only permanent interests – by choosing its own "side" to promote its national interests amid cyclical bursts of Cold War antagonism between and among great powers.