Hong Kong's Young Independent Filmmakers Break New Ground Despite Crackdown
From a low-budget emotional ride through protests to an evocative documentary exploring the city's cultural memory, directors brave – and flourish in – the new normal.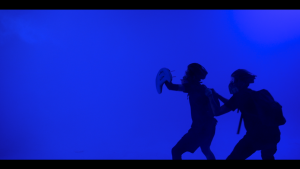 Less than two years after China imposed a far-reaching national security law, which saw dozens of Hong Kong activists and journalists arrested, the iron curtain is finally falling on the city's once-vibrant film industry: A new film censorship law was passed last October to deter films that "glorify" or "incite" subversion. Not only does it enable the authority to render film licenses void, filmmakers and distributors could also face penalties – including up to three years of imprisonment – for screening unlicensed films.
By that point, the move hardly came as a surprise; a private screening had been raided by police, and the theatrical premiere of "Inside the Red Brick Wall," the documentary chronicling the 13-day siege of Polytechnic University at the height of the 2019 protests, had been cancelled at the last minute. The clampdown left many lamenting the seemingly inevitable demise of Hong Kong's status as Asia's film capital – or so they foretell.
There is a kernel of truth to the claim; commentators note, for instance, the dismally small number of locally produced films compared to the industry's heyday in the early 1990s, when more than 200 local films were released per year.
And yet, to a new breed of young Hong Kong filmmakers, the industry's looming fate is a question mark, not a foregone conclusion. The death of Hong Kong film is only a self-fulfilling prophecy if one lets it be.
"There's no denying that these constraints are closing in on us," said Sam Lam, one half of the directing duo behind the Golden-Horse-nominated feature film "May You Stay Forever Young," which is currently screening at the Hong Kong Film Festival U.K. (HKFF) and will hit big screens across Taiwan from April 8.
"But don't forget the pandemic has hit the mainstream film industry just as hard. As long as you keep your desire to create alive, you would figure out ways – reinvent them, even – to make things happen."
When Filmmaking Becomes an Act of Defiance
The film, self-funded on a budget of less than US$77,000 with a skeleton crew, began production in mid-2019, in the thick of the political unrest in Hong Kong that erupted over the then-proposed extradition bill. Then, beset by the pandemic, the production was forced to be put on hold for nearly a year. By the time the post-production was completed, the tightening censorship had already crept in: The film was banned for "glamorizing" violence and suicide, and an interested local distributor subsequently dropped out.
"May You Stay Forever Young" (a title borrowed from a Bob Dylan lyric) employs a fast-paced dramatic style and guerrilla shooting to tell a story of protesters racing against time to save a fellow protester they barely know – a young girl nicknamed YY – from committing suicide.
The inspiration came from the prolonged protests' toll on the mental health among young people: The incidence of suicides was reportedly rising at an alarming rate. Volunteer teams, often aided by social workers, were formed on the messaging app Telegram to keep track of incoming alerts relating to suicide attempts and crowdsource information critical to preventing the loss of life.
The plot centers on these unsung heroes and their new-found camaraderie as the creative team was acutely conscious that they had no place to speak for those driven to suicide, explained Rex Ren, the film's co-director. Nor does it gloss over the despair and trauma experienced by YY's real-world counterparts: Police abuse is depicted and referenced in several scenes, and characters are given nuanced backstories grounded in realism. The film is also anchored by an incandescent performance from its ensemble cast – most of whom are non-professional actors – that raises the story's emotional stakes and aptly conveys a sense of urgency.
The decision to focus on the group's rush to rescue YY also informed the film's stylistic approach. The tightly plotted story follows the group as they traverse the diverse cityscape in a way that recalls the quintessential style of Hong Kong's popular action genre. In cases where location shooting was off-limits, the team fashioned lighting and visual effects in a sound stage to recreate the tense and chaotic vibe at the skirmishes, then seamlessly intercut these scenes through deft editing.
The creative team drew inspiration from "Take Out," an early work by American independent director Sean Baker, which depicts a Chinese immigrant working as a takeout deliveryman in New York City over a single day. Their resolve to bring the story to life despite limited resources and other production obstacles also mirrors Ren's previous experience working for the acclaimed director Fruit Chan, whose era-defining 1997 indie classic "Made in Hong Kong" – also screening at the HKFF in a restored version – was famously shot on leftover film reels with a non-existent budget before going on to sweep major awards.
"We'd go about our shooting schedules, rain or shine," Ren remembered. "There would always be alternative plans when circumstances got out of hand. Nothing is impossible in [Chan's] book."
Ren, however, shrugs at the idea of being pigeon-holed into a specific artistic position and its associated stylistic confines – a common, and somewhat clichéd criticism levelled at indie cinema in the past. "What set us apart is merely the absence of a commercial budget," he said, emphasizing their desire to make a film in a way that would best serve the story, that can connect with a wider audience and leave a stronger impact. It is the "spirit," and not the form, that matters.
The Brave New World of Indie Cinema
While young Hong Kong filmmakers daring to touch on politically sensitive subject matters now struggle to secure financing or, worse, risk blacklisting from future opportunities, their creative output is not tainted or defined by the ominous times they find themselves in. An upswing of new voices has emerged from the political wreckage. These filmmakers are collectively exploring innovative approaches in charting the social and historical forces as well as the cultural undercurrents that precipitated the city's recent years of turmoil.
To filmmaker Tze-woon Chan – previously known for the Umbrella Movement documentary "Yellowing" – the seismic changes in Hong Kong's cinema landscape have opened up novel avenues for visual artists who are keen to tell the city's stories truthfully. For those having lived through the period of unrest, "what happened since 2019 is bound to leave traces on our work somehow," said Chan, adding that he felt "enormously optimistic" that a younger generation of filmmakers would be driven to break new grounds.
Chan's new film, the hybrid documentary "Blue Island" – recently screened at the International Film Festival Rotterdam with further distribution abroad – is a thoughtful and evocative meditation on the elusive bond between memory, storytelling, and identity. The film, which originally began production in 2017, weaves a lyrical tapestry combining archival footage, observational documentary, and semi-fictional, re-enacted accounts of three men reliving pivotal moments throughout contemporary Hong Kong history.
Crediting his creative influence to the documentary greats "La Commune (Paris, 1871)" and "The Act of Killing," Chan's historical re-enactments function both as a narrative device and as a self-reflexive way to explore the endurance and duplicity of memory. He explained: "How can you tell their stories without fully validating the narratives in ways they insist on telling throughout their lives – while unearthing new perspectives at the same time?"
The three men — whose individual experiences span from fleeing the Cultural Revolution and being implicated in the 1967 leftist riots to witnessing the 1989 Tiananmen Massacre – represent differing positions on the political spectrum. Each is paired with a young protester scarred by the aftermath of the 2019 protests, enabling a largely unprompted, but deeply felt intergenerational dialogue otherwise unlikely to be filmed on screen.
"What unites them despite these differences is that they all took the leap and acted on what they thought Hong Kong's future meant to them, then paid the price for it," said Chan.
The attention to detail that went into the costume and set design in the re-enactments is astounding. There's an otherness to it that feels authentic and out-of-place at once. As the title suggests, the film is pervaded by an air of poignancy, a palpable sense of loss. The closing scenes reveal that many interviewees featured in the film are either imprisoned or awaiting trials; iconic moments of mass movements captured early on during the production now belong to a bygone era.
Probing Hong Kong's Cultural Imagination
The underlying issue around Hong Kong's cultural identity has always been an intrinsic facet of its political discourse, according to Laikwan Pang, cinema scholar and professor of cultural studies at the Chinese University of Hong Kong. "What we are seeing is a cultural renaissance," said Pang, noting the bourgeoning of the city's independent cinema in parallel with the meteoric rise of the Canto-pop boy band Mirror and the popular YouTube channel Trial & Error, all developments that challenge the mainstream entertainment industry's longstanding dominance.
"Are these pop culture phenomena merely diverting our unaddressed emotions – or have they been connected all along?" Pang added.
The notion of reclaiming or asserting Hong Kong's cultural heritage while celebrating its renewal runs through the theme of the Hong Kong Film Festival. "In the past, Hong Kong movies were screened under the monolithic umbrella of 'East Asian cinema' – usually the classic, iconic ones," said Ka-leung Ng, the U.K. festival's co-curator and previously a co-director of the controversial film "Ten Years."
"Now we face another dilemma where foreigners decide something isn't Hong Kong movie unless it overtly features the protests."
The independent films they selected represent a polyphonic endeavor to tell Hong Kong's stories, Ng said, stressing that every director featured in this year's festival is still actively making movies. "The most extraordinary works are often born out of the worst of times."
Back in Hong Kong, the creative team behind "May You Stay Forever Young" is working on new projects through "Phone Made Good Film," an initiative they co-founded to promote mobile filmmaking and nurture emerging visual artists. It was partly inspired by the Dogme 95 movement.
"We don't want it to end with an accusatory note," said Ren, explaining the decision behind the film's affirming and yet ambiguous, stylized closing scene. "It is surreal and thoroughly real; at the end, there is hope."
Early on in the film, the character of YY is told that the city wouldn't change just because she can't resign herself to the helpless situation. Perhaps the opposite is just as true.