India's Leaderless Opposition
The bad news is that India's opposition still does not have a face; the good news is it has two years to sort that out.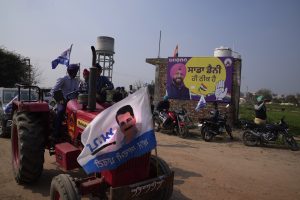 India's recent legislative elections in five states – Goa, Manipur, Punjab, Uttar Pradesh, and Uttarakhand – were supposed to help define the terms of India's opposition. The Bharatiya Janata Party (BJP), which rules at the national level, ended up winning four of the state elections, complicating matters for the opposition, but there was one bright spot: Punjab. A hotbed of anti-farm bill activity, Punjab broke decisively against the BJP, but not in support of the Indian National Congress, the country's beleaguered national-level opposition party. Despite the Congress being the incumbent government, Punjab's voters gave a huge majority to the Aam Aadmi Party (AAP), a regional outfit based out of New Delhi. In turn, this result helped further scramble the race for national opposition leader ahead of the 2024 elections.
Initially, it was assumed that the Congress party would lead the fight against the BJP in 2024, but the recent legislative elections have proved them incapable of doing so. Priyanka Gandhi was put in charge of the campaign in Uttar Pradesh, India's largest state, put on more than 200 rallies, and tried to focus the campaign on women's empowerment. She ended up winning just two seats, five fewer than in 2017. This dismal performance was very much the norm. The party lost in Uttarakhand and the former Congress chief minister, who emerged as the most preferred candidate for the position in this election, lost his seat as well. In Manipur, where the party won 27 seats in 2017, it won a mere five this time around and in Goa, its number fell from 17 to 11. The party and its leaders have no way to credibly lead a national opposition. But it isn't clear who is going to do so in their place. 
A number of regional parties clearly have an interest in leading the opposition nationally, but  unfortunately, by their very nature, regional parties don't have much of a constituency outside of their home states. However, they are trying to expand with differing degrees of success. 
After Mamata Banerjee and the All India Trinamool Congress (AITC) won a big victory against the BJP in the closely watched legislative elections in West Bengal in 2021, there was immediate talk of Banerjee becoming the new leader of the national Indian opposition. This even bled over to the international press where an AITC MP, Mahua Moitra, penned a New York Times op-ed arguing that Banerjee knew what it took to beat Prime Minister Narendra Modi and the BJP's fearsome electoral juggernaut. The AITC was vocal about the Goa election. Banerjee visited in October 2021 to meet the sitting legislators who'd joined the party and to crow about the fact that a former Congress chief minister had also jumped ship. The same author of the above op-ed was put in charge of the campaign for the state and the result was every single one of the AITC's candidates losing, with their alliance partners winning a mere two seats. 
The only regional party that's played a somewhat decent hand is AAP. The successful campaign and victory in Punjab is significant because for all the regional parties that dream of national leadership, none of them have been able to establish a foothold outside of their home states. Banerjee failing in Goa was very much the norm. When Maharashtra's Shiv Sena tried to expand into Bihar in 2020, it received fewer votes than NOTA ("none of the above" – a voter's way of communicating a desire to vote for none of the named candidates). However, AAP's leader, Delhi Chief Minister Arvind Kejriwal, managed to buck this trend and as such, positioned himself as one of the more credible candidates for anti-BJP voters. In addition, despite a much less publicized campaign in Goa, AAP was able to win two seats to the AITC's zero.
However, Kejriwal's problem (or Banerjee's or any other prospective national opposition leader's) is that many, if not most, of India's regional satraps see future prime ministers staring at them in the mirror. As a result, there's a lot less interest in playing a supporting role. After Maharashtra's legislative elections a few years ago, Nationalist Congress Party (NCP) leader Sharad Pawar was able to stitch up an anti-BJP alliance between his party, the Shiv Sena, and Congress that is likely to see a full five years in office after initially being panned as unstable. Although he isn't formally part of the government as he is a sitting MP, he is consulted on major decisions. He was willing to personally forgo the chief minister's chair and didn't insist on his party getting it either. There aren't many politicians like that. Further complicating the leadership effort is the elephant in the room: the Congress Party is unlikely to win a national election but it does have a small subset of die-hard voters that would still be necessary for any kind of non-BJP alliance to see widespread electoral success. 
Some in the Congress are aware that it is time for it to take on a more junior role. Former Congress finance minister and party stalwart P. Chidambaram said the party should be willing to be the junior partner in an alliance with AAP or the AITC. He's correct, especially given that Congress currently already occupies a similar role in Maharashtra with the Shiv Sena. However, it may be a tougher sell to the party faithful.
The leadership question is part of a bigger problem. India's opposition still doesn't know what it really stands for. After nearly a decade of Modi and the BJP in power, the opposition remains united only by its dislike of Modi. Nevertheless, there are some other things it agrees on. For instance, the Shiv Sena, AITC, AAP, and Congress all opposed the government's recent farm bills. These areas can, in the short term, paper over the philosophical divisions likely to open up between secular parties like the Congress and Hindutva-friendly parties like the Shiv Sena. The long term prospects of a national alliance among these parties could be a different story. 
In addition, on many of the bigger issues that an opposition coalition would have to handle in government, members remain intensely divided. On revoking Article 370, for example, the AITC and Congress opposed the Modi government's decision whereas the Shiv Sena and the AAP came out in support of it. A successful grand opposition coalition would likely need all four of the aforementioned parties, but it's unclear how divisive issues would be handled. 
The good news is that the opposition has two years to figure that out and there is some successful precedent in India for diverse political coalitions to get their affairs in order ahead of an election. It's what happens after that remains murky. In 1977, Indira Gandhi called for elections after the Emergency and was bested by the Janata Party, a loose coalition led by prominent leaders such as Morarji Desai, Atal Bihari Vajpayee, Charan Singh, and Jayaprakash Narayan, who could agree on wanting Indira out but on little more. As a result of infighting and an inability to build an agenda beyond their mutual enemy, the Janata coalition quickly flamed out. Three short years later, after the 1980 elections, Indira was back on Race Course Road. Maybe today's leaders can learn the first part of this lesson, but it'll be hard for them to sort out the second.