Myanmar Timber Exports Continue, Despite Western Sanctions: Report
According to the environmental advocacy group Forest Trends, much more can be done to strangle the junta's access to natural resource revenues.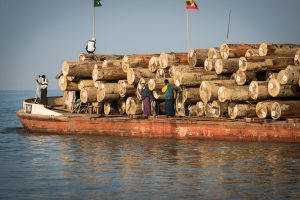 Myanmar's military junta exported more than $37 million worth of timber to nations with active sanctions on the country's state-run timber monopoly, according to the environmental advocacy group Forest Trends. In a report released yesterday, the U.S.-based organization examined the impact of sanctions imposed since the military's seizure of power in February 2021, arguing that much more needs to be done to choke off the junta's ability to profit from sales of timber and other natural resources.
Since the coup, Western powers including the United States, European Union, United Kingdom, and Canada, have imposed several rounds of economic sanctions on the junta's leading members. They have also targeted military-controlled enterprises that allow the regime to collect revenue from sectors such as mining, forestry, and oil and gas – all of which have become more vital for the regime as it has become isolated from the West.
Among the targets is the state-owned Myanma Timber Enterprise (MTE), which has sole control over the sale of timber in Myanmar, including auctioning logs to private companies for export. As the U.S. Treasury Department noted in announcing the sanctions in April, MTE is one of the "key economic resources for the Burmese military regime that is violently repressing pro-democracy protests." (While the timber trade as such has not been proscribed, Forest Trends notes that MTE is the only source of legal timber in Myanmar, meaning that sanctions on it amount to a "de facto ban" on any trade in Myanmar timber.)
According to the Forest Trends report, more than $190 million in trade of Myanmar timber was reported from February to November 2021. Fully $37 million of this went to jurisdictions with active sanctions on MTE, including $22 million to the EU member states. The remaining $154 million was imported by neighboring countries that have not imposed sanctions on Myanmar, including China, India, and Thailand.
The report's findings suggest that imposing economic sanctions is a lot simpler than enforcing them effectively. In January, the advocacy group Justice for Myanmar issued a report documenting how American companies continue to import teak from military-ruled Myanmar in apparent violation of U.S. sanctions, mostly for use on luxury yachts. JFM found that U.S. companies had imported nearly 1,600 tons of teak from Myanmar since the coup. (Forest Trends states that U.S. imports were higher in 2021 than in 2020, but fell by two-thirds after Washington imposed sanctions on MTE in April 2021.)
As I noted when that report was released, the development of global financial networks centered on the U.S. financial system has in theory given Washington powerful leverage over its adversaries. At the same time, "the very complexity and attenuation of these networks often throws up barriers to effective enforcement."
Forest Trends points out that enforcement is also a matter of political will, and that the existing sanctions, particularly those imposed by the U.S., potentially expose firms and entities importing timber from Myanmar to risk of civil and criminal penalties. It argues that even those from countries that have not imposed sanctions on the Myanmar junta could still be held liable for violating them. "Given that all payments to the MTE are made in U.S. dollars, any such payments are a violation of U.S. sanctions, whether from within and outside of the U.S.," it states.
It also advocates that sanctioning nations plug the remaining holes in the wall of sanctions seeking to close off the junta's finances. In particular it recommends sanctioning the Myanmar Foreign Trade Bank (MFTB), which acts as a clearing house for much of the country's U.S.-dollar denominated trade. Given that all payments to MTE for export-grade timber are made through the MFTB, its proscription "would significantly reduce the junta's access to foreign currency." Indeed, the report cites an estimate from the group Independent Economists for Myanmar that freezing deposits linked to the MFTB and Myanmar Investment and Commercial Bank (MICB) would cut off roughly $2 billion in financing for the military.
As with all economic sanctions, all of this comes with a very large question mark as to their political effect, especially when one considers the Myanmar military's long history of weathering such international pressure. It is also unclear whether U.S. officials have the appetite to hunt down and proscribe every foreign entity that imports timber from Myanmar, given the growing global resentment about its unilateral leveraging of its axial position in the global financial system. Nonetheless, the report makes clear that if Western nations truly wish to choke off Myanmar armed forces' foreign revenues, there is a lot more that they could be doing.