North Korea Raids Major Illegal Currency Exchange Office in Sinuiju
"The authorities found $80 million at the office," a source told Daily NK.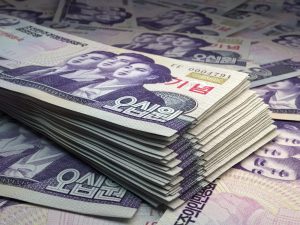 North Korean authorities recently raided a large illegal currency exchange office in Sinuiju, North Pyongan Province. The raid comes as foreign currency exchange rates have risen in North Korea since the resumption of the North Korea-China freight train service in mid-January.
"Earlier this month, the central government dispatched personnel to raid an illegal currency exchange office in Sinuiju," a source in North Pyongan Province said on Monday. "The authorities found $80 million at the office."
According to the source, the person running the exchange office was a woman in her 40s. "She also made a lot of money elsewhere, but she mainly was involved in the currency exchange business," he added.
Considering the fact that last year's trade between North Korea and China was worth $318 million, the exchange office is likely one of the largest currency exchange offices in North Korea. Moreover, given the size of the capital funds the exchange office had in its possession, it was more likely to be a place where corporations or foreign companies, rather than individuals, conduct currency exchanges.
As part of efforts to improve management of the country's currency amid economic difficulties, North Korea has been issuing "money vouchers" and taking measures such as banning the use of foreign currency. Illegal currency traders, however, have been an obstacle to implementing these policies.
In fact, Daily NK reported in December last year that North Korean authorities had arrested money changers accused of obstructing the circulation of money vouchers, mainly in large cities such as Pyongyang, Sinuiju (North Pyongan Province), and Chongjin (North Hamgyong Province).
At the time, the authorities said that the reason for the arrest was that the money vouchers were exchanged for an amount lower than their actual value and that the money changers had made unfair profits by using the vouchers to buy imported goods, gasoline, and diesel, among other things.
This recent raid also seems to be part of the country's crackdown to "correct the monetary order." However, this time, the violations seem to be more related to how foreign currency is used, rather than money vouchers.
"The currency trader [in Sinuiju] established a close relationship with the Ministry of State Security and received high commissions when facilitating transactions between China and North Korea," the source said. "She was arrested and then punished, but I am not exactly sure what punishment she received."
North Korea's Administrative Penalties Law punishes violations related to the mismanagement of foreign currency (Article 183), use of foreign currency (Article 184), and the siphoning off of foreign currency (Article 185).
Specifically, these violations include: having in possession an amount of foreign currency that exceeds set limits; receiving or handing out foreign currency to sell or purchase equipment or goods illegally; and, the storage of foreign currency without permission with another country's banks, companies, or individuals by North Korean companies, factories, or individuals.
The punishment for these acts include unpaid labor for up to three months, and in more severe cases, unpaid labor for over three months, re-education through forced labor, forced resignation, dismissal, or removal from office.
However, as North Korea is trying to establish a new "order" for money and foreign currency management, there is a possibility that, in order to set an example, this recent crackdown may involve a higher level of punishment than the punishments set out by the law.
Meanwhile, overseas Chinese (hwagyo) who were involved with the money changers were also arrested by China's Ministry of Public Security. "After the North Korean authorities caught the money changers, two overseas Chinese involved were also arrested in China," the source said.
It is possible that North Korea and China may have cooperated in investigations to target those involved in illegal foreign exchange transactions between the two countries.
This article first appeared on Daily NK, which contacts multiple sources inside and outside North Korea to verify information. The Diplomat was not able to verify the claims independently.