Peng Jiasheng, Myanmar's 'King of Kokang,' Remembered With Lavish Funeral
Upon his death in February, the former communist and drug trafficker received a flood of condolences from Myanmar, China, and beyond.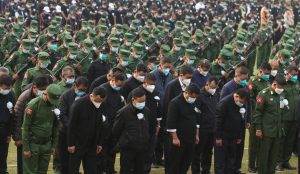 Yesterday, prominent figures from across Myanmar's crowded political spectrum converged on the small rebel-held territory in eastern Shan State for the funeral of Peng Jiasheng, a former communist commander and warlord who presided over a thriving narcotics and gambling empire in the Myanmar-China borderlands.
Peng was the founding leader of the Myanmar National Democratic Alliance Army (MNDDA), an armed group that was based for years in the Kokang region in northern Shan. He died on February 16 at the age of 91 in Mong La, where his funeral was held yesterday.
Peng's lavish funeral spoke to the prominent role that he has played in Myanmar. Open to all parties "regardless of political party and political position," the outdoor service, which was held in the center of an athletics track in Mong La, attracted an estimated 3,000 mourners, who lined up in grids on a field fronted by a huge portrait of Peng against a black curtain.
Among the rota of high-profile visitors at the funeral were Tun Myat Naing, the head of the Arakan Army, as well as leaders from the Shan State Army, the Karenni Nationalities Defense Force, the Ta'ang National Liberation Army, and Kachin Independence Army. There were also Chinese government representatives and the top commander of the Myanmar military's Kengtung-based Golden Triangle Command, despite the military currently being engaged in hostilities with the MNDAA further north.
Little known outside Myanmar and China, Peng (Pheung Kya-shin in Burmese), has for decades has been an integral player in the fluid conflict economies of Myanmar's Shan State. According to a detailed obituary by Thompson Chau and Gwen Robinson published this week in Nikkei Asia, Peng was born in 1931 in Red Rock River in Kokang, an ethnically Chinese territory in northern Shan State, inhabited by descendants of Ming dynasty refugees who fled to the remote region after the dynasty's collapse in the mid-seventeenth century, and ceded to British Burma in 1897.
After fighting against the Myanmar military in the years after independence in 1948, Peng later joined the Communist Party of Burma (CPB). When the CPB collapsed amid mutinies in 1989, Peng founded the MNDAA and quickly signed a ceasefire agreement with Myanmar's military government, under which he was granted autonomy and the right to maintain his forces in Kokang, which was officially termed Special Region No. 1.
Like the United Wa State Army, another CPB splinter group that controlled a larger territory (Special Region No. 3) to the south of Kokang, Peng became deeply enmeshed in the region's flourishing narco-economy. Later, he claimed to step away from opium cultivation, which earned him praise from officials in China, despite evidence that he branched out into other drugs like methamphetamine.
Chau and Robinson's article quoted Bao Guo, the commissioner in charge of neighboring country affairs for China's Yunnan province, as saying that Peng "initiated a ban on opium, [and] made an outstanding contribution to peace and anti-drug work." Instead, Peng began to license casinos in Laukkai, the capital of Kokang, which soon formed the center of a flourishing illicit economy, nourished by crossborder connections to officials and businesspeople in Yunnan province.
Despite the 1989 ceasefire, Peng's ties with the Myanmar military remained unstable, and in 2009, when Peng refused to control a Border Guard Force (BGF) under central control, the Tatmadaw launched attacks on the MNDAA and drove Peng into exile in China. As detailed in a recent report from the United States Institute of Peace, the Myanmar military cut a deal with the MNDAA's former deputy commander, Bai Suocheng, to set up a Kokang BGF under the military's control. The territory was renamed the Kokang Special Administrative Zone, and the economy, much of it illicit and bound closely to China, has boomed.
In 2015, Peng reassembled the MNDAA and attempted to retake Kokang, along with the Ta'ang National Liberation Army and Arakan Army. The subsequent fighting drove tens of thousands of refugees into China. While the Tatmadaw held onto the region, the MNDAA has been fighting the Myanmar armed forces intermittently ever since; according to a report by Frontier Myanmar, Peng's forces have "remained a constant threat to stability, frequently attacking the casinos and homes of senior Kokang officials, particularly those linked to the faction that ousted Peng in 2009." In early March, two weeks after Min Aung Hlaing sent a letter of condolence for Peng's death, the Myanmar military launched an offensive against MNDAA positions near Kokang.
Throughout this period, Peng was permitted to resettle along with his forces in Mong La, where he died in February. Upon his death, letters of condolence flew in from virtually every quarter, including Sino-Myanmar crime figures, local tycoons, provincial officials from Yunnan, and most of Myanmar's 20-plus ethnic armed organizations. A letter was even sent by Zhao Wei, the Chinese chairman of the Golden Triangle Special Economic Zone, a controversial gambling and tourism enclave in northwest Laos.
In a sign of the respect that he commanded from all sides of Myanmar's poly-centric politics, those sending condolences also included both Senior Gen. Min Aung Hlaing, who led Myanmar's February 2021 coup and the campaign against Peng in 2009, and the National Unity Government (NUG), which is coordinating the opposition to the junta.
"People often ask 'Are Myanmar's [ethnic armed organizations] political revolutionaries or criminal warlords?'" Kim Joliffe, who works on peace and conflict issues in Myanmar, wrote on Twitter earlier this week. "Peng Jiasheng is a rare figure who somehow bridged both categories."