Singapore Announces Sanctions on Russia Over Ukraine Invasion
The city-state will impose export controls on items with a military use, and block certain financial transactions with Russian banks.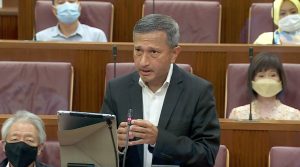 Singapore has imposed rare unilateral sanctions on Russia following its invasion of Ukraine, describing the attack as "an unprovoked military invasion of a sovereign state." Speaking to Parliament yesterday, Singaporean Foreign Minister Vivian Balakrishnan said that due to the "unprecedented gravity" of the situation and Russia's veto last week of a draft Security Council resolution, Balakrishnan said that Singapore would "impose appropriate sanctions and restrictions against Russia."
"In particular, we will impose export controls on items that can be used directly as weapons in Ukraine to inflict harm or to subjugate the Ukrainians," he said, according to a transcript from the Singaporean Foreign Ministry. "We will also block certain Russian banks and financial transactions connected to Russia."
While Singapore continues to value our good relations with Russia and the Russian people, Balakrishnan said, "we cannot accept such violations of sovereignty and territorial integrity of another sovereign state." The Singaporean mission to the United Nations used similar language in announcing its affirmative vote for a U.N. General Assembly resolution yesterday condemning the Russian action.
The Singaporean action contrasts starkly with the cautious response of its neighbors in the Association of Southeast Asian Nations (ASEAN), which have shied away from condemning Russia directly or referring to its action as an invasion, let alone imposing economic sanctions. On the weekend, ASEAN foreign ministers released a statement that called on "all relevant parties to exercise maximum restraint and make utmost efforts to pursue dialogues through all channels."
Unlike many of its Southeast Asian neighbors, which have perceived the Ukraine war as a distant conflict or wish to preserve Russia as an arms supplier, the calculus for Singapore, a tiny city-state with a dearth of natural resources and strategic depth, is altogether more pressing.
"This is an existential issue for us," Balakrishnan told Parliament. "A world order based on 'might is right,' or where 'the strong do what they can and the weak suffer what they must,' such a world order would be profoundly inimical to the security and survival of small states."
While Singapore has always complied with sanctions endorsed by the United Nations Security Council, which are legally binding on all U.N. member states, it has only rarely chosen to impose sanctions of its own. As Bilahari Kausikan, the former permanent secretary of Singapore's Ministry of Foreign Affairs, pointed out on Facebook yesterday, the only other time was after the Vietnamese invasion of Cambodia in late 1978.
This helps clarify what motivated Singapore's decision to impose sanctions, which offers a notable contrast with its much more cautious response to the unfolding crisis and incipient nationwide civil war in Myanmar. The main difference, aside from the fact that Ukraine is not a member of ASEAN, is the fact that the Ukraine crisis is an inter-state conflict that involves one nation's blatant violation of another nation's sovereignty and territorial integrity.
When one considers the human rights implications of Singapore's opposition to Vietnam's overthrow of the Khmer Rouge in early 1979, which involved its support for the government that killed an estimated 1.7 million of its people, it becomes clear that this is less about the rights of individuals than the rights of sovereign states.
Nonetheless, Singapore should be applauded for taking a principled stance on Russian action, which contrasts so starkly with the prevarications of its Southeast Asian neighbors. As the situation in Ukraine stands, the city-state is likely to be not just the first but also the only ASEAN member-state to impose sanctions on Russia over its aggression in Eastern Europe.