Thai Activist Sentenced to 2 Years Prison for Defaming King
Narin Kulpongsathron is accused of affixing a sticker to a portrait of King Vajiralongkorn during a political protest in 2020.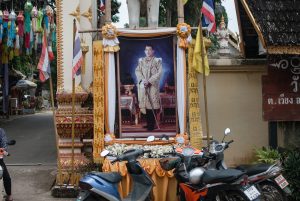 On Friday, a court in Thailand sentenced a political activist to two years in prison for defacing a portrait of the country's King Vajiralongkorn. Narin Kulpongsathron was convicted under Article 112 of the Thai Criminal Code, which prohibits defamation of the monarchy and the royal family.
In particular, the 33-year-old activist is accused of the grand crime of putting a sticker on a portrait of King Vajiralongkorn in front of the Supreme Court on September 19, 2020, the anniversary of the military coup that overthrew former Prime Minister Thaksin Shinawatra in 2006, when tens of thousands of people turned out in central Bangkok in support of far-reaching demands for political reform.
Bangkok's Criminal Court gave Narin a three-year sentence, but reduced it to two years in consideration of his cooperative testimony, though he denies the charge.
Narin's conviction was the first under the Article 112 – commonly known as the lese majeste law — in more than a year. The previous case involved a former civil servant who was sentenced to a record 43 years and six months in prison after posting audio clips to Facebook and YouTube with comments deemed critical of the monarchy. Indeed, given that the law carries punishments of up to 15 years in prison, Narin can probably be said to have gotten off lightly.
The court granted the activist's release on bail in order to allow him to appeal, his conviction is the latest milestone in the government's campaign to quash the pro-democratic energies that drove a campaign of public demonstrations in 2020 and 2021. What was new and notable about this protest movement is that it connected calls for the resignation of the military proxy prime minister, Prayut Chan-o-cha, and the drafting of a genuinely democratic constitution – hardy perennials of Thai protest politics – to the reform of the monarchy which has long served to sacralize Thailand's wide inequalities of power and wealth.
Previously a political taboo – in large measure due to the lese-majeste law – open criticisms of the Thai monarchy have become more common since the accession of King Vajiralongkorn in 2016. Lacking the moral stature of his father Bhumibol Adulyadej, who reigned for seven decades, Vajiralongkorn has attracted scorn from a range of issues, from his erratic behavior and lavish spending to his inaction during the COVID-19 pandemic, which he spent at a luxury hotel in the Bavarian alps.
Thailand's pro-democracy movement has largely faded from the international headlines, as the mass protests of the second half of 2020 were obstructed by outbreaks of COVID-19 and concerted government crackdowns. When protests restarted in mid-2021 in defiance of national COVID-19 restrictions, the authorities repressed them with force. It has also mobilized the lese-majeste law. Since November 2020, it has charged at least 173 people – many of them protest leaders and political activists – under Article 112, according to the legal aid group Thai Lawyers for Human Rights, along with an array of other measures designed to limit the freedoms of civil society.
There are also indications that the government could be preparing further legal measures to prevent any challenge to the power of the throne. Last November, Thailand's Constitutional Court ruled that calls for reform of the monarchy amounted to an attempt to overthrow the nation's system of government, raising fears that open the way for prosecutions under Article 113, which covers acts of revolt or rebellion and is punishable by life imprisonment or the death penalty.