After Rana Plaza, How Far Has Bangladesh Come on Worker Safety?
The 2013 Rana Plaza tragedy sparked a sea change in Bangladesh's approach to worker safety.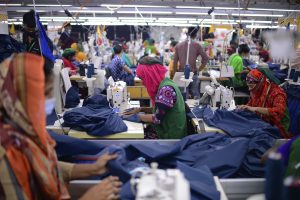 April 28 marks the commemoration of World Day for Safety and Health at Work to prevent occupational accidents and diseases around the world (this year's theme: "Act together to build a positive safety and health culture"). Like any other labor-intensive economy, workplace safety is a major area of concern for Bangladesh, where the lion's share of growth and development depends on the ready-made garment (RMG) industry. Bangladesh's RMG exports were worth $35.81 billion in 2021, accounting for over 83 percent of the nation's export earnings. The sector employs around 4.22 million workers, of which an estimated 55-60 percent are women.
Almost a decade ago, the fatal fire at Tazreen Fashions and, just five months after, the Rana Plaza tragedy provided deadly proof of dangerous work safety conditions for the RMG workers in Bangladesh, with repercussions felt around the globe. Nine years have passed since then. How far has Bangladesh come in terms of worker safety regulations, inspections, and compliance?
On April 24, 2013, the collapse of the Rana Plaza building in Dhaka, Bangladesh, which housed five garment factories, resulted in at least 1,132 fatalities and more than 2,500 injuries. The incident exposed the poor labor conditions faced by workers in the ready-made garment sector in Bangladesh since the 1980s.
The "black day" has greatly affected the image of Bangladesh's RMG sector. Afterward, the United States cancelled generalized system of preference (GSP) privileges for Bangladesh, citing concerns over workers' rights.
In response, new organizations were formed to address the serious issues revealed by the disaster. The Alliance for Bangladesh Worker Safety and Accord on Fire and Building Safety in Bangladesh both a set conditions for workplace safety and amenities. From there on, Bangladesh has been working to develop the working environment.
Bangladesh has over 3,720 export-oriented garment factories – the leading force of the country's economic wheel, according to Mapped in Bangladesh. To improve workplace safety in the garment sector, constant efforts have been made since the December 2012 Tazreen Fashion fire, which killed more than 100 workers, and the 2013 Rana Plaza collapse. Nine years after the Rana Plaza disaster, the garment industry in Bangladesh has undergone a vast structural transformation and has become a role model for progress in health and safety. A number of buildings have undergone structural, electrical, and fire assessments to determine their compliance with the National Fire Code and the Bangladesh National Building Code (BNBC). In 2020, a Sustainability Council was formed to bring industry owners, brands and trade unions in a common platform to ensure building and fire safety.
Workers in Bangladesh's garment industry are safer than they were a decade ago. Safety committees have been formed to regularly inspect the safety progress in different sectors of the apparel industry. During these inspections, a range of issues was identified, including structural defects, blocked emergency exits, unsuitable fire alarms, and fire spray systems. Approximately 84 percent of these issues at the Accord factories have been resolved, and 90 percent of the issues at the Alliance factories have been addressed. Within five years of the Rana Plaza accident, the Accord sacked 96 of its roughly 800 dealers and the Alliance 168 of its approximately 2,000 suppliers. Millions of workers have received training on safety procedures and safety committees have been set up at numerous factories. At the same time, a central fund has been formed, where garment factories are contributing $10 million of their export receipts for workers' welfare purposes.
The government of Bangladesh strictly inspected 1,549 factories and closed 513 that were in repeated violation of safety regulations. The Labor Law was amended twice, in 2013 and 2018, to protect the workers' rights and to ensure safety at the workplace. Besides, a new wage board was formed in 2018 and fixed the minimum wage of the garment workers at 8,000 Bangladeshi taka per month, up from 3,000 taka in 2010.
The RMG sector, which employs the largest number of workers in the country, had no trade unions for almost three decades. Currently, there are approximately 1,100 registered trade unions in the sector upholding workers' participation.
As a result of these hard-won changes, the RMG sector gradually regained its position, with Bangladesh retaking the status of the second-largest RMG exporting country, leaving Vietnam behind amid the hard times of the COVID-19 pandemic.
Bangladesh has done a lot to improve worker safety but more remains to be done.
First, factories that did not join either the Alliance or the Accord are continuously facing unsafe conditions. Since the Rana Plaza disaster, at least 35 accidents have occurred, taking 27 lives. Though the number is not as high as previous years, without well-functioning labor inspection systems and proper enforcement mechanisms, full labor safety for the workers and their families is still far from a reality.
Second, due to the COVID-19 pandemic and Russian invasion of Ukraine, inflation and price hikes have been intense, but the wage of the laborers has not increased since 2018. The minimum wage should be re-evaluated in every two or three years.
Third, compliance issues including timely payment of wages, safeguarding the minimum wage, and hygiene at the workplace need to be addressed to make the industry a role model for ethical manufacturing.
Last but not least, Bangladesh is going to graduate from Least Developed Country status by 2026, which will create several challenges, especially losing its duty free quota free (DFQF) access and other trade facilities from developed countries. To ensure its economic wheel keeps turning smoothly, Bangladesh needs to be highly focused on regaining the GSP facilities through fully addressing the safety measures and recommendations of the Alliance and Accord.
To wrap up, the model Bangladesh developed for ensuring worker safety is commendable and can be replicated in other countries to develop a safer working environment. The old, unhealthy, and less regulated sector is giving way to a new, safer, and more sustainable working environment. In this sense, the Rana Plaza tragedy served as a wake-up call, jumpstarting the industry's transformation toward regulation, inspection, and compliance on worker safety issues.
However, still more remains to be done to achieve the full safety and security of the occupational workers, ensure sustainable development, and achieve Bangladesh's "Vision 2041" dream to become a developed country.