Campaign Against Kyrgyz Journalist Bolot Temirov Intensifies With Forgery Allegations
Like clockwork: After Temirov released a new investigative report last week, the authorities piled on new charges.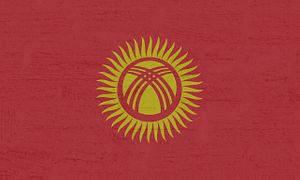 Timing is everything.
Days after Kyrgyz journalist Bolot Temirov's YouTube channel, TemirLive, published a new report investigating the activities of a company owned by the son of Kamchybek Tashiev, head of Kyrgyzstan's State Committee for National Security, Temirov was summoned by police. The authorities informed him he was facing charges of forging documents and illegally crossing the border, in addition to charges already pending.
Back in January, Kyrgyz police raided Temirov's offices in the days after TemirLive published a different investigation related to Tashiev. At the time Temirov and another Bolot, the well-known akyn or improvisational poet Bolot Nazarov, were arrested. The authorities claimed to have found a bag of hashish on Temirov; Temirov and his employees claimed the drugs were planted. Although Temirov tested negative for drugs, he was charged with possession. 
A Kloop, RFE/RL, and OCCRP report in late January detailed how the Kyrgyz authorities have pursued a campaign to silence Temirov. The campaign started with suspicious cars outside their office and a hidden camera discovered in Temirov's apartment and then intensified with the drug raid. And then one of Temirov's female employees was pursued by an alleged member of the state security forces:
The young woman had been romantically pursued by a man who approached her at a gym and then invited her on a weekend lakeside getaway. As it turns out, according to a law enforcement source, he was an agent of the UKMK, Kyrgyzstan's secret service. During the course of their short relationship, her laptop was breached, a sexual encounter was secretly recorded, and a group of men who presented themselves as UKMK agents pressed her for information about Temirov's upcoming investigations, threatening to ruin her life and her parents' reputation if she refused.
The video was released.
In January 2022, Temirov told Kloop, RFE/RL, and OCCRP: "This means they're afraid of our investigation. Before, they simply didn't respond, they tried to explain themselves. But the more we kept doing investigations, the more difficult that became."
"This is how they've chosen to get rid of something that's in their way."
Temirov is no stranger to getting in the way. After publishing an investigation in January 2020 with Bellingcat, the open-source investigative organization, into the infamous Raimbek Matraimov, Temirov was attacked near his offices in Bishkek. It's not clear that anyone was ever held responsible for the attack. In February 2021, Temirov — then the editor-in-chief of FactCheck.kg — was among a dozen recognized as anti-corruption champions by the U.S. State Department.
Temirov was released in late January with instructions to not leave the country, but clearly did not cease his work. On April 18, TemirLive published a new investigation into a company owned by Tashiev's son, Taimuras, which RFE/RL reported recently won several tenders in southern Kyrgyzstan for the supply of gasoline under suspicious circumstances. On April 20 and 21 Tenirov was summoned by police for questioning, where they informed him of the new charges.
Temirov was born in Kyrgyzstan. His family migrated to Russia when he was a child and he returned to Kyrgyzstan in 2006. Kyrgyz police have accused Temirov of falsifying documents in order to apply for a Kyrgyz passport back in 2008.
As Kloop reports, there have been several versions of the accusation aired so far. At a press conference on April 21 the Ministry of Internal Affairs said Temirov had "received a military ID with a number that refers to another person." Kyrgyz President Sadyr Japarov alluded to a slightly different version, telling journalists that when Temirov arrived in Kyrgyzstan he "stole someone else's military ID, pasted in his own photo, changed his last name and, on the basis of this military ID, received a Kyrgyz passport." Tashiev made the same argument, that Temirov stole someone's ID. Then on April 26, the deputy head of the Bishkek police told reporters that Temirov used another person's military ID number, that the "stealing" was figurative.
Temirov has rejected the charges, telling the Committee to Protect Journalists (CPJ) that he obtained a Kyrgyz passport with his Kyrgyz birth certificate. 
CPJ Program Director Carlos Martínez de la Serna said, "Kyrgyz law enforcement agencies appear intent on silencing journalist Bolot Temirov for nothing other than his tenacity in covering allegations of corruption." De la Serna called on Kyrgyz authorities to drop the charges against Temirov and allow Temirov and his staff to continue their work.
That does not seem to be what Kyrgyz authorities intend to do. 
On April 28, the Kyrgyz Prosecutor General's Office announced that its investigation into Temirov's accusation that the drugs had been planted by police had concluded, clearing the police of any wrongdoing.
Last week, Bishkek police said they intended to prosecute the new charges alongside the drug charges. Temirov could face 10 to 15 years in prison. He's called the new charges absurd and stated that he does not intend to stop his work investigating corruption.
As Eurasianet's Ayzirek Imanaliyeva reported, just as authorities announced the latest charges a slick anonymously produced video circulated on social media asking "Who is Bolot Temirov?" and stating that he is a "pretend patriot."
Timing is everything. That such a video appeared online the same day authorities levied new charges suggests at the very least coordination.