Far From Home: The Afghans Aiding Afghanistan
Global attention on Afghanistan has largely dried up, but the Afghan diaspora cannot look away.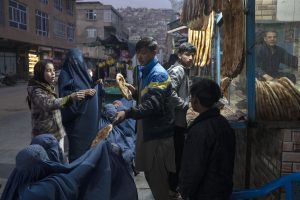 A global business enterprise pivoted to become a fundraising platform; a research institute became a charity; an entrepreneur donated a portion of each sale to a charity; a community cooked Afghan dishes to raise funds. This is the Afghan diaspora, spread over the world from Germany to California to Australia and working to help their homeland, Afghanistan, survive a devastating hunger crisis from thousands of miles away.
The lingering hunger crisis in Afghanistan has provoked a sense of responsibility and generosity among diaspora communities that stretch across the world. Decades of instability flung the Afghan diaspora around the globe, to places as disparate as Australia and Germany, metropolises like London to Los Angeles. These communities are now raising funds, donating, and getting creative to support those still in Afghanistan, trapped in increasingly difficult circumstances.
The diaspora's efforts are driven by their personal experiences wrestling with poverty in the country, by their age-old homesickness, and by their lifelong love for their country. With gestures as small as sharing a fundraising link on their social media pages or donating $5 to a charity, they aim to save as many people from starvation as possible. Despite the monumental challenge of it, they hope to fill in the yawning gap left by the failure of the international community to combat the layered crises in Afghanistan.
Over the past several months, a starvation crisis has loomed larger each week in plain sight, with development agencies sounding the alarm. The United Nations' World Food Program says that as much as 95 percent of the Afghan population lacks enough food. Save the Children said 14 million children in Afghanistan faced "life-threatening levels of hunger."
But in response, in late March when the United Nations made an aid appeal of $4.44 billion to help the country, only half of the appeal was met with pledges.
Attention on Afghanistan, and its many challenges, was already in free fall before Russia's February 24 invasion of Ukraine. The ongoing war in Ukraine has further drained attention from Afghanistan, but it dealt other blows too. Ukraine, once a donor of aid to Afghanistan, has now become a competing recipient of aid. Furthermore, the war in Europe has stymied exports of wheat, which both Ukraine and Russia previously exported in vast amounts. With bread a main staple of the Afghan diet, the war in Ukraine has further damaged already stressed food supply chains, deepening hunger.
"There is a feeling among the diaspora community" to help people in Afghanistan, said Omar Haidari, an Afghan advocate and fundraiser who lives in Berlin, Germany. "The diaspora saw the selective solidarity of the West and felt Afghans have only got themselves."