It's Time for K-pop Stars to Speak Out on Human Rights
With few exceptions, South Korea's K-pop idols have been conspicuously silent on controversial subjects – including the Russian invasion of Ukraine.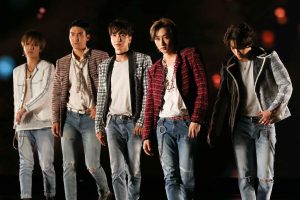 At the 2022 Grammy Awards on April 3, Ukrainian President Volodymyr Zelenskyy delivered a pre-recorded speech, imploring musicians and the global community to speak out on the ongoing war in Ukraine. "Russia," he said, "brings horrible silence with its bombs." Zelenskyy urged the Grammy artists to "fill the silence with your music… Tell the truth about this war on your social networks, on TV."
Many artists in the United States and worldwide have been doing just that, with singers ranging from Billie Eilish to Elton John donating and speaking out in support of the Ukrainian people. But one group has been conspicuously absent from this movement: South Korea's K-pop singers. Despite their rising global stature, only a handful of K-pop idols have heeded Zelenskyy's call.
Indeed, while outspokenness on hot-button societal issues has become ubiquitous among American celebrities – who voice their thoughts on causes ranging from the war in Ukraine to Black Lives Matter, LGBTQ+ rights, and climate change – the social media accounts of Korean idols cultivate squeaky-clean images rather than broach subjects that could prove controversial. Only top stars like BTS have had leeway to speak out on pressing issues – and even then, this is rare. At most, others express their support quietly with subtle fashion items, or advocate on relatively uncontroversial causes, like air pollution or animal rights.
K-pop idols' silence is particularly conspicuous in comparison to their global fanbase, which has proved to be a formidable source of human rights advocacy around the world. K-pop fans in Myanmar have played a crucial role in organizing anti-authoritarian protests in the country. In 2020, pro-democracy protesters in Thailand marched to the tune of the Girls' Generation song "Into the New World" – a track that has a rich history of use in South Korea's own protest movements. In the United States, during the major Black Lives Matter movements in 2020, K-pop fans drowned out racist voices by flooding anti-BLM Twitter hashtags with fancams of their favorite idols.
Korean celebrities' avoidance of these contentious issues stems, understandably, from the goal of achieving widespread popularity. In trying to foster an expansive, loyal fanbase, K-pop agencies have instructed singers to avoid topics that could alienate fans instead of attracting them: K-pop stars are not allowed to date, let alone voice opinions on sensitive global causes.
Yet, if K-pop hopes to have global staying power, it is time to break this silence. To ensure that K-pop is taken seriously, the industry's idols should begin to engage with serious issues that global audiences care about. This is especially true in light of a growing expectation that idols should do so. For example, fans seek accountability from an industry that benefits from the appropriation of Black culture or the support of LGBTQ+ communities, yet whose stars remain silent on the rights issues these groups face. Speaking out on such causes is a sure way for K-pop to garner widespread global respect and cement its place as a genre that is relevant, global-minded, and here to stay.
True, idols may alienate some fans by advancing certain positions, but this has done little to hurt K-pop's overall march toward global domination. The genre's popularity is so immense that in 2020, the Chinese Communist Party backed down from an attempt to stir nationalist frenzy against BTS. The mega-boy group emerged unscathed.
Even the Kim Jong Un regime, one of the most oppressive governments in the world, is no match for K-pop: The genre's popularity among North Koreans persists despite the threat of execution for individuals caught listening. In fact, the issue of human rights in North Korea could be an important cause for K-pop celebrities to take up, especially given K-pop's penetration into the reclusive nation. Who is better positioned than South Korean idols to speak up on behalf of their brethren to the north?
The problems within the K-pop industry itself may be another good place to start. Idols face notoriously grueling working conditions and immense mental and physical pressure. If idols are to begin voicing their opinions, agencies must better support their artists, rather than abandoning them when controversy arises.
K-pop stars do not need to become as politically hyperactive as their counterparts in the United States. However, now that they have a foothold in global markets, they should use their platform to speak out on human rights movements – not only because they are well-positioned to support these causes, but also because doing so will cement their global staying power. To remain globally relevant, K-pop must be the first mover, not a fast follower – or risk getting left behind.