Singapore Executes Malaysian Man in High-Profile Death Row Case
A Singaporean court rejected a raft of appeals claiming that Nagaenthran K. Dharmalingam had an intellectual disability and was coerced into carrying drugs.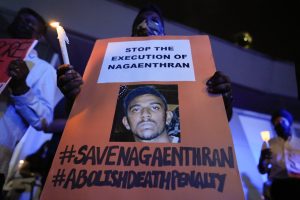 Singapore has executed a Malaysian man convicted of drug trafficking, despite last ditch appeals for clemency on the grounds that he had an intellectual disability, in a case that has attracted worldwide sympathy and support.
Nagaenthran K. Dharmalingam has been on death row since 2010, for trying to smuggle less than 43 grams of heroin into Singapore. Last month, a Singapore court dismissed Nagaenthran's final appeal against his death sentence, stating that he had been "accorded his right to due process of law with full consideration of his degree of mental responsibility." According to Reuters, Nagaenthran's execution was confirmed by his brother Navin Kumar.
Nagaenthran's case has generated concern both in Singapore, where several hundred people held a candlelight vigil at a downtown park late Monday to protest the impending execution, as well prompting an international outcry. In recent months, officials from the United Nations and the European Union have condemned the impending execution. Tycoons and celebrities including Richard Branson, Stephen Fry, and Tim Shriver have all pleaded for Singapore not to carry out the execution, claiming that the execution of a man said to have "borderline intellectual functioning" is both immoral and illegal under international law.
In an interview with AFP, Branson, a long-time anti-death penalty campaigner, said that Singapore's continued use of the death penalty in drug cases was a "horrible blotch" on the city-state's reputation. He urged Singapore to "abolish the death penalty altogether" and "do what most other civilized countries have done."
"I don't think civilized countries should be in the business of killing their own people, or killing anybody," he said.
Last month, a five-judge Court of Appeal rejected Nagaenthran's bid for clemency, describing it as an abuse of the court's processes. Nagaenthran's supporters and family claimed that he had an IQ of just 69, a level recognized as constituting an intellectual disability, and that he was coerced into carrying a package without knowing that it contained drugs. However, in a previous hearing a court ruled that the claim could not be substantiated, and that Nagaenthran knew that he was violating Singapore's Misuse of Drugs Act.
A court on Tuesday also rejected an eleventh-hour motion, filed on Monday by Nagaenthran's mother Panchalai Supermaniam. The appeal argued that Chief Justice Sundaresh Menon, who has presided over a number of Nagaenthran's failed appeals, ought not to have done so, given that he was Attorney-General at the time of his conviction in 2010, creating a potential conflict of interest.
Nagaenthran's execution followed that of Abdul Kahar Othman, a 68-year-old Malaysian national, whose hanging on drug charges in late March broke a two-year hiatus of executions due to the COVID-19 pandemic.
As the virus wanes, activists now fear a wave of hangings as Singaporean authorities seek to make up for lost time. Earlier this week, the U.N. Human Rights Office expressed its concern over "what appears to be an alarming acceleration in execution notices in the country." Datchinamurthy Kataiah, another Malaysian who was arrested in 2011 and convicted on charges of trafficking diamorphine into Singapore, is scheduled to be hanged on Friday, while three other death row convicts recently had their appeals rejected.
Anti-death penalty activist Kirsten Han wrote in her newsletter last week that Singapore's government was bent on clearing its "backlog" of death penalty cases, despite a small but growing groundswell of opposition. "The government seems to be doubling down on their commitment to the death penalty and executions," she wrote, "but we aren't giving up."