Are Russian Arms Exports to Southeast Asia a Thing of the Past?
Even before the invasion of Ukraine, Russian sales of weapons to the region were falling. They could well be set to drop further.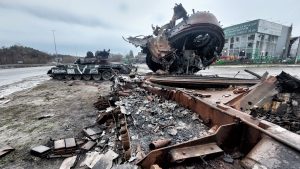 Russian arms exports to Southeast Asia have dropped considerably over the past decade, as Western nations have tightened their sanctions on the country's military industrial sector, raising questions about its ability to continue supplying the region with arms following its invasion of Ukraine.
The finding was highlighted by Ian Storey of Singapore's ISEAS-Yusof Ishak Institute in an article published on May 5, which tracks a decrease in Russian arms exports since the turn of the century. Between 2000 and 2021, Russia was the leading arms exporter to Southeast Asia, shipping $10.87 billion worth of arms to the region, leading the United States ($8.4 billion), France ($4.3 billion), Germany ($2.94 billion), and China ($2.9 billion), according to data from the Stockholm International Peace Research Institute (SIPRI).
Russia's comparative advantage in Southeast Asia is that it has been able to offer advanced military technology at relatively low prices. Also important is its willingness, bordering on relish, to sell tanks, small arms, and fighter jets to nations regardless of the hue or character of their governments, including those, like Myanmar and Cambodia, that are under various kinds of Western sanction and embargo. According to SIPRI data, Russia's most important customers in the region in the period 2000-21 were the governments of Vietnam, which purchased $6.5 billion worth of arms, followed by Myanmar ($1.7 billion), Malaysia ($1.3 billion), and Indonesia ($1.2 billion).
But Storey notes that Russia's arms sales to Southeast Asia have declined sharply over the past seven years, dropping from $1.2 billion in 2014 to just $89 million in 2021. What explains the fall? He adduces four reasons: the Western sanctions and export controls imposed on Russia following its annexation of Crimea in 2014; the pausing of Vietnam's military modernization due to "concerns over Moscow's ability to fulfill orders" combined with the government's ongoing anti-corruption drive; the U.S. government's 2017 passage of the Countering America's Adversaries Through Sanctions Act, which gives Washington the power to impose sanctions against any nation dealing with Russia's military industrial complex; and the "growing competition from American and European defense corporations, as well as relative newcomers from countries such as China and South Korea."
Given the severity of the sanctions that have been imposed on Russia since the February 24 invasion of Ukraine, which go far beyond any existing sanctions or export controls, the logical implication is that Russian arms exports to the region will continue to fall. The invasion "will make it difficult for the country's DIS to revive sales, and will in all likelihood lead to a reduction in Moscow's arms exports to Southeast Asia," Storey concluded.
There is also the question of whether sanctions aside, Russia, needing to replace the considerable losses  that it has sustained in Ukraine, can continue to function as a reliable arms export partner, nor whether, given its incompetent showing in the war so far, whether it will continue to enjoy a good reputation as an arms manufacturer.
This can be seen in the case of Myanmar since the military coup of February 2021, which has led to the reimposition of Western sanctions on the country. The month after the military takeover, Russia dispatched Deputy Defense Minister Aleksandr Fomin to Myanmar to attend that year's Armed Forces Day parade in Naypyidaw, in order to drum up arms sales, something that from the Tatmadaw's perspective made some sense since given that it has long viewed the main alternative option – China – with suspicion.
But as Storey notes, Myanmar has yet to place any major orders with Russia since the coup, and the military junta has "alluded to the potential problems the Ukraine conflict may cause to future Russian arms exports to the country."
Storey's conclusions suggest that the importance of Russia as an arms trader to the region falls short of explaining the region's cautious reaction to Vladimir Putin's invasion of Ukraine. Southeast Asian nations have been critical of the Russian invasion, but aside from Singapore, none has joined the international campaign of sanctions against Moscow. Moreover, most of their criticisms have been broad and unspecific rather than explicitly condemning the Russian actions.
The region's desire to secure continued access to Russian arms, and the path dependence created by their previous reliance on Russian military platforms and standards, may have played some role in these positions. But it is at best a single factor in a broader assessment of what position will best serve the national interests of the various Southeast Asian nations.
Many governments in the region, like many in the Global South, perceive the Ukraine crisis as remote and not directly relevant to their interests, except in their potential economic effects. They have a similarly reflexive desire to remain neutral amid the increased strategic and ideological polarization that the Russian invasion has prompted. Throw in the fact that Russia possesses a permanent seat on the United Nations Security Council, and its Cold War-era bonds to nations like Vietnam and Laos, and it is apparent that even if Russia ceases to be an important source of arms imports for Southeast Asia, most of the region's nations will continue to hew to a middle path.