U.S. relations with Myanmar have undergone a series of lurching changes over the past 15 years. In the late 2000s, the country's cloistered military elite initiated a series of economic and political reforms that prompted a rapid thaw in U.S.-Myanmar relations, culminating with the visit by President Barack Obama to the country in 2012 and his lifting of U.S. sanctions on Myanmar four years later. This trajectory was then rapidly thrown into reverse by the military's brutal attacks on the Rohingya of western Myanmar in late 2017, and the February 2021 coup d'état.

In her new book "Burmese Haze: U.S. Policy and Myanmar's Opening" (Columbia University Press, 2022), Erin Murphy, the Indo-Pacific director at the U.S. International Development Finance Corporation, narrates the various lurching changes that have characterized U.S. policy toward Myanmar since 2008. The book presents a personal narrative of the rapid changes that took place in Myanmar over this period, which Murphy observed up close in a variety of public and private sector roles, including as an analyst with the U.S. Central Intelligence Agency.
She spoke with The Diplomat's Southeast Asia Editor Sebastian Strangio about the course of U.S. policy before, during, and after Myanmar's period of reform, and whether or not, in retrospect, engagement with Myanmar's military was ever a good idea.
Having worked on U.S. policy toward Myanmar since before the reforms – you open your book with a chapter on Cyclone Nargis, which devastated large swathes of the Irrawaddy Delta in May 2008 – what in your mind motivated the generals' decision to initiate the political and economic opening in the second decade of the 2000s? What role did the disaster play?
Cyclone Nargis was one development that I think began to shape the generals' views, particularly Thein Sein's, on the state of their country. Nargis very publicly showed the limits of the Tatmadaw (the Myanmar name for the military); despite decades of saying that it was the sole institution that could protect the people and maintain the country's sovereignty, it failed the country through its ineptness and insular attitude. The generals didn't listen to warnings, they didn't evacuate anyone, and they didn't let anyone in initially to see how badly they failed (or to foment revolution as foreign stooges often do in their opinion). I'm sure that resonated to some in the military and more so, though you didn't have to convince the people of the country that the military was bad, the citizens of Myanmar.
For Thein Sein, who would go on to lead the reforms starting in 2011, the Delta was his hometown and the callousness of which the junta acted may have "hit home" for him. The recovery and aftermath in working with the international community likely had an impact as well. The junta was convinced the US would invade Myanmar. Allowing C-170s to land at their airports could be like welcoming a Trojan House of troops and not aid. This did not happen and the aid and assistance that arrived were meant to help people and kick start recovery efforts. It was also a turning point for local NGOs in that it proved their worth to international organizations both in terms of execution and connections; they were able to deliver when international NGOs couldn't. This would later allow them greater space to operate during the opening and demonstrate to the government that an NGO can be apolitical and work to address humanitarian needs.
You describe the initial reluctance of the U.S. government to begin a process of engagement with Myanmar's military junta, despite the efforts of individuals like Senator Jim Webb, who went on a mission to the country in 2009. When would you say U.S. policy decisively "turned" toward engagement? What prompted the turn? 
The U.S. government began to more actively embrace the idea of engagement in late summer/early fall of 2011, however, it was not with the military but rather with retired military officers and generals, which is an important distinction. At that time, Thein Sein had created a national human rights commission, began engagement with political dissidents and activists, including the leader of the National League for Democracy (NLD) that won the 1990 election and was denied its win, Aung San Suu Kyi, and enacted reforms around labor, organizing, and freedoms of press and speech. This was seen as an effort to "unclench its fist," as Obama implored countries like Burma to do in his inaugural speech. We were also hearing from dissidents and from Aung San Suu Kyi herself that something was changing and we should investigate what was going on.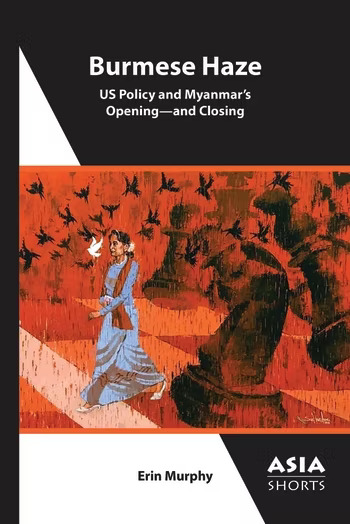 I should note that the policy of engaging the military was never really embraced; it was a third rail and seen by the human rights community, members of Congress, and members of the Obama Administration as giving them something for nothing. Engagement was seen as a carrot and to do outreach meant the Tatmadaw had to come to the table first with action on demands. That may seem like semantics,  but when an individual sheds their military uniform and became a civilian government official, there was a shift in perception. A retired military official was simply not the same as active duty, which is perhaps why former junta leaders Than Shwe and Maung Aye did not don a military uniform and kept their titles. The U.S. only pursued quite limited engagement in the form of human rights dialogues and observer status during military exercises like Cobra Gold.
In the introduction to the book, you talk about the singular position that Myanmar occupies in the global imaginary. You describe it as "a country that grips people and never lets go," and that it has had this effect on "actors and musicians, U.S. presidents, U.S. congresspersons, global leaders, donors, philanthropists, Nobel laureates, authors, poets, white saviors, and misguided fantasists." What impact do you think this had on Western and U.S. perceptions of the military-driven reforms, and the way that these nations responded? Looking back in the light of the current sad state of affairs, do you agree with the Obama administration's decision to engage with the military and lift the sanctions on Myanmar? Could things have been done differently?
This interest in Myanmar fueled an almost romantic but also black and white view of Myanmar. The Lady vs the Generals, Monks vs the Military, Peaceful Buddhists vs Militants. It also fueled a lot of skepticism that retired military officers could put the country on a path of greater openness and democracy.
Looking back, and even with the terrible situation now, I think it was a risk worth taking. This was a country that had been in the dark for decades and this was the first sign that something could open for the people since 1988. The U.S. wasn't going to move forward unless key stakeholders, such as former political prisoners and activists thought it worth undertaking. The U.S. government consistently engaged with many groups to ensure it was getting a reality check and not getting too swept up in the enthusiasm of the moment.
In terms of sanctions, the situation had changed quite dramatically from when the sanctions were first put in place after 1988, 1990, and in the early 2000s. The NLD was back in power, there was a dialogue with armed ethnic groups, and some movement on personal freedoms, all things these sanctions had required to be done to be lifted. It was not perfect by any means, but Myanmar had changed. To address ongoing and new concerns, such as the violence targeting the Rohingya, should have had a new sanctions policy (if that was what policymakers felt necessary to impose) to address a new dynamic.
I think there were missed opportunities; this is not a popular opinion, but I think the U.S. and the international community should have engaged the military more. This is the country's most important and all-encompassing institution and to isolate and not make them a part of the conversation was a mistake. Would this have changed the outcome in February 2021? Maybe not, but we would have made inroads and had connections that could have provided us back channels to communicate what could happen if Min Aung Hlaing chose this path, get a better sense of what Min Aung Hlaing intended to do, or find openings to apply pressure. We didn't have that.
How did the person of Aung San Suu Kyi help shape U.S. perceptions of Myanmar, its troubles, and its democratic potential? What did U.S. policymakers get right about "the Lady," and what did they get wrong?
Aung San Suu Kyi had a strong influence on U.S. policy. She was charismatic, intelligent, spoke English fluently, had her father's legacy as an independence hero, and, I guess you could say, good timing. She was taking care of her mother when the country erupted in massive protests calling for democracy. She was well-positioned to capture domestic and global attention and maintain a sustained focus on the issue.
However, the longer she was under house arrest, her connection to the struggles of her country and the world writ large became more tenuous. Additionally, everyone started speaking for her because she could not speak for herself, creating an image of a flawless woman who made a great sacrifice (which she did), knew what the country needed and could deliver if free. They missed her nationalistic and Burman-centric tendencies, her lack of experience governing, and that  the qualities that allowed her to survive house arrest – stubbornness, being sought for guidance and not receiving advice – could work against her once in government. She saw herself as a politician, we saw her as a human rights leader. The expectations of what she could do, and not the hand she was dealt in the country, were beyond anything Aung San Suu Kyi could have reached.
I'd like to finish with a question about the present U.S. policy toward Myanmar. The U.S. government responded to the coup of February 2021 with consistent condemnation and the restoration of sanctions on key individuals and military-linked enterprises. Do you think its response has been sufficient, and if not, what more do you think Washington can and should do to support the anti-coup resistance?
Myanmar is a tough nut to crack, as the Cambodians have quickly discovered in their negotiation efforts.
There are not many good answers on what type of policy tack to take given the intransigence of the junta, the long history of military rule and the benefits that go along with that, and the country's relative isolation. The Myanmar economy, unlike Russia, is not fully integrated and connected to the international financial system which limits the impact of sanctions. We also aren't fully aware of what makes Min Aung Hlaing tick, what he fears, what he wants. That is critical to developing policy to urge change. Looking at the long-term, building the capacity of the opposition and activists to be able to organize, govern, and be effective is important to make sure they are a credible governing entity that can lead the country. Defining what democracy, national reconciliation, and "Myanmar" means are important issues that need to be addressed. When the time comes for them to take up the governing helm again, they need to be better equipped to govern and lead a particularly fractious, war-torn, and traumatized country.