For South Korea's New President, Challenges Mount at Home and Abroad
North Korea's missile and nuclear programs. The China challenge. Social divisions at home. Just two weeks into office, Yoon Suk-yeol has a full plate.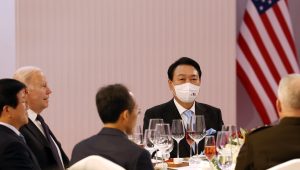 South Korean President Yoon Suk-yeol was sworn in as the president of South Korea earlier this month, ending a leadership transition tainted by North Korea's recent "binge" of weapons tests.
The president begins his term as the least popular president in the country's short democratic history, clinching victory by less than 1 percentage point.
Yoon of the People Power Party is a hardline conservative and is expected to seek closer ties with the United States and take a more hawkish approach to North Korea and China – all while confronting a plethora of domestic challenges.
He begins his five-year term as tensions on the Korean Peninsula heighten, and inter-Korean diplomacy remains at an indefinite impasse. The diplomatic tug-of-war between the United States, South Korea's defense guarantor, and China, the country's largest trading partner, is intensifying; both powers are scurrying to win Seoul's favor.
On the domestic front, housing prices are soaring, birth rates stand at a record low, and political sectarianism is rife. The country's heated "gender wars" rage, and the president's opposition – the Democratic Party of Korea – controls the country's parliament, likely resulting in legislative "paralysis."
On Friday, U.S. President Joe Biden arrived in Seoul, officially beginning a three-day visit to South Korea as part of his first visit to Asia as president. As Biden met with his South Korean counterpart, U.S. and South Korean officials warned of the "genuine possibility" of a North Korean intercontinental ballistic missile (ICBM) test or nuclear test.
The summit was Yoon's first high-profile appearance on the world stage, but the Korean people do not share Biden's warm embrace of their new president. Recent surveys from Gallup Korea show only 42 percent of Koreans approved of Yoon's performance as president-elect. His predecessors entered office with approval ratings of roughly 70 percent.
For a popular president, confronting an increasingly bellicose North Korea, easing the country's economic woes, and mending fractious cultural divides would prove challenging. For the deeply unpopular Yoon, the obstacles ahead may prove insuperable.
Here are some of the issues Yoon will likely confront in his tenure.
North Korea's Missile Launching 'Binge'
The new president's most pressing policy challenge? South Korea's quarrelsome northern neighbor.
Former President Moon Jae-in and then-U.S. President Donald Trump prioritized face-to-face diplomacy with North Korean leader Kim Jong Un in a bid to cool tensions and inch toward denuclearization. Yoon, however, is his predecessor's ideological antithesis.
As a candidate, he expressed little interest in diplomacy, vowed to tighten sanctions until the North "makes active efforts in complete and verifiable denuclearization," and said South Korea would build "a powerful military force that can assuredly deter any provocation."
Yoon struck a more cautious tone in his inaugural address, noting the North's weapons programs "are a threat to national and regional security," but saying the "door to dialogue will remain open."
In his speech, Yoon proposed reciprocity to court the so-called hermit kingdom, pledging to "present an audacious plan that will vastly strengthen North Korea's economy" so long as the country "genuinely embarks on a process to complete denuclearization."
Last Friday, the president offered to send COVID-19 vaccines to North Korea, a day after the country acknowledged its first cases of the coronavirus.
Yoon "plans to provide the North Korean people with COVID-19 vaccines and other medical supplies," a spokesperson said in a statement. "Suspected cases are said to be rising explosively in North Korea recently due to a massive COVID-19 outbreak. We will hold discussions with the North Korean side about details."
Seoul says humanitarian aid and security deliberations need not be mutually exclusive, but the North Korean leader has yet to respond to the offer. Previous offers of humanitarian aid from the Moon administration were rebuffed, and North Korea had even refused offers of COVID-19 vaccine doses from the World Health Organization.
Meanwhile, North Korea has launched at least 15 ballistic missiles this year alone. In March, the country abandoned a four-year moratorium on ICBM testing after purportedly launching its "Hwasong-17" missile (although that claim was disputed by Seoul and Washington). The North claims the weapon could strike the mainland United States.
At a military parade last month, Kim promised to ramp up his country's weapons development program "at the fastest possible speed" to deter those who "violate" the country's "fundamental interests," significantly escalating inter-Korean tensions.
U.S. National Security Advisor Jake Sullivan last week warned of the "real risk of some kind of provocation [by North Korea] while we're in the region." He noted the provocation could be an ICBM or nuclear test but said the White House is "preparing for all contingencies." His admonishment came roughly a week after the United States requested an emergency meeting of the United Nations Security Council to discuss the North's increased weapons testing.
In the near term, observers predict regional tensions will increase as North Korea ramps up pressure on the new Yoon administration.
Update: Shortly after this piece was published, North Korea test-launched three missiles, included a suspected ICBM, on May 25. In response, the U.S. and South Korea conducted a joint missile launch drill of their own.
The China-U.S. Tug-of-War
In a 2008 report from the RAND Corporation, the think tank noted that "by geography alone, sensitivity toward Chinese interests will remain a characteristic of South Korean policies."
But if previous South Korean politicians avoided rattling Beijing, Yoon's tough-on-China rhetoric illustrates a broader shift in South Korean politics.
Yoon ostensibly prefers a values-driven foreign policy with the United States as its democratic north star. Still, China receives over a quarter of South Korea's lucrative exports, making it the South's largest trading partner.
Here, the tug-of-war between South Korea's immediate interests and values is on full display. It remains to be seen if the president will "walk the talk" – but most analysts say his comments endorse the latter.
Yoon has called the United States South Korea's only "true core ally," and his party has called policies short of unconditional support of the United States "pro-Chinese" and "pro-North Korean."
He considers the United States a palatable strategic alternative to China: He expressed support for the Biden administration's new Indo-Pacific Economic Framework and vowed to end what he calls the "partial to China" foreign policy of his predecessor. In his inaugural address, the president promised to champion values like "freedom" and "liberal democracy," certainly a thinly-veiled poke at Beijing.
Kicking off Biden's visit, the two leaders toured a Samsung semiconductor complex in Pyeongtaek – a model of the $17 billion Samsung semiconductor plant expected to open in Texas in 2024. Yoon said he hoped to deepen a bilateral "economic and security alliance [with the United States] based on cooperation in advanced technology and supply chains."
Standing beside his South Korean counterpart, Biden signaled his ambition to achieve the long-elusive "pivot to Asia": "So much of the future of the world is going to be written here, in the Indo-Pacific, over the next several decades," Biden said. "This is the moment, in my view, to invest in one another to deepen our business ties, to bring our people even closer together."
In an interview with CNN's Paula Hancocks, Yoon reiterated his support for expanded joint military exercises – previously scaled back during the Trump administration – and said it is in South Korea's "national interest" to join the American-led Indo-Pacific Economic Framework.
These statements from both presidents underscore a warming Washington-Seoul alliance and both countries' increasingly negative perception of China.
In a December Hankook Research survey, 56 percent of South Koreans said China will become their country's gravest security threat within the next 10 years. South Koreans favor the United States over China by a six-to-one margin. The same survey found that more South Koreans dislike China than Japan – South Korea's former colonizer.
Even so, some analysts do not expect harmonious relations between South Korea and its ally.
As a candidate, Yoon endorsed the deployment of U.S. missile systems in South Korea – known as THAAD – bucking Beijing's previous and likely future objections.
But his new administration later dropped that promise, instead opting for a type of strategic ambiguity. Park Jin, South Korea's new foreign minister, declined to elaborate on additional THAAD deployments during his confirmation hearing, noting that "in-depth discussions will be held to decide on what conclusions should be drawn."
"Yoon Suk-yeol takes office with the external environment stacked against him," Park Won-gon, a professor of Political Science at Ewha Womans University in Seoul, told The New York Times.
"He has to deal with tensions with North Korea. He has to persuade the Biden administration to shake off its lackadaisical stance on North Korea and make it a priority. He has to do the homework Moon Jae-in had left undone, like how to position South Korea in the friction between the United States and China."
'Anti-Feminism' and Domestic Divisions
In a country rent by political divisions, one contentious campaign topic seemed to transcend most others: gender inequality and feminism.
As a candidate in 2017, the left-leaning former President Moon vowed to "become a feminist president." Yoon has taken the opposite stance.
Analysts say Yoon stoked anti-feminist sentiment to court male voters in their 20s and 30s. As a candidate, Yoon blamed the country's sagging birth rate on feminism, promised to abolish the Ministry of Gender Equality, and vowed to tighten legal punishments for false accusations of sexual assault – a move some activists say will discourage women from reporting sexual abuse.
Yoon's proposals deepened divisions between self-described "feminists" and "anti-feminists," intensifying South Korea's fraught "gender wars." The anti-feminists argue efforts to alleviate gender inequities amount to reverse discrimination against men. They say South Korea's conscription system – where all able men must serve in a military plagued by allegations of abuse – undermines their competitiveness in an already tight job market.
Feminists counter that sexism is systemic and often invisible to men. They note the country's comparatively high rate of female murder and sexual harassment, low rate of female legislators, and the cavernous gender pay gap. Women earn 31.5 percent less than men on average – the widest gap among industrialized nations, according to the OECD.
Still, political analysts say South Korea's "anti-feminists" are a coveted voting bloc for some politicians to win.
A Hankook Ibo research survey published in May of 2021 reported that 77 percent of South Korean men in their 20s are "repulsed by feminism." In a separate survey, only 38 percent of men in their 20s called discrimination against women "serious in Korean society."
Youngmi Kim, a senior lecturer at the University of Edinburgh, told CNN that South Korea still has "a long journey ahead" before finally overcoming gender-based discrimination.
Earlier this month, Yoon's transition team published a list of 110 policy proposals that transition committee chair Ahn Cheol-soo said will reposition South Korea "as a nation of people living well together."
The proposals outlined the president's vision for South Korea's government. The first 15 proposals aim to "reform" some past policies and traditions, including the famed Korean age system.
The president proposed "[normalizing] the real estate market" – where prices are currently soaring – abandoning the nuclear energy phase-out policy, and improving financial stability.
The document also outlined the administration's aims to revitalize the country's battered tourism industry and broader post-COVID-19 economy.
In a notable omission, the document did not mention Yoon's campaign pledge to abolish the Ministry of Gender Equality. But in a later statement, the transition team noted that the president's promise still stands.
Also absent: a promise to pass the country's long-elusive non-discrimination bill. In South Korea, discrimination on the basis of race, sexual orientation, and gender identity is legally permissible. Calls grew louder for South Korea's assembly to pass the bill before Yoon took office, but the legislature failed to garner the necessary majority.
The president did not endorse the stalled bill during his confirmation hearing for prosecutor general in 2019, but called any form of discrimination unacceptable.