Indians Grapple With Deadly Heatwaves
Indians are demanding more government action to deal with the deadly heat, while experts say combating climate change is the only long-term solution.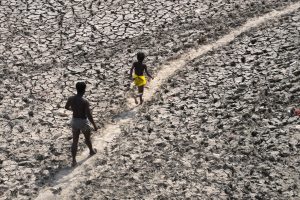 Large swathes of India have been reeling under a blistering heatwave since April, forcing tens of millions of people in the South Asian nation of 1.3 billion to grapple with record-breaking temperatures not experienced in 122 years.
According to the Indian Meteorological Department, a heatwave is declared when the maximum temperature of a place crosses 40 degrees Celsius over the plains, 37 degrees along the coasts, and 35 degrees in hilly areas. Such conditions are currently prevalent in 15 Indian states, including the capital city New Delhi, Haryana, Punjab, Rajasthan, Uttar Pradesh, and Gujarat.
Summer arrived as early as March this year and temperatures are expected to remain very high in May as well, climatologists say. They may plummet in June and July, when the southwest monsoon season lashes the subcontinent, but the heat coupled with humidity-laden air will continue to make life hell for Indians.
According to a paper published by India's top meteorologists last year, heatwaves  killed more than 17,000 Indians from 1971 to 2019. In the period from 2010 to 2018 alone, 6,000 Indians died from extreme heat.
Unsurprisingly, it is the poor that are bearing the brunt of the catatonic heat. Among them are millions of daily wage workers – many  of them rural migrants – who have just returned to cities to take up fresh employment opportunities as India emerges from its COVID-19 lockdowns. They suffered enormous financial hardships following loss of income during the pandemic years, when factories and construction sites shut down.
According to data from the Periodic Labor Force Survey, the official source of employment statistics in India, 18 percent of India's non-farm workforce are forced to work outdoors in the torrid heat with no physical protection. The total share of this vulnerable workforce surges to 49.4 percent – or a whopping 231.5 million workers – if farmers are also included. According to a study by Duke University, India lost 259 billion hours of labor annually between 2001 and 2020 because of the heat's impact.
The effects of the heatwave include heat-related illnesses, poor air quality, little rainfall, and reduced crop yields. In the northern regions of Uttarakhand and Himachal Pradesh, mountain snow has been rapidly melting while over 300 large wildfires have been reported from across the country according to the Forest Survey of India.
Adding to the woes of Indians are protracted power outages due to soaring electricity demand. The heat is also causing taps to run dry and factory machinery to grind to a halt due to the power crunch.
Citizen forums are urging the government to intervene to help the urban poor, outdoor workers, women, children, and senior citizens, who are especially vulnerable and at higher risk from the extreme heat.
"The heatwaves can even be fatal for human beings, especially children and senior citizens, who we're advising to remain indoors during afternoon hours when the heat peaks. We have been witnessing an increased rate of hospitalizations also leading up to fatalities as a result of heatwaves," said Dr. Vivek Budhiraja, senior general physician at Kailash Hospital in Noida, Uttar Pradesh.
The doctor added that with no signs of the heat abating anytime soon, hospitals should prepare and review the availability of IV fluids, ice packs, oral rehydration salts (ORS), and other necessary items.
Perhaps the worst impacted are India's small farmers. Soon after the onslaught of the deadly coronavirus, which sent them scurrying back to their villages as factories shut down, it is the heat that is now upending their lives.
"The unprecedentedly high temperatures have killed my wheat crop. The yield dropped from 3 tonnes to the lowest ever of 1.5 tonnes. I'm deep in debt," lamented Ram Behari, 47, a farmer in Uttar Pradesh. He added that he now has to go to the city, "leaving my family behind to look for a job to support my wife and four daughters, two of whom need to be married soon."
The crisis is threatening the economy, too. Many thermal power plants, which generate the bulk of India's electricity, are running at sub-optimal capacity levels due to a coal shortage. This has also resulted in protracted power outages across the country, severely impacting retail businesses that require refrigeration. Things are so bad that passenger trains have been canceled due to non-availability of coal.
Experts say the costs to both human health and the national economy will surge unless a speedy and inclusive policy response factoring in all stakeholders is put into action soon.
The deadly 2015 heatwave galvanized the Indian government to launch the country's first national guidelines for heatwaves, titled "Preparation of Action Plan – Prevention and Management of Heat Wave." Even as the government takes a leaf out of the plan, Union Health Secretary Rajesh Bhushan has issued an advisory to the chief secretaries of the various states, urging them to share the "National Action Plan on Heat-Related Illnesses" with district-level governments.
The guidelines involve sensitizing all healthcare staff to early recognition and management of heat illness while ensuring the availability of sufficient drinking water at all health facilities and the continued functioning of cooling appliances in critical areas.
State governments are also stepping up their efforts to tackle heat-related emergencies. Ahmedabad, the first city in the country to have its own heat action plan after it recorded 1,344 deaths due to a heatwave in May 2010, adheres to a model based on early warning systems, color-coded alerts, community outreach programs, and reduced hours for schools and factories, shared a state government official.
In Delhi, the Arvind Kejriwal-led government has put in place a host of people-friendly measures. It will supply around 1,000 million gallons of drinking water every day during the peak summer season (April-July). The city's water body, Delhi Jal Board, will supply additional water to the city residents with 1,198 GPS-enabled water tankers stationed at various places.
Worried about their children's health due to extreme heat, parents are also urging the Delhi government to either revise school hours or advance the summer holidays. Several schools have already announced a reduction in outdoor activities in view of the sweltering heat coupled with the ongoing spike in the number of COVID-19 cases.
Karnataka is in the process of setting up temporary kiosks or "cooling centers" in temples, public buildings, malls, and other spaces. The cooling centers will provide water, ORS powder and buttermilk, medicines, and shelter. Karnataka's government is also planning to supply additional fans and other cooling infrastructure in schools, while avoiding outdoor classes and games at schools.
Despite the initiation of such measures, however, experts predict that India's weather problems will only exacerbate due to increasing global warming. India will be seriously harmed if greenhouse gas emissions are not cut, the Intergovernmental Panel on Climate Change warned in its latest report. It described India as potentially the most "economically harmed" because of extreme weather events.
Experts recommend sustainable and green initiatives to address the root of the problem. Leo Saldanha of the pan-India non-profit Environment Support Group suggests that climate-friendly steps must be adopted urgently. "Creating open green spaces, urban forests and beefing up the public transport system to reduce dependency on private vehicles can go a long way in reducing pollution and tackling the weather menace," he said.
He added that urban planning must take measures to ensure sufficient vegetation cover, including rooftop gardening, and conserve water.
"Sensitizing the citizens about how to minimize their carbon footprint as well strengthening laws to penalize polluting industries heavily should also be looked at," he recommended.