'It Doesn't Matter If We Get Killed,' Afghanistan's Hazaras Speak Out
Hazaras targeted in repeated attacks in Taliban-led Afghanistan share their deep concerns and dreams of a better future.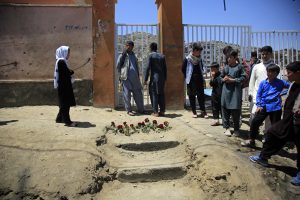 In western Kabul's Dasht-e-Barchi neighborhood, 21-year-old Zahra peeks out of the window of her small home to feel the cool breeze of the outside world on her cheeks. 
Stuck mostly at home, she spends her days reading novels and writing stories of her own, the only activities that have helped keep her sane since the Taliban takeover last August.
"I come from Ghazni, and we are Hazaras, but I am away from my family right now because of my studies. I'm living with relatives here in Kabul," she says.
As an ethnic Hazara, Zahra says it's difficult to see her people suffer endlessly. The Hazaras are one of Afghanistan's many ethnic groups, but one that has faced generations of violence and persecution. 
To soothe herself, Zahra often expresses her pain by reciting poetry.
"I am Hazara, my neck was cut off in Zabul
my hand said goodbye to me in Deh Mazang
my Quran was burnt to flames in Al Zahra
my geography turned to ashes in Sayed Al-Shuhada
my pen broke in Mawood, and I left my legs in Champions Club
Yes, I am Hazara – I am a thousand pieces
and every piece of me is buried in this land"
Like Zahra, much of the younger generation of Afghan women find themselves stuck at home, confused as to how to continue their lives as the Taliban intensify gender-based restrictions, and scared for what the future means for society's most vulnerable. For Hazaras, who have long been targeted, captured, and killed, this uncertainty and fear is twofold.
Who are the Hazaras of Afghanistan?
Hazaras are considered an ethnic minority in Afghanistan, although there has never been a thorough census of the country's population. The last, incomplete, census was conducted in 1979. Their Asiatic features and Persian dialect distinguish them from other Afghans in the country. They belong to the Shia branch of Islam, whereas Afghanistan is a Sunni-majority nation.
"They are the largest religious minority in Afghanistan, and an ethnic minority as well. Their history is one of persecution, with the latest attacks coming from ISIS-K [ISK, the Islamic State Khorasan]. The return of the Taliban has been a disaster for them," Knox Thames, former special envoy on minority issues at the State Department, tells The Diplomat.
"They are a long-suffering community, repeatedly repressed and attacked throughout their history," he adds. 
For 26-year-old Sara, this couldn't be more true. An ethnic Hazara also living in Kabul's predominantly Shia Dasht-e-Barchi neighborhood, she and her family have personally witnessed targeted attacks and killings in the neighborhood.
"These incidents happen a lot, and sometimes our family and friends are caught in the middle. One of my relatives died in the Dasht-e-Barchi hospital attack. Also, the last incident at Abdul Rahim Shaheed High School was very close to us. My brothers were studying there, and it shook us very much."
She is referring to last month's targeted attack on school students that killed at least six people and injured 11 others. 
A Vulnerable Community
Both under the previous Ashraf Ghani administration and now under Taliban rule, Shia Hazaras have mostly been left unprotected as back-to-back attacks rocked their community to the core. 
"We didn't have security before the Taliban and we don't now either," says Zahra.
"Since 2011 and 2012 many incidents and mass killings have targeted Hazaras and it's hard to specify and identify which groups are behind these crimes. Unfortunately, these mass killings continue today," Sara says.
The month of Ramadan this year proved to be deadly as the Hazara community fell victim to explosions in Kabul, Mazar-i-Sharif, and Kunduz province. Many attacks have occurred in schools, hospitals, and the latest attacks have been directed toward Shia mosques, where Hazaras go to pray.
"Most Hazaras are scared, they don't feel safe in their own homes. People used to go to the mosque a lot, but no one has the courage to go anymore because there is a possibility of a terrorist attack there," says Sara. 
Thames says it's very unfortunate that a vulnerable community like the Hazaras have been left to fend for themselves. From his point of view, they are one of the world's most vulnerable communities for potential mass atrocities.  
"Part of the tragedy for the Hazaras is that they fully invested in the vision of Afghanistan that the United States and the international community promoted for 20 years," he says.
During the last two decades, Hazaras have persevered despite the institutional, systematic, and social barriers and challenges they face. Success in education has enabled Hazaras to climb the social ladder and gain influence in a country that has often sidelined their voices.
"They generally did not form militias, but instead took advantage of education and an open political process to advance their community. Now, they are at the mercy of the Taliban and ISIS-K, which is terrifying for them. Many are looking to flee if there is a place they can go. The future is uncertain and bleak," says Thames. 
"No One to Support Us"
Like Zahra and Sara, Khatera is another young Afghan Hazara woman living in constant worry. She keeps herself busy by sewing and designing traditional Afghan dresses, a skill she learned from her older sister. 
Although Khatera has a political science degree, she designs dresses to make extra cash during these uncertain times.
"Things are strict these days, but I like to post my designs on social media. I like posting photos in front of old monuments or mosques, my friends tell me to be careful, but the Taliban have not caught-up on social media yet, they're not quite there yet."
Khatera opens up about being part of the Shia Hazara community and argues that there is a lot of negligence on the part of the Taliban, and the repeated attacks in Dasht-e-Barchi stand as proof.
"My mom is Hazara, and I am Shia on both sides. I really believe the Taliban are racist toward Hazaras because they want Hazaras to be under their control and they want to keep the status quo," she says.
"Dasht-e-Barch suffers a lot of insecurity. People protested and expressed their concerns about this, but no one supported them. People have always resisted but leaders are busy thinking of their own benefits, corruption, and money. Even the media downplays the Hazara issue, there is a big disparity in numbers."
Sara chimes in, saying, "It might be because the Hazara people do not have anyone lobbying for them or representing them. In the past government, there were a few Hazara representatives but unfortunately, we did not see any special assistance from them. I think the most important thing for us would be if the Hazara Genocide can be officially recognized. That we find the root problem of these attacks so that it can be prevented and so we don't have to witness such attacks ever again."
Many Hazara activists and members of civil society are calling for the recognition of a Hazara Genocide. In August last year, the United States Holocaust Museum issued a statement warning of a serious risk of genocide and mass killings against the Hazaras. 
"I personally don't think anyone supports Hazaras, it doesn't matter if we get killed, stopping this doesn't give anyone any sort of benefit," says Sara. "Most people blame the Taliban for this situation, even if they are not behind the attacks today, they are responsible for protecting the people, but they do not do that either."
The Taliban have condemned attacks claimed by ISK but deny claims that they themselves are the perpetrators of similar crimes.
But while Afghanistan grapples with how to deal with the marginalization of its Hazara population, it faces another major issue: the economy. These days, all Afghans are mostly concerned about is where to get their next meal as babies and children die from malnourishment, according to a United Nations report. 
Who Can Bring About a Change?
Activists and human rights defenders believe there are many organizations that have the leverage to bring the Hazara issue to the forefront of minority issues and push the Taliban to undertake reforms.
"There is an important role for the Organization of Islamic Cooperation to play in pressing the Taliban to protect Hazaras from violence. The Taliban will not listen to the United States or the West, but they might listen to OIC members," says Thames.
But until institutions like the OIC initiate a push for change, Hazaras in Afghanistan will continue to live in deeply insecure conditions.
"I would like for the international community to force the Taliban to include other ethnic groups within their framework and allow Tajiks, Uzbeks, and Hazaras to be part of the government too," says Khatera.
Sara, on the other hand, hopes that the Taliban will collapse entirely. "I want a new government to take the place of the Taliban, one that is inclusive and cares about the wellness of the people," she says. "I want my country to be safe."
Whether or not these pleas of hope and change make it to the desks of policymakers and international organizations is unknown. What is known is that life for the Hazara community will continue to be one punctuated by suffering. In the meantime, Zahra, Sara, and Khatera will continue to recite poetry, sew dresses, and live behind the shadows of fear and frustration.
"I want these cages and chains to break open" says Zahra. "I want Hazaras to be saved from this bondage. I want us to have a good life."