'KKN di Desa Penari' Becomes Indonesia's Biggest Ever Homegrown Blockbuster
As Indonesian box office sales continue to rise, so too is the demand for locally produced films.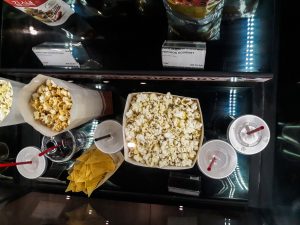 Before the pandemic threw a wrench in the works, Indonesia's film industry was on a roll. "The Raid," starring Iko Uwais, has long been considered an action classic while directors like Timo Tjahjanto are constantly pushing the genre in inventively horrifying ways. Mouly Surya's subversive feminist Western, "Marlina the Murderer," generated quite a bit of buzz at Cannes in 2017, one of a number of Indonesian films to do so in recent years. And in 2019, a homegrown big budget superhero franchise was launched by Bumilangit, with the first installment helmed by acclaimed director Joko Anwar.
As I wrote for New Mandala a while back, the momentum in Indonesia's film industry can be traced to several factors. Regulatory reforms in 2016 opened the door for hundreds of millions of dollars of foreign investment to pour in, mainly from Singapore and South Korea, which has helped finance breakneck expansion in the country's two main theater chains, Cinema 21 and CGV. CGV, the smaller of the two, went from 19 theaters and 139 screens in 2015 to 67 theaters and 389 screens in 2019, while revenue quadrupled from 2014 to 2019. We can assume the scale of Cinema 21's expansion has been even bigger.
The race to get a piece of the Indonesian cinema market is being driven by big increases in the number of people who have become reliable movie-goers. An estimated 52 million tickets for Indonesian films were sold in 2018, compared to just 16 million in 2014. With theaters competing for market share and with demand on a sharp uptick, in all likelihood the industry was primed to keep growing until the pandemic put everything on hold.
The new smash hit from director Awi Suryadi, "KKN di Desa Penari," is breaking box office records and demonstrating pretty conclusively that things are back on track. Foreign films, typically Marvel tent-poles, are still the strongest historical performers at the Indonesian box office. According to industry analyst Bicara Box Office, "Avengers Endgame" holds the record with 11.2 million tickets sold in 2019.
But the recently released "KKN," a schlocky horror film about a group of students who prompt the ire of rural spirits, is blowing through box office records. The film has already sold 7 million tickets and is closing in on 8, which makes it the highest-grossing domestically produced movie ever, and it's not done yet. It seems unlikely to catch "Endgame," but it will finish its run setting a new high watermark for locally produced films at the box office, and will surpass many of Marvel's other big blockbusters.
There are a couple things to note here. One, the pre-pandemic trajectory of the industry was no fluke. The Indonesian movie-going class is growing, and there is every indication they will keep showing up at cineplexes to watch not just the latest Marvel CGI spectacle, but also domestically produced films catering to the tastes of local audiences.
Two, changes in the industry structure over the last few years have had a profound, positive impact. The film industry used to be heavily monopolized by Suharto cronies, and import licenses for foreign films were tightly controlled for reasons both of rent-seeking and sometimes for nationalistic or regime-messaging purposes. Now the industry has become more liberalized, with rival companies competing against one another on price, service, and content in a more or less free market.
The result has been a proliferation of cineplexes responding to market forces, which in turn will incentivize (hopefully) more investment in high-quality domestic production, since the market is becoming increasingly lucrative. It is a clear example of an industry that has benefited from the participation of more private capital, more competition, and less state intervention. This is not always the case in every industry in Indonesia, but it has been the case here.
Finally, the runaway success of "KKN" suggests that consumer spending is starting to bounce back in earnest from the pandemic doldrums. In Europe and the United States, there has been too much consumer spending, which is driving inflation, but that was never really a concern in Indonesia in the same way. The bigger concern, in my opinion, was that consumer spending would struggle to recover after the pandemic. At least based on the box office returns for "KKN," it seems clear that movie fans are ready to spend their disposable income at cineplexes again, and to do so at such a rate that it is setting all-time box office records. This is a good sign, not just for Indonesia's film industry, but for the economy in general.