Turkmenistan Takes Policing Women's Bodies to the Next Level
In April, Turkmen authorities began cracking down on salons, enforcing a ban on a range of beauty services.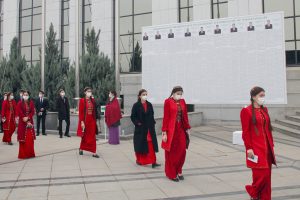 In the era of the #MeToo movement, when women around the world are speaking up against injustice and gender discrimination, the Turkmen government is about to further oppress its women by taking away their fundamental right to choose what to wear and how to groom themselves.
In April 2022, the Turkmen government introduced a ban on beauty services (such as eyelash and nail extensions, brow and lip tattoos, beauty injections, and hair bleaching) and "sexy" outfits to counter the "foreign" trends damaging "Türkmençilik" (i.e., Turkmen traditional values, culture, and identity). The ban is aimed at controlling Turkmen women, effectively taking away their basic freedom. It denies their right to bodily autonomy and freedom of choice in dress and grooming. Such restrictive rules regulating the appearance of women date back to when Turkmenistan gained independence from the Soviet Union and started to establish its national identity.  
Gender and National Identity 
In Central Asia, the elaboration of national unity, authenticity, and identity inscribes itself in the idea of "returning to tradition" in order for the newly independent states to distance themselves from the Soviet campaign of "women's emancipation." During the post-Soviet transition, Turkmenistan aimed to "re-traditionalize" society, and women played an important role in the development of a post-Soviet Turkmen identity.
The revival of Türkmençilik and the reclamation of the Turkmen nation were manifested through calls to return "emancipated" Soviet women to their Turkmen roots. In other words, nation-building in Turkmenistan manifested through the construction of a "mother," a powerful symbol of the national hearth and home. Turkmen women are still actively incentivized to birth and raise healthy patriots and to preserve traditional family values. 
In Turkmenistan, the questions pertaining to women's dress, appearance, and demeanor are fundamentally questions of purity and, oddly enough, of male honor. Thereby, women's shame becomes the family's shame, the nation's shame, and the man's shame. Perceived unruly female sexuality, in this context, threatens to discredit the nation and damage the honor of men.  Therefore, women's purity must be impeccable, and so men often have a special interest in controlling the sexuality and sexual behavior of their women.
In the context of Turkmenistan, there is no clearer example of the politics of dress and demeanor than the politics of regulating women's dress and appearance, whether or not these values are shared by women on whom they are enforced. From this vantage point, the recent beauty bans can be interpreted as an attempt to enhance the performance of traditional femininity under which women are the symbols of purity, beauty, and modesty.
The Morality Police 
On April 12, 2022, RFE/RL's Turkmen Service, Radio Azatlyk, reported that law enforcement officers in Bayramali, a city in the Mary region, started to crack down on salons. They demanded that salons stop providing beauty services such as Botox for wrinkle-smoothing, fillers for lip augmentation, and eyelash extensions because these procedures are seen as unpatriotic and weakening Türkmençilik. Salon owners who violate the ban risk being jailed for 15 days and clients using these services can be fined up to 1,000 manats (about $30 at the black market and $285 at the state rate), according to Radio Azatlyk's sources.
On April 18, the state-run news outlet Turkmenistan: Golden Age reported that an educational meeting titled "Standards of Turkmen national traditions, the sanctity of marriage and family and etiquette" was held in Turkmenistan's State Energy Institute for female instructors and students. 
Ten days later, Current Time Asia reported that female-identifying employees of state institutions and enterprises of the Mary region are now forced to write a pledge, vowing to stop using cosmetics, hair colorants, stop getting manicures, stop wearing figure-fitting clothes, and refrain from using injectables, like Botox.
In addition, women are required to make a pledge indicating that they will wear traditional dresses paired with embroidered balak (pants). Failure to comply with the pledge will result in dismissal. Turkmen women face a difficult choice in resisting enforced restrictions. If they stand up for their rights as women, they appear to be disloyal to their community, can lose their job, and even worse can be labeled as traitors.
Transgression Is Not Allowed 
As is archetypical of Turkmenistan, the order isn't discussed openly. In fact,  there is no state press coverage and no government officials express their opinion on the matter. Secretive patriarchal orders like this one, unlike official laws, are strictly followed and obeyed. 
Aptly, across Turkmenistan, disciplinary meetings have been held in schools, universities, and state-funded organizations, where the so-called "moral police" have instructed women and girls to wear modest clothing, dye their hair black, remove nails and lash extensions and stop getting tattoos. Punishments for infractions range from disciplinary sanctions for civil servants and students to public shaming.
"As soon as you leave your home and enter schools, universities, or state-funded entities, your clothing and appearance are being assessed by strangers. If 'morality agents' decide that you have failed to comply with the state's strict dress code, they will either fine you or take you to the police station," a source from Mary region said. 
Turkmen.News reports that body policing is tied to the wishes of the new president of Turkmenistan, Serdar Berdimuhamedov. These allegations are especially interesting since, in the run-up to the presidential elections campaign on February 14, 2022, Serdar Berdimuhamedov declared: "The main goal of all my concerns will always be happy life of our people, the transformation of our state into a progressive country of a new era." 
However, a strict imposition of the dress codes and ban on beauty services can be interpreted as a manifestation of underlying discriminatory attitudes and reflect a desire to control women's sexuality, objectifying women and denying their personal autonomy, which goes contrary to the principles of the progress. 
An insider from Turkmenistan said: "When women take public taxis, the taxi drivers check if the women are wearing balak."
Turkmen authorities have sought to control women's bodies and appearances over the years by enforcing various prohibitions and restrictions. However, under Berdimuhamedov junior's reign, the mechanisms of sexist repression have become particularly brutal and systematic. 
"The impingement this time can be described as an attempt to eliminate individuality from society," said an avid fashionista from Mary region.
Berdimuhamedov junior, as an autocrat-in-making, has good reason to fear women's emancipation. Women who claim their human rights are more likely to take part in mass movements, which in turn leads to a more egalitarian democracy. However, in Turkmenistan, under its ultra-centralized regime, human rights and civil liberties are not respected, and women's personal and political powers, as well as their bodily autonomy, are relinquished. 
Women's Rights in Turkmenistan 
Article 29 of Turkmenistan's constitution and Law No.264-V of August 18, 2015, grant equal civil rights and opportunities for men and women. In 1995, Turkmenistan participated in the Fourth World Conference on Women, "Action for Equality, Development, and Peace," held in Beijing. By consensus, all 189 participating governments, including Turkmenistan, endorsed the Beijing Declaration and the Platform of Action. Later in 1997, Turkmenistan ratified the Convention on the Elimination of All Forms of Discrimination Against Women (CEDAW) and signed its Optional Protocol in 2009. 
In December 2020, the Turkmen government adopted the 2021-2025 National Action Plan for Gender Equality, which established national goals, objectives, and priorities to further facilitate and promote gender equality in all spheres of life, nationally and locally. On April 20, 2021, Turkmenistan was elected a member of the Executive Board of the U.N. Entity for Gender Equality and the Empowerment of Women (UN-Women) for 2020-2024. Although there are nominal commitments that protect women against discrimination, the movement for gender equality in Turkmenistan has yet to be fully realized.
Without bodily autonomy and self-determination, women and girls are subject to domestic violence, gender-based violence, rape, prostitution, virginity tests, arranged marriage, and are barred from purchasing cigarettes and obtaining a driver's licenses. All of this is happening against the backdrop of Article 16 of Law No.264-V, which guarantees women equal right to participate in managing the affairs of the government, and yet the government has made it a state priority to police what women wear.